Just in: Intrepid Apparel clothing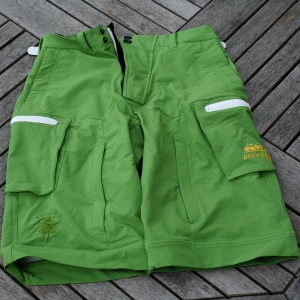 Just recently I've been sent some Intrepid Apparel clothing for review. I was quite excited to see the promised package turn up and first impressions on opening were of some distinctive and well designed mountain bike clothing.
It's amazing the difference that wearing a decent bit of kit makes. Most of the time, our gear is made up of a carefully curated mis-mash of stuff which we know just works. Either it's comfortable, or we like the look, or there's a functional element to it but invariably it's been bought over a long period of time. Getting to wear a brand new matching top and shorts from the same manufacturer in one go is a bit of a luxury to be honest.
So, after all that, what have I got to try then? First off, there's the Intrepid Campaign shorts in a fetching lime colourway (also available in black). Made for the gnarlier end of the market, with plenty of space for knee pads (and probably armour), they look like they will more than stand up to the rigours of Surrey Hills riding and hanging out at Peaslake Village Stores.
I also have Intrepid's Classic Race jersey which is very, very white (with black and lime details). I like that the lime picks up on the Campaign shorts colour.
Both items have multiple pockets, chunky zips and a real quality feel to them. They are sized in medium and look to be a generous medium at that, but we'll see how things go. If you've had a few too many pies there's plenty of space to hide them here.
Wondering who Intrepid Apparel are? Well they are a local Godalming-based outfit (that's Surrey in the UK if you're reading this from abroad) that have a growing range of clothing to choose from, including the more XC/freeride oriented Mission shorts which rock a nice plaid style. Their aim is 'to create the finest mountain bike clothing…', so no pressure there then. We first met them at the Cycle Show this year in London's Excel and kept in touch from there.
I plan to give the kit a thorough testing and will report back with more detailed reviews in due course, but if you see a cool-but-casually dressed dude out on the trails you're welcome to ask me some questions!
Check out some more detailed pictures of Intrepid Apparel on Flickr.