My crash helmets – fortunately – seem to last me a while. In fact, until this summer I've been using a Giro Xen dating back to sometime around 2008.
Having caught it a few too many times on low hanging branches on night rides, ripping the tensioning cradle irreparably from its fixing, it was time for a new helmet.
What to choose though? For me, priorities are comfort, looks and price, pretty much in that order. That's assuming they perform to the safety standards you'd expect, which is something that's very hard to quantify.
I've mentioned before how my pin-sized aero-head has caused me all sorts of difficulties getting a comfortable fit, so it took me a while to decide what to buy as a replacement. The problem is that I fall somewhere between small and medium on sizing, with a 56.5cm circumference to my head. Small is often too small whereas a medium will end up with me looking like I have an outsized mushroom on my head!
The Xen was pretty good, but they don't make that these days, although I could have got a discounted old model. The trouble was, none were available in colours I liked. I also happen to have a Specialized Prevail for the road which is by far the most comfortable helmet I've worn, although it doesn't really offer the all-round protection of modern MTB crash helmets.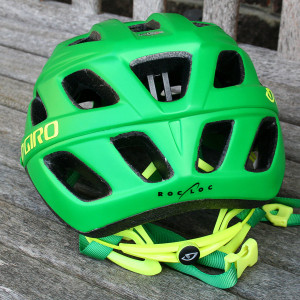 Again, availability was a problem for the MTB helmets in the Specialized range. I quite fancied the Tactic, which is similarly comfortable to the Prevail but none were available at the time I was looking on the market. So, knowing that Giro helmets fit me reasonably well I started looking more closely at their range.
Giro have a pretty comprehensive range these days and my options were either a discounted Xen (already mentioned), a modern equivalent in the the lighter and more angular Xar at the top end of my price range, or a cheaper, heavier and less adjustable Feature at the opposite end of my price range; or the Giro Hex.
The Hex seems to sit in the Goldilocks area when it comes to price, being not too expensive (it's been on the market a while so discounts are common), nor too basic.
In comparison to the Feature, it has more holes (which should equal better ventilation), plus the RocLoc 5 adjustment system which allows for vertical adjustment as well as tensioning the retention cradle round your skull. It is also moulded into the expanded foam to make it a bit more durable. The Feature has a much more basic system.
Compared to the Xar (and the older Xen), it also has more vents (21 versus 17) and extends further around the back of the skull for additional protection, while using the same adjustment system.
As you can see, I chose a pretty 'out there' colour. I really like it, a combination of bright green (think Kermit green) and fluro yellow detailing. My way of looking at things is it helps visibility when you're riding on the road and makes you easy to spot on the trails. Plus, it goes well with my lovely Intrepid Apparel outfit!
Admittedly the colour isn't to everyone's taste. But even the helmet pads match!
The helmet itself seems pretty good so far. I've had a minor stack (on Alsation) where my head contacted the soft Surrey loam (ok, clay) of the North Downs without too much issue.
If I'm honest I'm not 100% confident of the retention system which has a very small adjustment dial for tightening the helmet. I worry it may not last the distance versus the larger dial on my Specialized Prevail which has been good for many miles on and off road so far.
With my odd shaped head I end up doing the dial up rather tight and while it didn't move in my crash, I do find myself with 'something of the Klingon' about my forehead features after a two hour plus ride. This is something that I thought I'd left behind with my Xen and while it doesn't exactly hurt, I'm not convinced on comfort versus my old Xen, which had wider and deeper padding. Your mileage may vary in this matter.
Overall I'm reasonably pleased with the helmet which is a talking point and has Giro's great reputation behind it, plus it's been on sale pretty much unchanged for a few years now. You can actually get more sober colours as well. I'm not convinced it's ideally comfortable for me but then again, I am uniquely profiled.