New Specialized Hillbilly 2022 tyre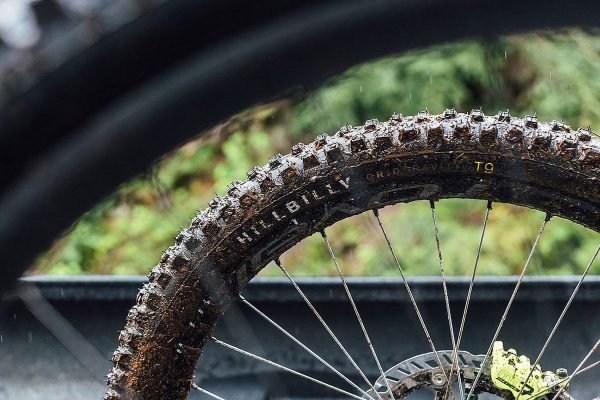 Wet season is approaching. Hard to believe after the summer we have had but so it goes. Enter the Specialized Hillbilly 2022.
When I say wet season, I mean in the northern hemisphere. It's all too easy to overlook that we are not the whole world, and equally easy to forget that for many – in Pakistan for example – wet season is an absolute shocker.
In the Surrey Hills, without wishing to sound trite, things aren't quite so bad. We are lucky to have mountain biking as a refuge from more worldly things. But that doesn't mean we don't need any help either. In winter, in the woods, in Surrey, you need grip and lots of it. Which is where the new Specialized Hillbilly comes in.
Anyone who has ever found a winter tyre they trust will tell you what a difference they make. Long time riders still get misty eyed at mention of the Bontrager Mud-X, or even the Specialized equivalent, the Storm. Both good, spiky but narrow tyres that dug down to find what grip there was.
But that was so 2008! These days tyres have moved on, particularly in terms of width where a 1.9 or even a 2.2 of yesteryear is considered anaemic and digging into trails not really encouraged. Consider too the rubber we now use – those old Storms were 55/65a durometer whereas the T9 compound on the new Hillbilly 2022 from Specialized is closer to 50 or even 42a, with wondrous behaviour claimed.
So the Hillbilly. It comes in big or small wheel sizes (that's 27.5 or 29″) and big or small widths (2.4 or 2.6), plus Trail or Gravity casings, all with the Gripton T9 rubber that is the stickiest that Specialized offer. Something for everyone then, as the price in these straightened times also remains sensible at £45.00 RRP for the trail version.
Tread patterns remain on the spiky side but with a lot more sophistication, with serrated inner blocks and lots of carefully positioned siping to dig out the last of the available grip. It looks pretty decent to me both on paper and in the photos although I wonder how long the serrated blocks will stay that way and if it really makes that much difference.
Should be a strong contender for the coming season…