Specialized Storm Control 2.0 2Bliss mud tyres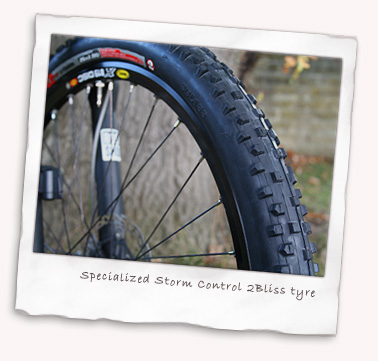 A few days back I asked readers for their opinions on what tyre I should get for wet chalk and clay with the coming winter in mind. So I feel a bit embarrassed to admit that despite people's kind responses, I went in to my local bike shop on Saturday and bought some Specialized Storm Control mud tyres, which weren't even on my purchase radar at all.
Let me explain…
After agonising over just a small selection of the huge number of tyres on the market I finally settled on the Bontrager Mud X as being the best option for me this winter. A combination of magazine recommendations and advice from readers who live on wet chalk through the winter tipped the balance.
But after visiting Cycleworks on Saturday I found they don't stock them and can't get them as they're part of the Trek family and Cycleworks focus on Specialized. Dave suggested the Storms as an alternative at £23 each.
I was willing to pay a visit to Head for the Hills instead but after talking to Dave decided to trust his local knowledge. As he said, they look the same for a start! Closer inspection of the spec showed them to be dual compound (55a/65a) with widely spaced knobs and pretty lightweight – about 630g I think. They were also tubeless ready and have reinforced sidewalls which I ideally wanted plus a folding bead.
To be fair, they're not exactly the same as Bontrager Mud X's, having slightly more widely spaced knobs and lacking the dotted surfacing to them too. Possibly that might be a serious difference but I'll find that out in due course.
Fitting them was a whole new story too. For the first time I realised I had no chance of getting them on with a conventional track pump arrangement, which may have been due to the folding bead making them 'gappy' when they were on the rim. However, I had a secret weapon in the shape of singlespeed Dave.
Well, not Dave exactly, but his air compressor which we quickly adapted to pump air into the carcass at a rapid rate. Less than 5 minutes of faffing per wheel and the job was done and I made a mental note to let Lee know after his tubeless experiences. Dave could charge £1 a wheel and retire happy.
The trick is either to have valves with no sealant residue to hinder their performance or to remove the valve, inflate the tyre and swiftly put your finger over the hole before quickly manouvering the valve into place. Sounds a lot more complicated than it actually was but do watch out for unexpected sealant sprays…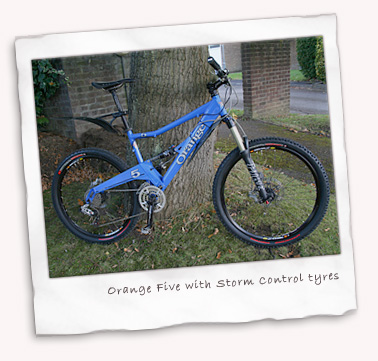 So now I have two fitted tyres ready for their first outing Wednesday night. I have a good feeling about them even though I may have committed a fashion faux pas by putting the tyre labelling on the driveside of the bike. Yes, it will bug me for the winter!
I know I have done my hard headed consumer research persona no good at all by being swayed so easily by the bike shop's advice (or sales pitch) but in my defence I did at least try to buy the Bontrager Mud X's! And Cycleworks are not in the business of giving poor advice.
I think these Storm Control tyres will be a reasonable alternative, certainly a quick roll along the road with them at 60psi (while the sealant properly seals the rim) indicated that even at that pressure they have a pretty supple carcass. The rubber seems grippy, so after I've dropped the pressures maybe for a change I might go looking for roots to test them out? Or, maybe not!
I'll give some real world impressions in a few weeks. Ironically, it appears these are the same tyres Lee has been running through most of the less-than-dry summer so we'll compare notes. Thanks for everyone's advice on tyres, it was very much appreciated as I really didn't have much of an idea what to get. Fingers crossed for these.