Weeknotes No. 3 – the jet age

Let's face it, if you're unlucky enough to need them, you don't care how they get there!

Mountain Rescue Jet Packs
I'm talking about Mountain Rescue. The service we are all glad is there, but not remotely keen to see. Up in the Lake District, the service is trialling the use of jet packs to get to their clients and I'm honestly not sure if that is a late April Fool or not.
On the face of it, it's not. Mountain Rescue claims the suit could help teams get to the top of Helvellyn in 8 minutes although that must be theoretical because the suit only works for 5 minutes currently. Still, that is a rapid response and if they can crack the issue of the rescuers own safety it looks promising.
Science innit? Check out the video for more…
Being a cynic, I can't help thinking the company behind the tech wants to drum up some business and this is the perfect advert. I also think that existing drone tech would help locate casualties quickly; maybe the two ideas in tandem could work well. We just don't wanted the hillsides littered with expired rocket men and drones; range is important.
I still never want to have to see Mountain Rescue though!
Tesla batteries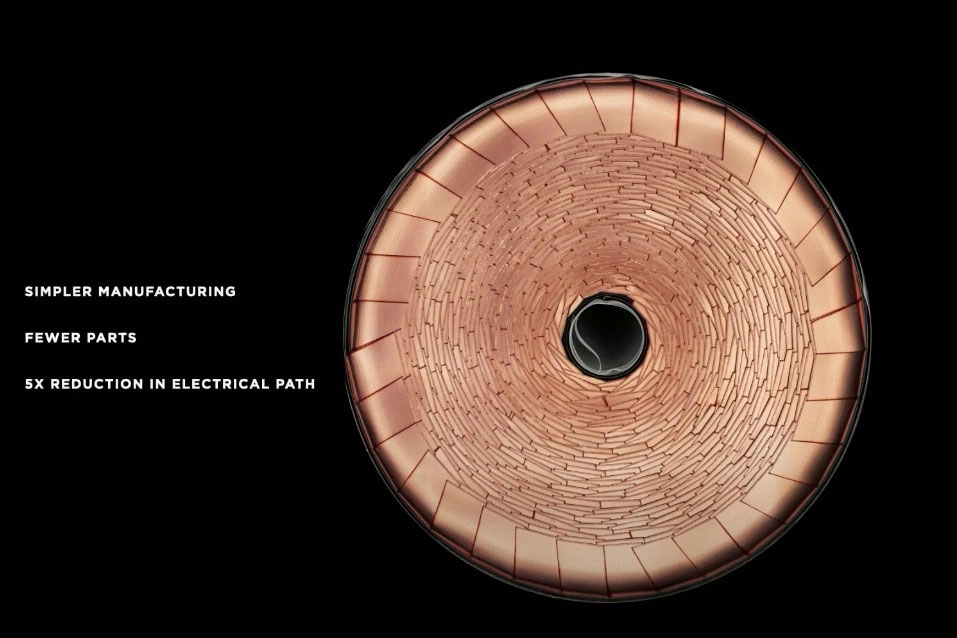 Talking of science. Battery tech is evolving, as Tesla have been trumpeting this week.
Now, I am ambivalent at best regarding Tesla; I used to think electric cars were obviously going to save the world. Duh! These days fewer cars, full stop will help save the world and companies that urge a simple one for one switch are definitely NOT the solution. But…
…there's no doubt that the demand for electric cars is going to drive (no pun) the evolution of the solutions we need in the future. One of those is battery tech and in particular energy density – getting more power with the same or fewer resources. Tesla claim their new design – still no more than vapourware – offers 6x more power with a 16% greater range (I doubt at the same time). Essentially, more power with lighter weight.
All very nice, all very much hot air at this point, but you can read some interesting battery details on Pinkbike.
The benefit to bicycles is clear, particularly for electric delivery bikes offering efficient transport for 'last mile' delivery. In fact, I've often thought our small villages would do very well from a local company offering to deliver their goods to customers via electric bike. A sort of village-wide delivery service that each shop could buy into.
Specialized Chisel XC aluminium
Still on the subject of tech, and it's Specialized's turn with the launch of the Chisel XC hardtail. When I was talking recently about the capabilities of modern XC mountain bikes versus the limitations of modern MTB-lite gravel bikes, it was with this (and other full sus bikes in the range) in mind.
This is a bike that is made to go fast for not much money; base models of the Chisel start from around £1400 with the main tech application coming from the SmartWeld aluminium frame that produces an impressively lightweight frame. With 29er wheels and a 100mm fork, this looks like a cheeky little trail companion.
The Chisel is a good looking bike yet offers capabilities some of those rival gravel bikes can't match – off-road that is. What's most interesting to me is the geometry of the Specialized Chisel in size M is almost identical to the geometry of the Albardo in size ML!! Literally same Reach, Effective Top Tube, Head Angle and Seat Angle! If you needed any further evidence that gravel bikes are aping XC hardtails, there it is.
If your riding is 80-90% off-road (or even if the split is around 60%/40%), this sort of bike will beat a gravel bike hands down and you'll have a blast on it while doing so. If, like me your gravel riding is 80-90% tarmac, unmade roads and cinder tracks then go for a gravel bike; otherwise the Chisel and others like it – with its 100mm fork – will have your back even if you are not racing it.
It's at least as much of a sensible purchase for a do-it-all bike as gravel bikes claim to be. My best advice remains – choose the right tool for the job. Sometimes that's a gravel bike (I love mine), but sometimes it isn't.
Devinci Troy
I still think 140mm/150mm travel is overbiked for a 29er in the Surrey Hills. But I still hanker for new ones whenever they are released, and this week was no exception.
I like Devincis. I don't know why, I just like bikes that look a bit chunky. Or maybe it makes a change from a Santa Cruz? Here we have the 4th generation Devinci Troy, a beast of a bike that looks beautifully finished, particularly in carbon. Sign me up for the ghost purple please.
It sports a 157mm Super Boost rear end yet still manages clearance for 2.6 tyres. Probably a 2.4 would be the sweet spot with a 2.6 up front but that back end is the only part of the build that bothers me. Maybe 157 will catch on, but I just feel the extra wide hub, plus tyre clearance, plus short chainstays too often will result in catching your heels as you pedal. Which is not good.
I don't know, that's my hunch. I am happy to try this bike and prove myself wrong!
Oil slick comes to Absolute Black
Over the past year? two years? About that I think, we've seen a growing trend for oil slick treatment on bikes.
It started with the SRAM AXS 12 speed cassette I think, but quickly caught on. Chains, pedals, headset spacers and top caps, seat collars, valve caps, grips, pedals, hubs, the list goes on. You can now add to that list Absolute Black with their oil slick chainrings (they happen to call it PVD).
It looks pretty funky to me. This sort of finish on top of Absolute Black's already finely machined and anodised work is pretty special and every ring is different. For a long time I've thought the company should use more than just black and the occassional red anodising. Presumably Absolute Black know what they're doing and their company name says it all!
I would suggest if you go down this route two things. One, have deep pockets – these thing are about £110 a pop (but then SRAM 12 speed cassettes aren't cheap anyway). Second, use the oil slick treatment sparingly. Perhaps just a chainring and grips? Or stem bolts, grips and seat collar with the drivetrain all black?
It's up to you, but there is too much of a good thing.
Time to bust out the lights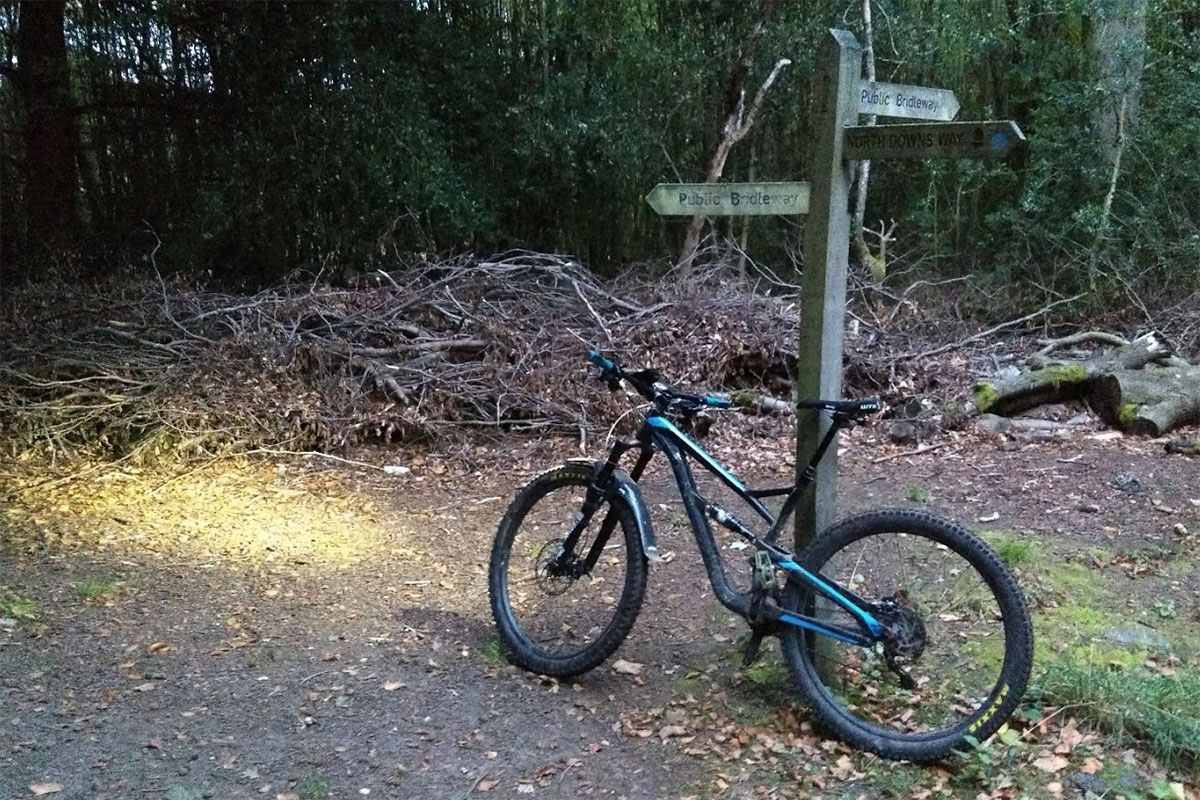 There's is something about night riding that I really enjoy. Ho hum trails suddenly become fun again with your vision narrowed to the throw of your light.
At the moment, we're in that literal twilight zone, setting out in daylight and moving into the dark. It means at various times the lights don't appear to be working but you are grateful for them soon enough.
We got out Tuesday for a splendid ride in the last dust of summer; tonight it was a different story. Time to come to terms with the first slip and slide on the trails for several months, time to dial things back and recalibrate I think!
Right, that's your lot for this week, hope you enjoyed it. If you find a weather window over the weekend, try and take it!