We're off to the Cycle Show 2009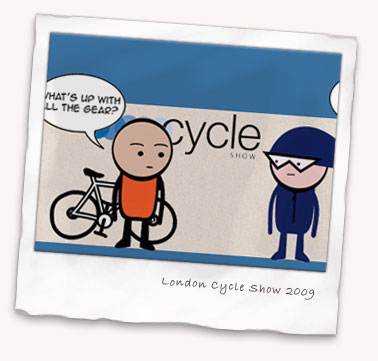 Tomorrow (Friday) we're off to the Cycle Show up at Earls Court. It's a bit of an annual pilgrimage for us and it's always a good excuse for a day out. The fact that bikes are involved is a bit of a bonus really!
Anyway, this year we've got plenty to look out for. Not just our mate Mark Dressel from Biketech but also we plan to photograph as much kit and gear as we can. Who knows what we'll find?
It'll be great to see the Ragley line up in the metal and Cotic are also promising good things, including a new cross frame. With the way our racing tendencies are going that'll give us at least 5 minutes of misty eyed dreaming before we wake up to reality.
Last year it was Singular Cycles that really caught our eye, since then they seem to have established themselves as a decent addition to the micro-manufacturers out there. On the flipside, the likes of Trek, Specialized and Giant will also be showing the kind of bikes many of us will be riding.
I'll be paying particular attention to brakes after recently buying a set of the bargain Reba Team forks for my Inbred. I really do fancy those pink Hope Monos though!
Look out for a report over the weekend; other than that, see you on the trails. We've had a week off since Thetford so should be out Sunday.