Another summer heatwave ride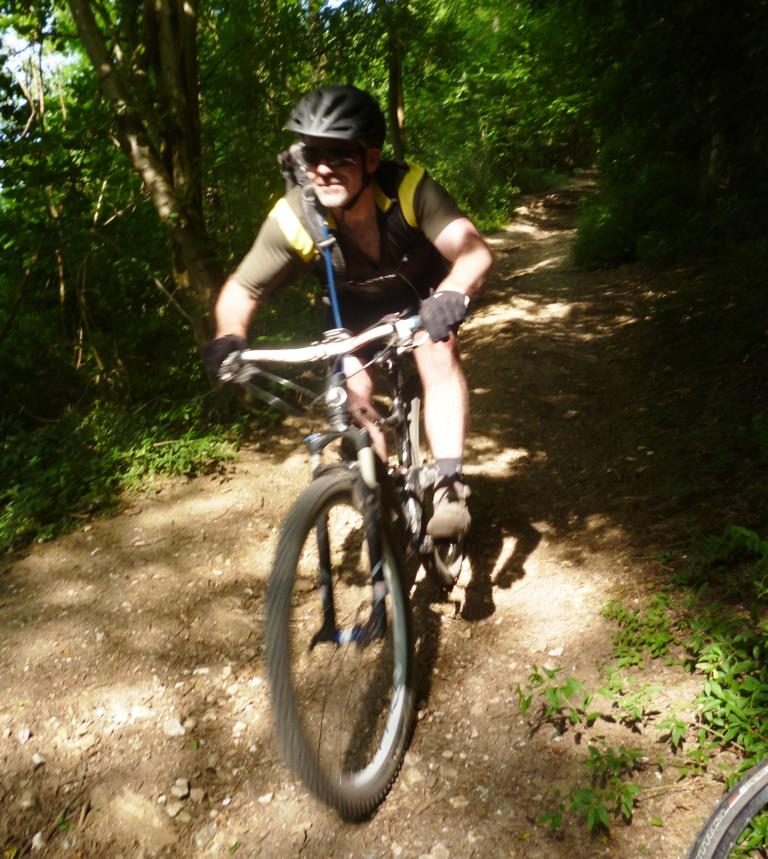 The high heat conditions brought out another fine showing of Moles + Molette.
At Bocketts (all routes lead back to Bocketts says a MoleFather) 12 moles assembled. Dave, Jez, BigAl, D'Andy (keeping it real fully rigid and single speeding on my new bike), Lloyd, AndrewK, cuddly toy, Karl, KevS, washing machine, Julian (all the way from North London, via Germany), Chrissy, Rich, Al. Maybe I missed some out… sorry it's like a  Generation Game memory test. Anyway with minimum faffage we were off with a sketchy plan to ahemm "shred some gnarr" at Leigh Hill.
Heading up Admirals Trackway a couple of things were obvious. It was bloody hot, so keeping on moving was a good thing and there was to be absolutely no hint of mud anywhere in Surrey – yeh!
Near Wiggly wood we met "the late JR". Unlike on Saturday when I bumped into his morning ride, he was actually wearing shorts and a short sleeve top. It must have been hot. Although thankfully not hot enough for Dave's open toe SPD sandals!
Almost straight way we met up with sometime Moles rider Tony and friend at the top of Yew Trees who'd been out for an early ride. After a brief hello it was down to Pamplona. Here the dust was picking up and it was tricky to pick your lines mid-pack if you were too close to the rider behind. In these conditions my 29er Camber with summer tyres felt like a blast, although D'Andy fully rigid on his Cannondale was close behind (and no it's not for sale Kev!).
Even Pamplona was completely free of mud and the climb seemed a gear or two easier than normal although that could have been our extra summer fitness.
Regouping at Ranmore we decided to head along to Badger run and down "Lloyds nemesis" Landrover. Getting there first I went half way down to take some pictures (see title shot of Dave).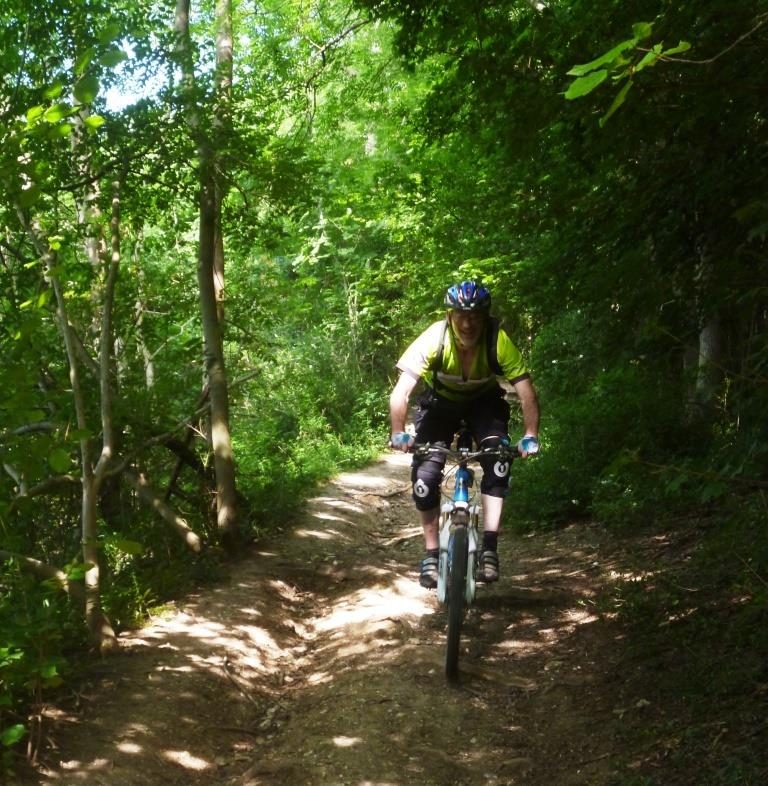 The "range of styles" shown by the various Moles was very interesting. From the careful slowish line picking (Lloyd and JR), to the nervous (you know who you are), to the controlled speed (Dave, Jez), to the uncontrolled (Karl who else!) and finally the super fast confident approach of BigAl. Big Al was both too fast to catch on camera and also the first person I've seen overtake someone else at speed on Landrover.
Heading down myself from just half way down, I built up speed so quickly it was full on emergency, standing on the front breaking, to make the corner at the bottom. Super quick!
We headed over to the Rookery, getting mildly Miss Whiplash-ed by the vegetation on the way. Then I had the pleasure of watching the slow-mo race of two Moles up the rookery climb. Never has an attempted overtake looked so slow.
Regrouping again we rode along Wolverns to the second half of summer lightening and rode the "DH" part of Summer lightening. A first for Dave? Given how washed out and rocky the normal XC second half of Summer Lightening is, paradoxically I think that the DH part is now easier. Despite being rigid D'Andy still styled it up at the jump before heading home to look forward to a long drive to Newcastle. I didn't envy him the drive.
Next we headed over to the south side of Leigh Hill. The singletrack here can be very muddy (we rode a very similar route before our Xmas meal) but today it was excellent. BigAl lead the way and we wound in and out of the conifers, with a slight deversion, until we found Deliverance II (I'm gonna make you Squeal boy, Squeal like a pig). There was indeed some squealing, mainly brakes, but some from Moles+Molette, since Deliverance II was steep and fast. Very good though.
After a slow winch back toward the tower (my legs knew I'd ridden for 4.5hrs the previous day) we crisscrossed the trails around the quarry. Here Jez, Chrissy and I "tactically" got lost to get to the head of the café queue at the Tower. The new proprietors have a great line in fruit drinks. A big cup of raspberry lemonade half full of ice and slab of flapjack hit the spot perfectly. Although strangely, like the day before the Tower wasn't as busy as you might have expected it. It was beautiful sitting in the shade, shooting the breeze and it made a change from being there in winter and huddling in the lee of a howling gale.
The route back was standard moles fare. Over to the bombholes, where the group split in two and an impromptu attempt a moles cross over display team nearly ended in disaster. At Deliverance I, Julian got much respect (although he probably didn't even notice it) by heading straight down after BigAl without a pause. Then it was Waggle Dance, Summer Lightening and Wolverns. Oddly my legs felt great now and I headed down about as fast as I could, spinning out at one point on Wolverns. Although through the singletrack I overcooked a corner with BigAl on my wheel and rode through the foliage of a holly bush. Ouch! I look like I'm self harmer at the moment.
Heading down to the Rookery we heard that someone had come off on the descent. Apparently they were Ok and with time pressing Lloyd and I made out excuses and left to meander up High Med and down Dearly Beloved, before getting back to Bocketts. All trails lead to Bocketts!
It was another fabulous day in the summer heat. With the trails baked dry and more Mediterranean than British There really couldn't have been a better place to be out on the MTB today.