Muddymoles are prize winners at Brechfa!
But more of that later, as we had not got off to a good start that Sunday morning. We were late and it was raining, and it was 9.40 when we arrived at Llansawel Rugby Club, with registration closing at 9.30 and the riders briefing at 9.45. I parked the car while my daughter Ellie checked in, having borrowed the "Team Muddymoles" tag for the day.
The Brechfa Enduro begins with a mass start behind a vehicle that leads along public roads for a couple of miles, before pulling off and allowing us to climb a steep lane marked as "No through road". With our late arrival (we were the last in the car park), we prepared ourselves and our bikes with minimum "faffage" and got to the start about 10 seconds after the leading car and the 100 or so bikes pulled out.
We caught the back of the pack and even passed a few as we encountered the first short but steep tarmac hill. I passed a lady rider who had just shipped the chain off her Orange 5 searching for a gear that didn't exist, and being a gentleman stopped to offer assistance in pulling it away from where it had jammed between the cassette and the hub. Fortunately for me her partner (this Enduro is generally a team event, though solo entrants are also accepted to "Play alone in the woods") arrived to help sort out the mess, so I left them to it.
Ellie suffers from exercise-induced asthma, and as our rushed start meant she had not taken her inhaler before we set off, the first real climb in damp conditions necessitated a stop to dose herself up. All perfectly legal for doping control if prescribed by a doctor, I believe.
We were quickly in the woods, and equally quickly the effects of the previous days and that morning's rain were felt. The Brechfa Enduro uses the two main trails, Gorlech (Red) and Raven (Black) and throws in some "secret singletrack in the woods", as well as the usual fire roads to link it all together. This makes it quite a different ride from the normal trails available, which in themselves are a fantastic (and long) day's ride.
As keen readers of the MMs site will know, my Whyte E5 (with superb mud clearance) was recently stolen, so yet again I found myself on Cycleopedia's long-term loan bike, a vintage full-sus Stumpjumper which is still for sale when I'm not abusing it in between bikes. Unfortunately the mud clearance on this bike was nothing like the Whyte's, and combined with V-brakes resulted in me grinding to a halt after about 200m of ploughing through the damp woods.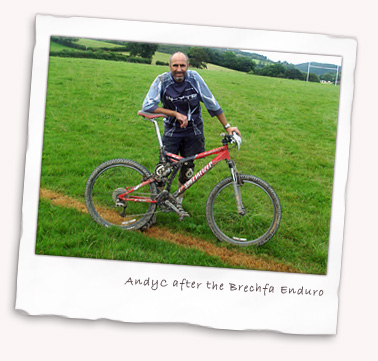 Equally unfortunately, there were several kilometres of this type of terrain. Ellie was faring much better on my On-One 456, designed for Northern British mud rather than our sandier Southern soils, and which was still sporting my winter Panaracer Trailraker tyres.
Very soon we found ourselves in the company of a few "more mature" riders, as well as the lads tackling this 30km or 48km course (depending on where you choose to exit) on some hefty, long-travel all mountain bikes. The odd fire road climb and descent allowed me the opportunity to free the several pounds of mud jamming the back wheel, with my V-brakes promoting much comment and schadenfreude from the few riders that were still around us.
Carrying the bike down yet another off-trail muddy diversion, I was passed by the lady I had stopped to help earlier. I think this put us firmly in the "lanterne rouge" position. (That's a Tour de France reference, before the Prince of D.E.s gets started!). Having cleared the mud handicap yet again, we were surprised to find ourselves spinning past the "all mountain boys" pushing their steeds up one of the long fire road climbs.
There's a total of 2,100m of climbing in the 48km route, so maybe their bike selection was a little optimistic. We were flowing well on the longer parts of the Gorlech trail (it really is a superb track and well worth a visit for those that get beyond Afan/Glyncorrwg), when I realised that Ellie was no longer behind me.
After a few minutes I returned along the trail to find her taking a link out of a snapped chain. We quickly fitted the last quick-link in my backpack (the previous day we had donated one to a rider stuck half-way up the "Wall" trail in Afan Argoed), but during this mechanical interlude the all-mountain boys sped past. About 15 minutes later we passed them again as they struggled up one of the longer singletrack climbs on the trail.
With all of the muddy off-trail excursions out of the way, we made reasonable progress along the rest of the Gorlech trail, enjoying the swooping berms and rollers that are its trademark. I did not attempt any of the double jumps, due to the combination of the aged Stumpy (which was probably up for it) and my role as "sensible parent" for the day (who definitely wasn't). To be honest, I was not really enjoying the ride by now.
Ellie's right knee was giving her some pain, a legacy from our recent Holyhead to Cardiff epic (soon to be another article on this site); and the V-brakes on the Stumpy were working at about 30% efficiency despite me having replaced the pads the previous day following the ravages of Afan Argoed. So when Ellie took a tumble on one of the faster corners (caused by a moment's inattention as she tried to find the source of the On-One's intermittent squeak), this confirmed the decision I had been pondering for the last few miles as to whether we would opt for the shorter route and miss out on the Raven trail section.
We were very pleased to see the feed stop after just under 4 hours of riding, and the free fruit cake and banana bread, washed down with some energy drink, were most welcome. The all mountain boys arrived just as we were leaving, and we were all amazed when an off-road tandem whizzed past and headed off down the narrow, twisty and jump-infested trail. The lady on the back laughed and whooped as they descended, what a nutter!
Ellie spoke to her later as we were cycling back, and she confirmed it was great fun, though I wouldn't trust myself to steer it down those types of trail. "Barmy" was my conclusion.
We were very surprised when only a mile or so of the descent after the cake stop, we arrived at the finish for the event. Clearly, had I arrived in good time that morning to review the course map and listen to the briefing, I would have realised where the food stop was on the course. In truth, I was quite happy to finish, though I hasten to add that this was not a reflection on the event. It was more a combination of tired bike, tired legs and arms from the carries, and concern for my daughter's knee joints.
We soon perked up when the nice chap from Mojo suspension (the UK's Fox distributor) handed over a brand new pair of Fox Vanilla R forks to Ellie, who was the third woman home. She tried to hand them back, explaining that she hadn't completed the full course, with me hastily intervening to stifle her instinct for fair play.
She was happy to accept after it was explained they were spot prizes, she was the youngest female entrant, and the clincher, they liked our team name of "Muddy Moles". (See pics on Mojo's site). We cycled the few miles back to the Race HQ to retrieve the car, then returned to collect our forks, snaffle a burger from the BBQ, then retire to the garden of the excellent Black Lion in Abergorlech for a well-earned beer.
I would definitely tackle this event again, and with a drier few days preceding it, the course would have been a cracker. This is West Wales, however, so bring a bike that is prepared for mud if you fancy entering the Enduro.
The main Gorlech and Raven trails are fine for year-round riding, with the majority being made up of well compacted stone. They are nicely bedded in, and seem to wear pretty well (I first visited last year). As I mentioned, the Gorlech (red) trail has many fast sweeping berms and table tops and doubles, as well as quite a few launching points. There are also some beautiful and almost other worldly wooded sections; very "Lord of the Rings".
I have yet to tackle the Raven trail, so I can't comment on it, but it's an excuse to be back for sure. You could make a great week-end by combining Brechfa with some of the other mid-Wales trail centres (Coed Trallwm, Nant yr Arian) or some of the fantastic natural bridlepaths and singletrack that exists in these parts (see the Summer 2009 edition of mbr). Also see MTB Wales for some ideas.