Ride report: Christmas riding 2019

Christmas is short days and family; short days and family means riding time is limited so you have to take your chances where you can.
That means that over Christmas 2019 I haven't managed to ride MTB as much as I hoped.
This is also due to the fact the Jeffsy was until yesterday heavily clagged with mud (those 2.5 Maxxis tyres sure hold on to their fair share) and the rear Mudhugger mudguard has needed some adjusting. As for the Bird Zero hardtail – my nominal winter MTB – well I'm still to remove the tube I put in the rear tyre in November to get me home on a cold commute, so it's not currently tubeless.
So that leaves my gravel bike, the Cannondale Topstone.
This has been a revelation for me this year and has let me keep on rolling when trail and bike conditions have been against me.
Take Saturday for example. Mark and I decided to head out for a road loop south of Dorking. Despite the damp roads that are increasingly suffering from a lack of maintenance, the gravel bike excels in these conditions. With full mudguards and nice comfy tyres you don't need to concern yourself overly with what's under your wheels.
We headed out to Newdigate and then turned east toward Reigate on nice empty roads. The conditions were prety benign and just about warm enough that with a baselayer and windproof thermal jersey I was toasty warm.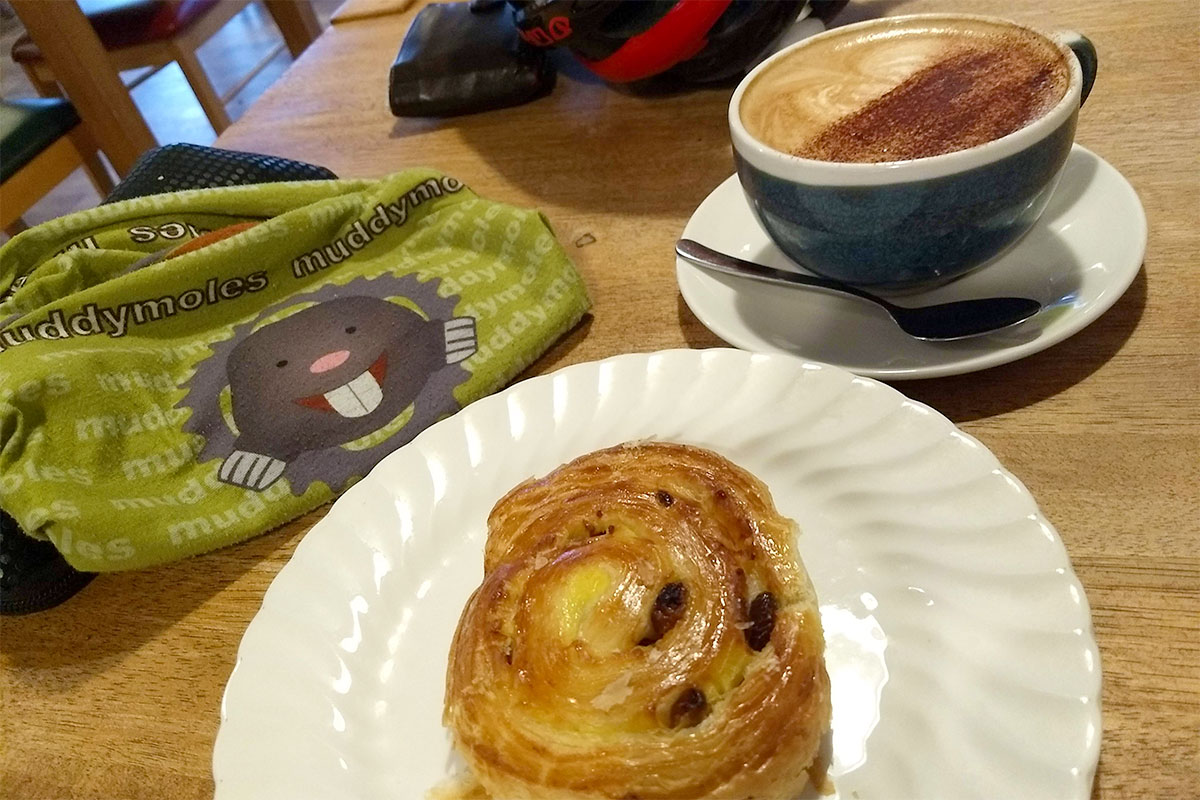 Near Reigate we looped back to Brockham and stopped for a coffee at the Southdowns Kitchen at the junction with the A25. If you haven't been, you'll find they sell a reasonable standard of coffee and cake – mainly homemade – and they are very welcoming of cyclists and dog walkers (there's a nice area round the back to park your bikes which can be seen from inside). Worth a visit in my view.
By the time we left I found I had inexplicably taken off my gloves and helmet and left them to get cold outside. I guess that shows I was nice and warm when I arrived but it was not a pleasant few miles getting heat back into me!
We headed back across the Mole before looping back to Punchbowl Lane and then along Pixham to pick up the A24 cyclepath to Leatherhead and home. All in all, about 36 miles on the clock.
Monday was the only other time I could get out on the bike, this time solo for me.
I decided to start out from Bookham by going to Effingham and climbing up to Ranmore as a warm up. There was also a bit of frost around and I didn't want to be coming down this way if the roads were a bit dicey.
Once on Ranmore I tracked along toward Dorking, passing Ranmore church and then entering the Denbies estate. The idea was to get away from the roads a little on the gravel bike, although the gated track up through Denbies is now smooth tarmac!
At least it's only walkers and a growing number of riders on gravel bikes to contend with. I counted a group of three gravel riders but expect a lot more as interest in these sort of adventure bikes grows. Even Eliott has been known to dabble these days…
Down through the vineyard, with mist shrouding the valley and parts of Box Hill, then I threw in a short loop round the Dorking one-way system and it was once again back home via the A24 cyclepath. This cyclepath is the only segregated cycling infrastructure in the area (you can thank 1930s planners for that) and having ridden it at least twice a week all year I value it very highly.
I thoroughly enjoyed my short hour and a half ride that saw another 20 miles recorded. I found myself musing on adjustments I want to make to both the gravel bike and this website for the coming year having achieved most of my targets for 2019. If you can't find things to improve it means your going backwards in my book!
Happy New Year one and all and I'll see you in the next decade… 2020 here we come!