Ride report: Epsom to Shoreham-by-Sea via the Downs Link
It's easy to obsess about the latest kit being dangled before us and the level of choice available now is extraordinary. Have you seen how many tyres are for sale on some of the bigger bike websites? I can't tell you because I fell asleep counting but I reckon it's above 400. Folding, tubeless, dual compound, snake bike protection, the variations go on. Wanna new grip? Try picking from over 250.
Don't get me wrong. The choice is fantastic but sometimes it's good to get back to basics. I am not talking about single speeds either. With my own titanium model dripping in Thomson, Race Face and Phil Wood I have no moral high ground on that score. No, what I mean is pedalling. It's good to just pedal. And it's good to pedal from A to B. Just what bikes were invented for really. So that's exactly what two of us did. We set off and rode south until we hit the sea. Simple really.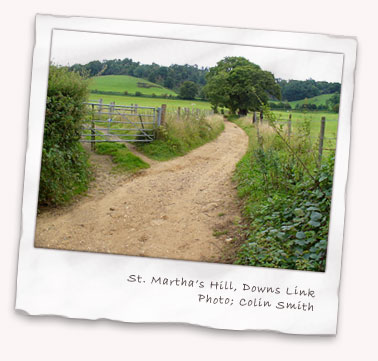 Photo: Colin Smith. Attribution Creative Commons Share Alike
It wasn't quite as spontaneous and free spirited as I've made out. I had for some time wanted to ride the 'Downs Link'. It's rather appropriately named as it links the North Downs with the South Downs making use of an old railway line that's found new life as a cycle path.
The route itself begins in Guildford but our starting point from Epsom meant a more challenging beginning across Box Hill and Holmbury. This was all familiar stomping ground but rather than waste time and energy on some of the tougher trails we took a more conservative route that made use of more back roads than would normally feature on a ride. It was going to be a long day so there seemed little point in wasting time in our back garden.
We joined up with the Downs Link at Cranleigh and from there on the map was left in the pocket as the route was well signposted and easy to follow. There were no significant hills to speak on route and it was a simple matter of turning the cranks at a steady rhythm.
It wasn't long before we passed a sign advertising tea and cake. Like moths to a flame we turned off the path to find a rather quaint tea hut offering all manner of home baked goodness. It was next to a rather optimistically called 'Lake' but I will forgive their advertising as the pond was pleasant enough and they got bonus points for cushions on the chairs and a scrumptious chocolate cake. They also had a rather neat sculpture of a cyclist made out of bike components. The biking android looked like something from The Terminator so it pleased both bike geeks and small children alike.
We continued onwards and got into a steady pace. The path itself is a pleasant place to amble along and chat away. Riding around the more challenging trails of the North Downs you can easily forget that some people just like riding their bike and the path is also an ideal place to take little ones out for a traffic free adventure.
Putting the world to rights took our minds off the mileage and we eventually realised we were hitting the 40 mile mark. Time for a lunch break and thanks to weather we munched home-made sarnies sat in a sunny field. It's the simple things in life.
After that we were into the final stretch with the South Downs looming before us. The path follows the river Ardur at this point so doesn't ever go over the top of the chalk hills. Instead it continues in the shadow of the river's relentless march to the coast and ends in Shoreham-By-Sea, also taking our mileage above 50.
To get to the beach you need to walk your bike over a footbridge crossing the river. It's worth it having ridden that far to sit on the pebbles and watch the kite surfers enjoying their sport. All that was left was to grab a beer, rejoice in our success and head homewards by train which was altogether more challenging. It wasn't an endorphin rich ride but it made a refreshing change to get back to basics and just ride a bike from A to B, or in this case A to Sea.