Ride report: Friday 31 August – a short Fat Bike adventure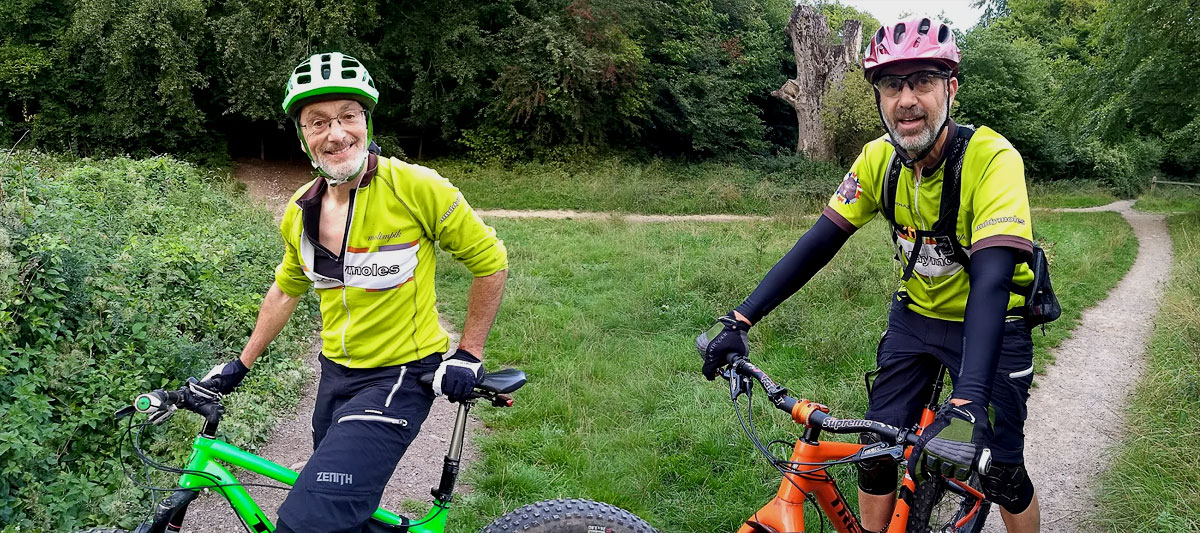 Last Friday saw three of us nip out after work for a short ride around Norbury.
Both Lloyd and JR were on their Fat Bike hardtails; John on his familiar 26″ based Trek Farley and Lloyd on a huge Trek Stache. With enormous 29+ tyres it's probably closer to being a 32er than a 29er! It's nice to see people still choosing to ride hardtails of any form in this age of competent full-sus machines.
We headed up to View To A Kill and then down to Westhumble and over to the climb up to the Gallops at Mickleham. From there it was on to Secret Singletrack at Headley which is just starting to open up as the bracken dies back. Even so, the trail remains heavily obscured and probably will do for another month or so.
Our return leg took us to the 'new' trail down to Stane Street from the spur off Life on Mars. It's becoming my favourite and rather than take the left near the end which takes you to the fence line, we stayed right. This gives another few hundred yards of twisty singletrack through the trees and is worth doing to prolong the fun.
At this point I commented to JR that I hadn't tried a Fat Bike for a while (my only experience being an original Salsa Mukluk at Swinley years ago). Why don't we swap bikes? said John. Why not? So it was that I jumped aboard his Farley while he took my Jeffsy and we headed off toward Tactical Nuclear Penguin.
First impressions were how much steeper the head angle is on the Farley compared to my Jeffsy. This was followed by the realisation that in these hardpack conditions the Farley had simply oodles of grip from it's 4.25″ tyres. I didn't want to waste that!
So off I went down TNP, in somewhat gung-ho mood. I was flying, any roots were irrelevant and with the Bluto fork the front end tracked really well. It was great fun until the point I rounded a corner at high speed and found myself in a two wheel slide on loose chalk and flint marbles. I slide straight off the trail and landed heavily, scuffing my knee, forearm and shoulder in the process – oops!
I was too winded to quite get back on the bike and pretend nothing had happened before Lloyd and JR caught up with me, so they found me shame-facedly shaking myself down with no real harm done. The rest of TNP was ridden with a greater awareness of the laws of physics…
We hauled ourselves up to the top again, then headed for Vietcong. Again, I pushed myself on JRs Farley and especially at the top found it an absolute blast as it literally roared and rumbled down the trail. As the terrain got looser the fundamentals came back into play, especially the fact it's a hardtail and the back end is quite lively, but it remained fun. The final technical section was handled well too, as the slower speeds and immense grip meant the Farley could be pointed where you liked.
It does however require quite a physical commitment to ride the Farley fast. I was knackered and happy to swap back to my Jeffsy for the final few miles. I'm sure the Farley would have been quite capable of being ridden in some comfort at a more sedate pace, but the novelty of the fat tyres was too much for me.
Once we'd crossed the road into Norbury Park again, we rode up the hill and cruised along River Run. From there we dragged right up to the top of Crabtree Lane for a change, and enjoyed a rapid return down to the big field at Bocketts. Then we headed to the Anchor – sadly I had to leave JR and Lloyd there as I had to be back home, but any other time would have been happy to indulge in a liquid-based refueling strategy!