Ride report: Sunday 20 June – Summer Solstice

I suppose the subtitle to this report could also be 'up with the lark', except in this case that would be inaccurate. We were miles earlier than that!
Instead, Colin, Mark and myself donned metaphoric (and possibly metaphysical) beards for a spot of druid action at Holmbury.
Now the stereotype of the eccentric Englishman goes without saying, but if we're going trade off this reputation then sometimes you just have to deliver, in much the same way as our national football team can't (as if I care).
So it was that having originally suggested the idea of a pre-dawn ride to Holmbury for the solstice sunrise some years previous, Colin actually called my bluff this weekend. I'd not exactly forgotten the idea, but with an ambivalent reaction last time it had been quietly dropped.
Fortunately the idea must have struck a chord with Colin, with the result that an innocuous email titled 'Solstice' dropped into my mailbox this week. With Sunday being a day short of the solstice (but close enough) and Fathers' Day to boot, Colin was sounding the idea of a mega-early ride to catch the sunrise and get back for breakfast. What could be more simple?
Well, simple was probably the word, as in 'hadn't thought about this too much'. I quickly agreed to the ride, as did a surprisingly willing Mark but that was as many as could be persuaded from their beds. A quick Google of sunrise times and some crude mental calculations revealed we'd need to leave Bookham at 2:30AM if we wanted to ensure a timely arrival at Holmbury for the 4:43AM sunrise.
So there we were, 2:30AM at Bockett's Farm for what must be the earliest moles ride ever. Riding through Bookham with a warm flask of coffee (just instant since our supply of caffetiere coffee was exhausted – sooo, middle class!) and a backpack stuffed with an extra fleece to combat the pre-dawn chill at Holmbury, wondering if anyone would turn up at Bockett's was a nerve-wracking experience.
At the car park, all was empty. I'd passed just the one sign of human activity on the way, a teenage couple making their way home from some party or other. They just stood and stared at the sight of a fully togged up mountain biker with full sus bike, knee pads and helmet light shooting past them!
Within a minute or two my fears were assuaged on seeing a bright light coming up the hill which could only be Colin (who else was it going to be?!), arriving bang on 2:30. A few minutes later, Mark too appeared and we were ready to go.
Rolling gently off into the hills along Admirals Track and up to Yew Trees was such an odd feeling. We knew we weren't going to see anyone; there was no chance of meeting a dog walker or horse rider, no sign of traffic and just the still, calm night around us. It was warm, it was dry and there we were, just rolling along.
It meant a proper hoon down Yew Trees, followed by a slow plod up the other side as we had plenty of time. Despite the early hour we all felt surprisingly fresh and awake as we made our way to Ranmore.
From there it was a fast but not furious spin along to White Down via Badger Run and Collarbone and with plenty of quiet chat about anything that popped into our heads the ground passed quickly beneath our wheels. In a way the small group meant we had no-one to worry about but ourselves as we set a pace that kept us all roughly together.
We even tackled the Abba Zabba complex, though strictly chicken runs only which are always fun anyway. Crossing the road it was into the woods again, once again taking the easier lines but still finishing with a jump over the log at the bottom. By the time we reached the road again though things were starting to smell distinctly cappuccino for me!
My cheap insulated coffee mug had leaked as it was laid almost horizontal through the technical sections, which was a pain. I was to smell of cheap coffee for the rest of the ride and it meant my Holmbury beverage was compromised too. Dang!
Anyway, we pressed on. Into Abinger Roughs, we followed the trail all the way through to Abinger Hammer before diverting from our usual Newlands Route to head up onto the hills again toward Peaslake, using a new trail to me. It gained us height at a steady but manageable pace as behind us the morning sky started to brighten and the smell of honeysuckle and, err, coffee filled the air!
A handful of roads, bridleways and trails brought us into the Holmbury area almost round the back, near the Peaslake end. From there it was a case of drifting through the sandy forest to pick up familiar trails up to the viewpoint, where we arrived at 4:17AM.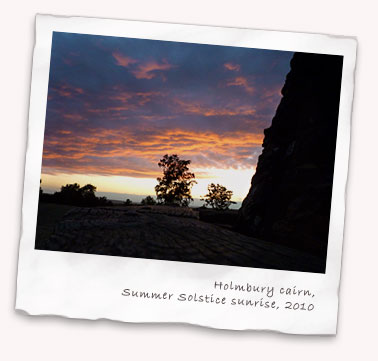 Up here, for the first time the wind picked up, nothing much but enough to chill us as we quickly lost the heat we'd gained in all that riding. My fleece was disappointingly coffee soaked but Mark fortunately lent me his spare which was a relief. I couldn't stop shivering as we quickly broke out a simple breakfast.
My idea of coffee and pain au chocolat had to be shelved as my insulated mug had failed the Surrey Hills test and I had to ponce some off Mark again. Then it was just a case of waiting for sunrise.
Mercifully, the sky was clear enough for a decent show, with cloud cover picking up the soft pink, rose and orange light. We were the only ones to see it and what an experience that was, good natured chat interspersed with frequent 'that makes it all worthwhile sentiments'. We couldn't help ourselves.
By 5:00AM the hills and a rapidly moving line across the Weald were awash with daylight and we knew we wouldn't be needing our night lights anymore. At 5:10, some 50 minutes after our arrival it was time for a very cold trio to saddle up and head for home. As a note for D2D? Really, you can't be too over-dressed for the small hours!
What followed was a magical ride back, being the first to ride Yoghurt Pots and Telegraph at the start of what was likely to be a busy day on the Hills was a real privilege as we motored along, without needing any significant pauses at all. Yoghurt Pots was so dry and so free from other riders even though it was broad daylight that I rode most of it with a big smile on my face. Except the off-camber sand at the top that I always screw up!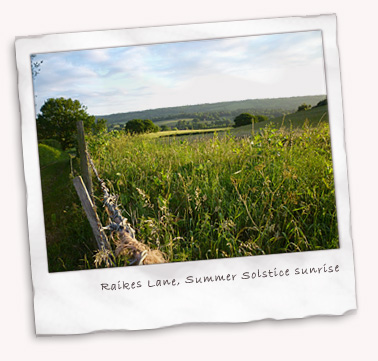 We took Telegraph all the way down to the Youth Hostel car park, then it was down to the Volunteer to pick up Raikes Lane. Colin insisted we actually stop and take in the view across to the North Downs and it really was worth the effort, with the low sun picking up the amazing texture of the maturing wheat nodding in the fields.
So it continued, now warm again, we found ourselves riding what was to be the best weather of the day, sun in our faces and wide, empty views. Villages passed by so silently that it seemed the Triffids had taken over as Surrey waited for it's lucky residents to wake up.
By then we were well on our way home, taking cheeky footpaths that we knew we going to be empty for hours still. Eventually, near the top of Ranmore we finally met another human being who we chatted to as he walked his dog. Magical.
From Ranmore we took Dearly Beloved down to Chapel Farm at an unbelievable pace, almost enough to make you laugh out loud as the sweeping bends near the end funnelled us into the chalky gulley down to the road.
Crossing over, a steep and by now painful climb eked out the final altitude back into Bookham via Wiggly Wood. Rolling into the Bockett's car park around 7:10 was a very satisfied (and if truth be told, a slightly smug) trio of riders who still couldn't quite believe they had set off at 2AM on the faintest of excuses to see the sun come up over Holmbury.
It was one of those wonderful rides that you knew was a legendary happening even as it unfolded in front of you. Thanks very much to Colin and Mark for contributing in no small part.
I feel proper tired now though!
Additional photos of the Summer Solstice sunrise on Holmbury Hill can be found on Flickr.