Ride report: Friday 21 June – another year, another Molestice

So this makes it three. Three times now we've chosen to get up when everyone else is asleep to see in the Solstice at Holmbury Hill.
We must be ageing hippies; defintely we've got the ageing bit covered, even if GrandMole decided to stay snuggled in his burrow. This time round we assembled four gullible fools moles and reverted to our original Solstice format by starting the ride at Bocketts Farm at 3:00am.
The first time we did this was back in 2010 believe it or not. 2010!? Blimey. On that occasion, Colin talked MarkJ and myself into riding over to see in the sunrise. It turned out to be a very memorable (and coffee soaked) experience but we totally failed on the reward side. After an early start we simply headed back in glorious sunshine and went home.
Second time round some seven years later, in 2017 we had at least grown a little wiser. Rather than riding from Bocketts, it was felt that a start from Abinger was more appropriate and this time six members of the Surrey Chapter of Dubious Druids (Colin, Elliot, Jem, Kev, Tony and me) set out. The master stroke though was to return via the Jampot in Dorking for a full English breakfast. This idea was both inspired and quite simply, obvious. How had we not understood that with great effort comes great reward??
So, fast forward to 2019. I had completely taken my eye off the ball and had no plans for the Solstice this year until MarkJ pointed out that it was imminent and shouldn't we do something about it? To which the answer was of course 'Yes!'
So the plan switched back to a Bocketts start. I rather like the idea of a longer journey to get there and it does force a kind of hair-shirted sense of rightousness because you really do need to be up on time. Which in this case is 2:30 for a 3:00am start.
This year, with some of our reliable crazies up a Spanish pass somewhere, we mustered MarkJ, Tony, Gordo and myself. We did have hopes that Kev would be tempted at least by the brekkie but he was keeping his powder dry.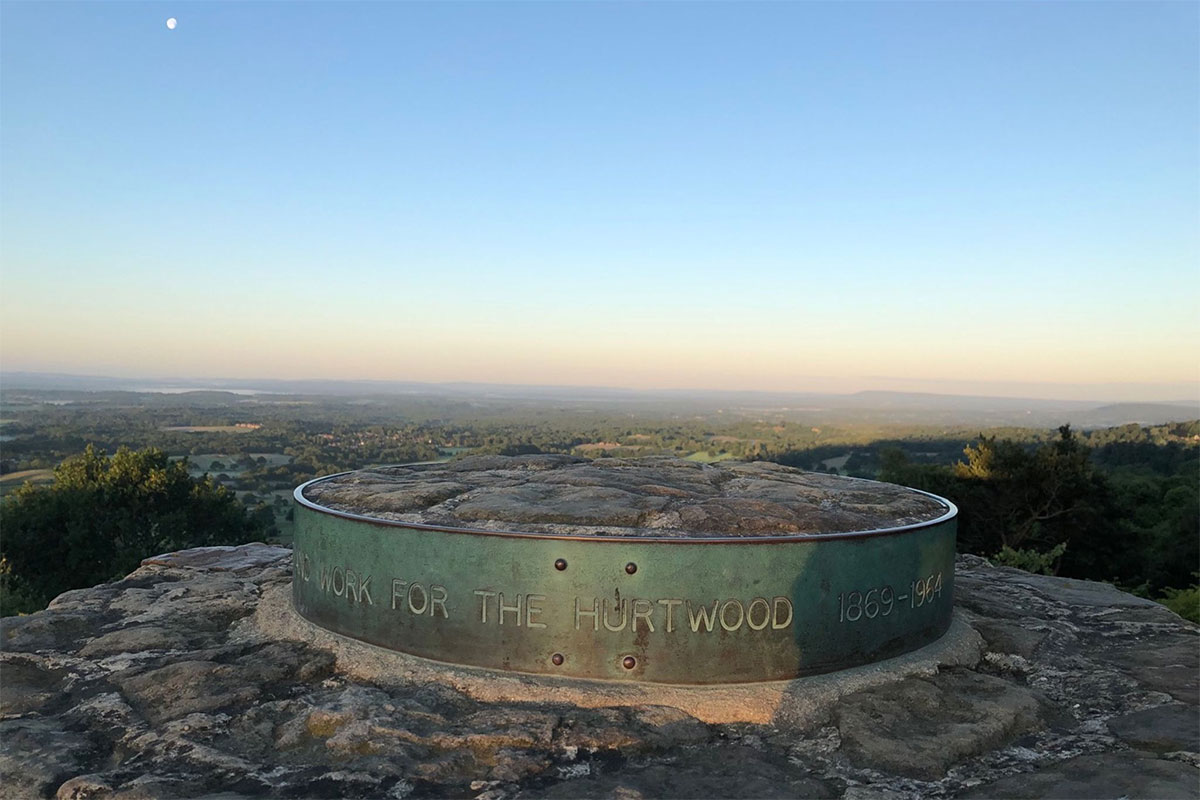 So it was that the four of us – the least likely Fantastic Four you will find – set off into the dark on a bleary-eyed Friday morning. The air was warm and humid and crystal clear after the recent week of rain. As we headed toward Hogden Lane near Polesden, there was a clear view across London of sparkling red lights and office towers, which boded well for later.
Our route was pretty traditional; up to Polesden and on to Ranmore, then along to White Down and down to Abinger. From there, up past Paddington Farm to the Youth Hostel and on up to the summit on Holmbury Hill.
I was expecting to find myself feeling the lack of sleep but actually the reverse was true. It was energising to be riding in cool but comfortable conditions knowing everyone else was for once, somewhere else. We had the hills to ourselves and the longer route made this more apparent. Covering lots of XC miles with no pedestrians, or bikes, or horse riders makes you feel you own the place. Even on the odd tarmac section, the absence of cars was liberating.
Into this mix, as the ride wore on and the skies brightened in the pre-dawn, was the sound of birdsong. A good 40 minutes before sunrise we were accompanied across the hills by loud and unremitting birdsong, something you just don't hear at other times. It was exactly the kind of 'Forest Bathing' that broader-minded people have been advocating recently and felt fully immersive to me. Maybe there's something in this Druid lark after all?
Our ride was fun, and for me rather joyful. It's just so different to any other ride you might do at other times. It was marred only at one point as we came down through the Abba Zabba/Blind Terror/ Rooty Woods complex.
We'd already established that for whatever reason, Mark's front wheel skewer was loose as we started on the chicken run round Abba Zabba. After sorting that out and crossing the road, Mark stacked his bike heavily at the start of the Rooty Woods section.
We didn't see it so can't say for sure what happened. Lots of roots and a steep incline are the salient points really. Mark was bringing up the rear so it wasn't until we'd reached the bottom that we realised he wasn't there. It took a few minutes of waiting before he appeared, a bit bruised and battered but with no serious injury, thank god. Imagine living that one down if we'd needed the emergency services at 4:00 in the morning!
Back underway again, we climbed past Paddington Farm to the top when a badger dashed out onto the narrow path and set off in pursuit of Gordo, who remained oblivious he was being chased down. I was following behind and was quite intrigued to see what would happen if the beast actually caught him! It reminded me of Colin's 2009 badger incident…
We pressed on to the Youth Hostel at Holmbury, sighting a deer crossing the trail just in front of us before heading straight up the hill, bound for the summit. Our timing – thanks to Mark's short delay – was impeccable as we reached the lookout with five minutes to spare.
Whereas two years ago we shared the sunrise experience with a selection of 'unusual' personalities, today it was just us and a couple of dog walkers. I was expecting more to be honest because the skies were clear and you could see right across to the London skyline, including the Shard.
A few minutes later, the sun finally broke free of the horizon. It's odd thinking about the party going on at Stonehenge at the same time as we recorded our own Surrey Solstice. If the weather is on your side, it never fails to disappoint.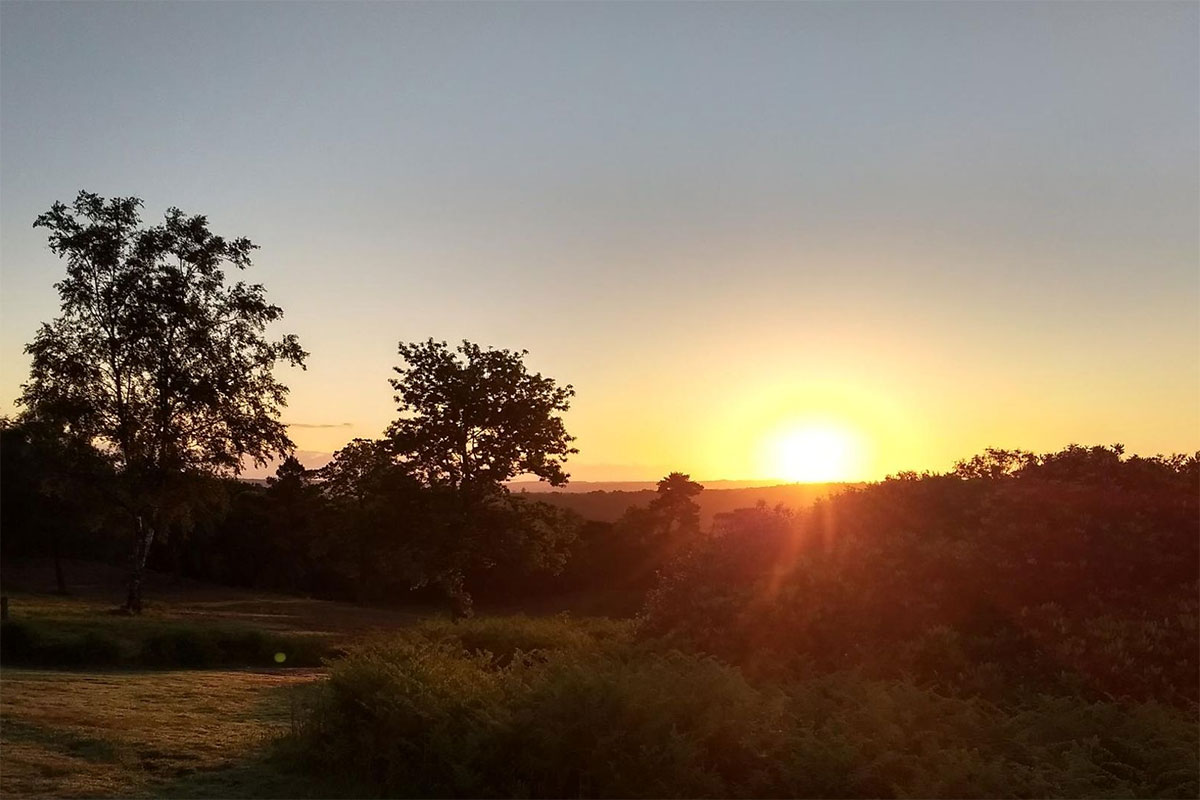 After some minutes, you could see the sun's shadow moving across the Weald to the south as it cleared the North Downs, and soon the pockets of mist in the fields and hollows started to dissipate.
It was time for us also to move on. Breakfast waits for no-one although in this case the Jampot doesn't open until 7:00am. Plenty of time for a little riding…
First of all, down Yoghurt Pots which today was scattered with occassional puddles – not significant to slow you down unless like us you were in mincy mode. Mud just wasn't on our menu.
Then it was across for Tredders Trail back down toward the Youth Hostel before climbing up again and doing Delirium (according to Strava – we were just making it up as we went along!). Finally, it was back to the Reservoir and down Barry Knows Best which was riding superbly as my average 167bpm heart rate testifies!
Our exacting timing requirements meant we passed through a sleepy Peaslake village and headed out the other side to Rad Lane for the bridlepath down to the A25. I thought we'd be able to scoot along here quite nicely but with the newly risen sun at eye level through the trees and lots of debris from the rain earlier in the week it was a bit of a faff.
It did get us to Abinger though where we had to wait for the first cars of the morning to pass. We crossed the road and were soon onto the Abinger Roughs where the corn in the fields shone a bright silver from the combination of sun and condensation on the ears of the corn.
The punchy hills were starting to take their toll by the time we climbed High Med at a sedate pace and followed the track all the way back down into Dorking. Our immaculate timing held up as we arrived at the Jampot at 7:00am, just as it opened for the day and put in four orders for a full English breakfast!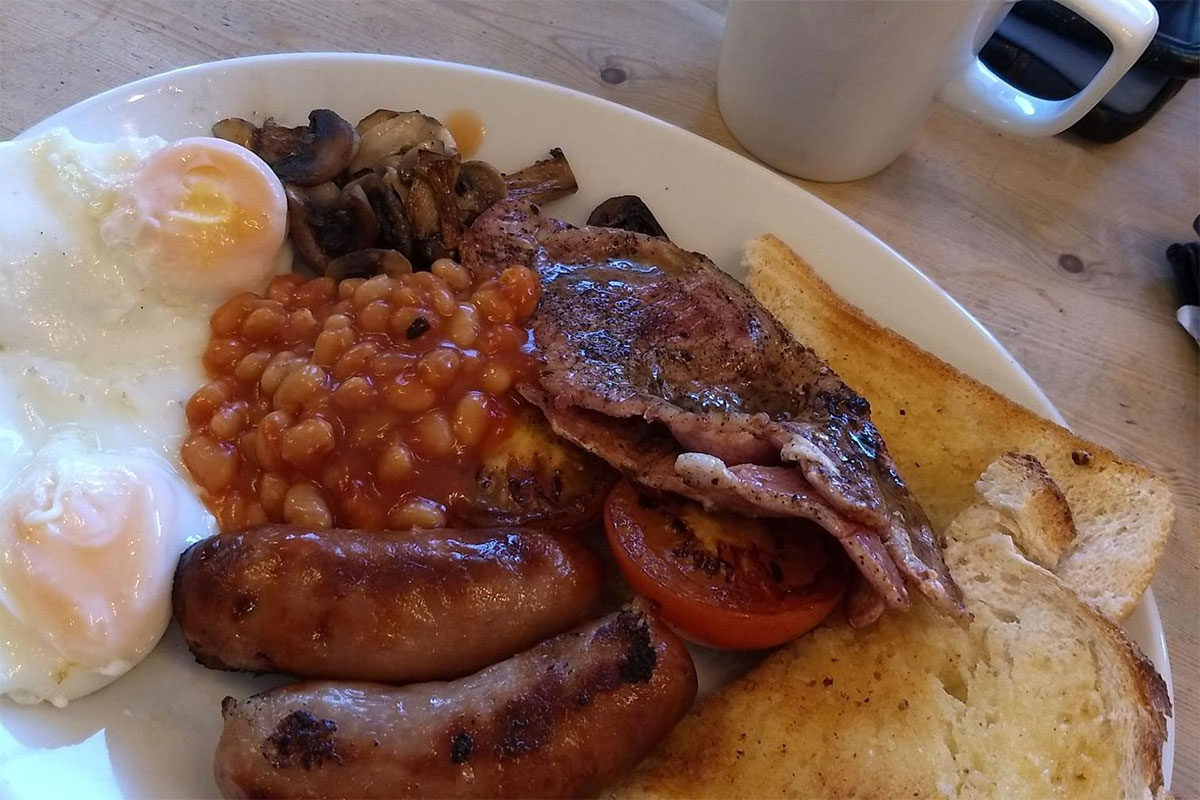 Two coffees and sometime later we left just as the morning rush started to kick in, riding the remaining few miles at a leisurely pace through the Denbies vineyard and back to Bookham.
By 9:00am we were at our respective homes, with 32 miles and a full morning of riding behind us… time for bed!