Ride report: Sunday 24 February – Bird's first flight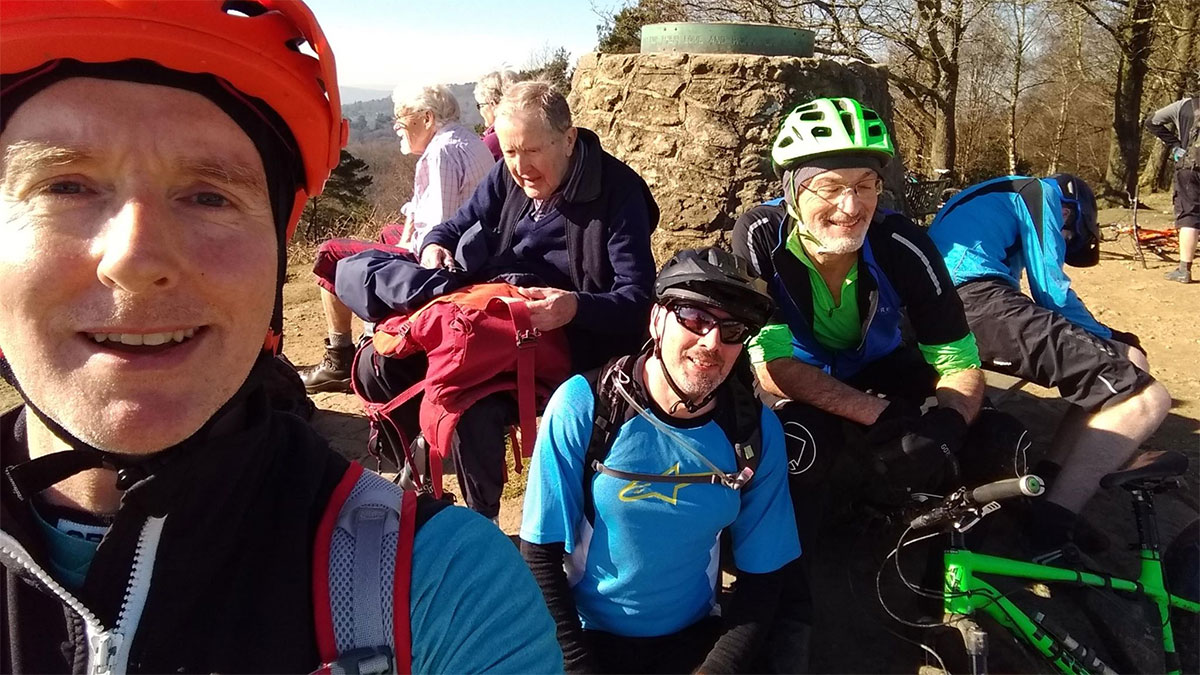 Look carefully at the picture above and three things become apparent.
First you'll notice that Jem is looking really old. Second, someone has just shot Elliot and third, Rolf Harris seems to be out on day release. Apart from that it was just a normal day at Holmbury.
Well, normal for late April weather-wise. I think it was nudging 16° or more today which for late February is decidedly odd. I got my legs out for the first time this year and felt all the better for it.
After last weeks' efforts getting the WTB wheels set up tubeless, today I was determined to actually ride the Bird Zero I've been building now for what seems an age. And I'm glad I did.
We started at Abinger Roughs again because it saves the haul up and over Ranmore and gives more time on Holmbury and Pitch Hill. As you'd imagine, with no recent rain the trails were almost completely dry and I didn't even bother with mudguards.
So MarkP, JR, Lloyd, Elliot and myself set out over the Roughs and I was feeling very curious. I had no idea how the Bird would ride and was about to find out. It certainly felt different being on a hardtail again, and one that fit me for a change too.
We headed up past Paddington Farm, the trail covered in hawthorn cuttings from recent hedge cutting. This really proved the point I made last week about running tubeless and showed it was worth 'all' that effort to set the wheels up. You never know when something like hawthorns will appear with the ability to ruin a ride.
I once encountered a similar situation many years ago when out on a solo night ride, way before the tubeless era. Climbing up to Ranmore from Yew Trees I hit a patch of hawthorns and ended up with something like ten puncture wounds in both my tyres.
Since I only had one tube, and nowhere near enough patches and it was pitch dark, and lights back then were weak and short-lived I had no way of sorting out any kind of repair. So I ended up with a four mile jog/walk with the dead bike and fading lights. I may even have felt rather spooked alone in the woods on my own too…
Back to today… no problems from the hawthorns! Soon we were up to Holmbury Youth Hostel and on toward the top of the hill, except we turned half way up to ride Tredders Trail, and the first introduction to singletrack for the Bird.
It turns out the Bird loves singletrack but it needs a bit of commitment. Number one, don't sit down! It's never going to be very forgiving if you do that as the back end is very stiff. You need to get off the saddle and focus on the front end, letting the back do it's own thing. This was a little more difficult than normal because I haven't yet got round to buying a dropper post.
But as the ride went on I started to trust the front more. Not only did the Bird steer very well but I couldn't really fault my suspension settings. It is very quick to change direction and really seems to hook up the turns very well, helped I think by those WTB Vigilantes.
Of course, it's quite intense to try and hit higher speeds. My legs took a real beating today but I'm glad to say my shoulders feel fine, so the combination of the Rock Shox Revelation fork and new Race Face carbon bars looks promising.
Dialling back the pace, the bike also seems to be a reasonable place to tackle less challenging tracks and trails too. But these really are first impressions.
We climbed back up the hill, did Secret Garden and after a short sharp climb it was onto Jerk Chicken. A bit of fireroad brought us to the last third of I Should Coco before we headed to the Reservoir and the start of Barrys.
By now my legs were getting sore but Barry's was a real thrill following Mark and Elliot. The Bird seemed to hit the berms very nicely which is all rather encouraging.
We skipped our first chance of coffee at Peaslake – too early – and instead headed up onto Pitch via Walking Bottom. Our long traipse uphill took us over to the start of the old Death Star trail but instead we (thankfully) turned left and rode Spiritualized instead.
This a meander-y trail through the trees that has lots of sharp roots and tight turns, not the ideal sort of trail for the Bird really and I found it hard going. We were soon back on the fireroad but that doesn't guarantee a rest, especially if you are trying to catch JR and Elliot!
By now it definitely felt like coffee time. So it was Rollercoaster, then Proper Bo, then the last section past the church back to the Walking Bottom car park. I was smashed by then!
I think that's why I felt I could have sat in the sun all day at Peaslake. The Bus Stop had the feel of an Alpine Restaurent at the top of a ski run today, at least from the point of view of a warm, low sun and lots of people standing around chatting and drinking coffee!
We still had to get back to Abinger though. Which meant the shock of climbing up Rad Lane on the tarmac, followed by trails to the Holmbury summit. What a long grind!
No complaints really as the cloudless sky and warm breezes invited appreciation rather than approbation. I've actually ridden summer days that have been less pleasant than this!
As John pointed out, we were mainly heading downhill from here. That started with a very fast blast down Yoghurt Pots, then bits of Telegraph Road before we turned off for Au Naturel, which we hammered!
And talking of hammering, my legs were still getting more and more sore from keeping my arse off the saddle. Which I suppose is exactly what I expected from the hardtail experience.
We finally got back to the car park at around 12:30, having stopped to help a roadie and his missus fix a puncture on the A25. It was a case of goodwill to all men (and women) today!
18-odd miles and about 2,500ft of climbing but that wasn't enough for me. I got home and my wife asked if I fancied a ride round the Common. It was only another 2.5 miles but I was knackered. Still, a good chance for a warm-down guess!