Ride report: Sunday 3 September – Sauvage turns savage

Well, my Bird Aether 9 certainly wants to fly, whether I like it or not…
It was all going so well. After a few months off with a dodgy nerve in my neck and shoulder I've been turning in the miles quite a lot recently – over 350 miles in August. So I can't say I was not up to speed.
Today looked like another step forward – the trails are running well and we had already been down Rumble in the Jungle and Rip van Winkle, with a brisk climb back up to Ranmore.
Even better, I had just set a new PR on Secret Probation before we started on Sauvage. And again, things were going well and I easily caught and kept up with Lloyd and Reece. That was until the second log jump.
Birds fly
Coming into it at speed I loaded up the suspension and blew through the shock travel. Then I caught a pedal and then both bike and me did a huge barrel roll sideways over the log.
When is an over the bars incident not an over the bars incident? When you are travelling sideways to the direction of travel and upside down. That's when.
My brief Bird flight ended with a very hard landing with me still attached to the pedals. Right thigh, right hip, right forearm and right shoulder took the brunt of things while the handlebars were knocked out of true and the brake lever twisted round the bars. Yet they were done up tight enough I needed to use a multi tool to move them back…
So that was the end of my ride, but I feel lucky it wasn't a lot worse having scuffed up my hip bone. I limped home via Effingham pondering shorter cranks and shock upgrades.
The irony is, I still have the tag on my bike from my uplift day at Bike Park Wales which ended in another crash. 1 year and 2 days previously. It must be something about the start of September, although I feel in both cases a contributory factor was the shock blowing through.
I was particularly disappointed not to even make it to the coffee stop, even if I saved myself a chunk of change from Dabbling Duck price gouging.
Earlier…
The ride had been shaping up nicely with plenty of enthusiasm from the start. We actually managed to be a group of 10 at one point after our initial 8 (Lloyd, Tony, JR, Elliot, JamesW, Reece, Jeff and myself) picked up James S at Alfred Pennyworth, then Tom up on Ranmore. Then we gradually shelled out riders…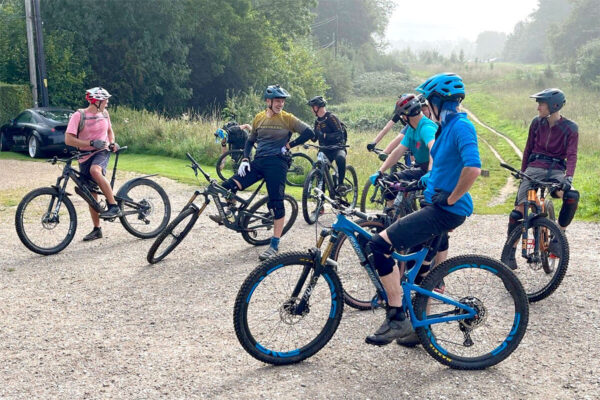 Setting off from Bocketts we headed to Alfred Pennyworth which is running really nicely, then slogged up the Ranmore Common Road to Rumble. The fallen tree is now cleared so it was back to its best and the Bird was feeling super responsive and supple. After that, another long climb brought us to Ranmore Church and we headed off to Rip van Winkle where Tony and I had an empty trail in front of us.
I managed to knock about a minute and a half off my recent times climbing yet again up to Ranmore, scoring a PR in the process. Next we headed for the top part of Wire in the Blood, then along Collarbone to White Down. The pace I felt was pretty brisk but I was feeling fine so far.
Which brings me back to Secret Probation which I easily achieved another PR on, almost enough to break into the top 10. But a few minutes later, I was nursing multiple bruises and rueing my luck.
Sometimes you are the pidgeon, sometimes you the statue, sometimes on the same ride!
Missed trails
Tony needed to head back home at this point and I decided my trails were done for the day, knowing we still planned a good few ups and downs. I missed out on some trails I haven't yet ridden, Big Dave and the Middle Jumps near Coombe Lane, then coffee at the Dabbling Duck.
At least I avoided the Colekitchen climb back up to Ranmore, I suspect at this point (if not before) Jeff was very happy with his e-bike choice today. The rest of the ride was back along the North Downs, with the final descent (not the final climb!) being On Any Sunday, which Lloyd and I have ridden a couple of times recently. A nice long trail that asks for plenty of concentration.
I just wanted to say thanks for everyone's enquiries over the afternoon, I think I am basically fine and hope not to have to spend too long off the bike. Maybe all that upper body exercise I've done trying to fix my dodgy neck has helped there.
The best thing for me today was seeing how many of us were out, it's unusual for us to have a ride with double digit riders and nice to see how evenly paced we seem to be.