SDWIAD – completing a challenge

Back in 2011 I remember being in awe of groups of moles completing SDWIAD.
That's the South Downs Way In A Day. There were live texts published onto the website from one group so people could follow the action in almost real time. Never forget Andy661 in a burkha!
I grew up near to the route and have always have a bit of a fascination with it. However, as the years wore on I've happily forgotten about the challenge. Forgotten, that is, until a couple of months ago when some loose talk in the pub suggested it might be a thing to do. I immediately thought 'nope, not me', but the next day I realised that I'd never done it, and maybe could. The thought continued to gnaw away at me until I realised I might as well give it a try.
The training started and consisted of a couple of commutes on the MTB on the tarmac. The training finished with a ride along the last bit from Eastbourne to A27 at Kingston then back to Eastbourne.
I found a day which might be good. I chose a Thursday as I wanted the trail to be quiet and thought I'd want to sit down the following day so it might as well be a work day! Thursday 14 June was the planned day.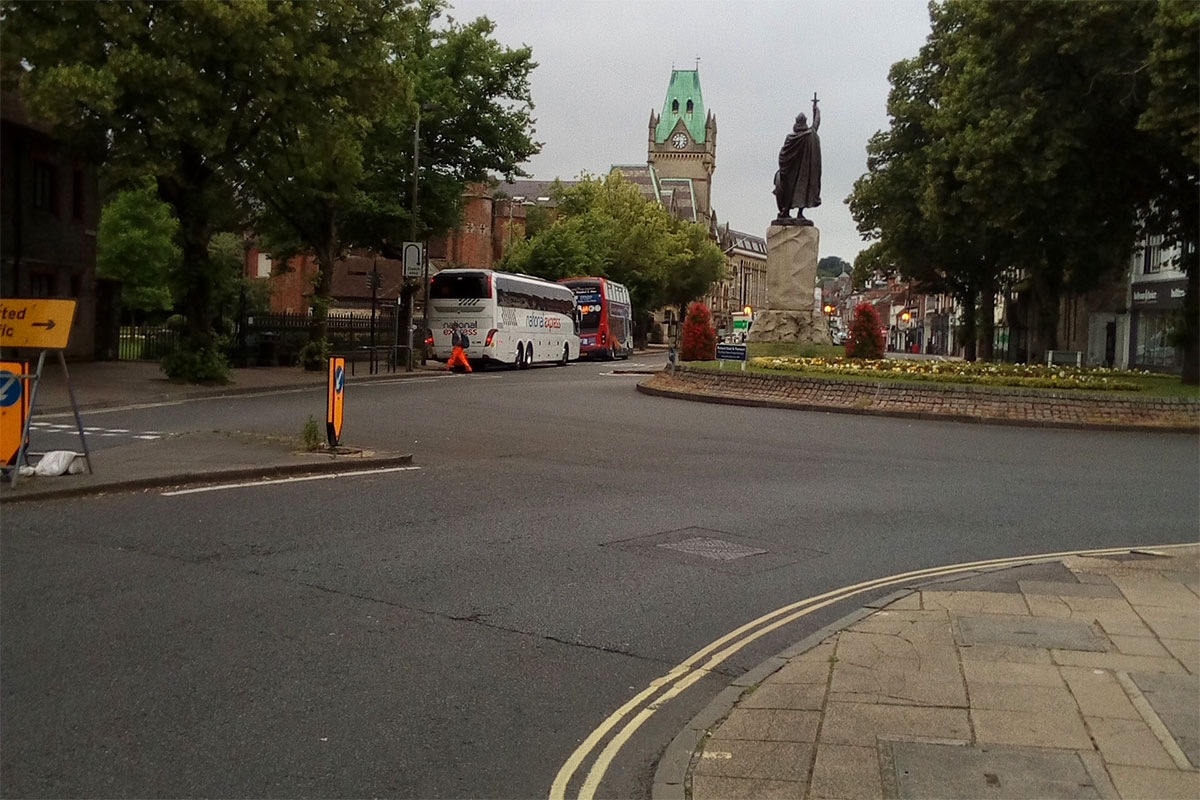 Pre Ride Faff? I've always enjoyed a lot of faffing about before I start a ride, but this one broke all records. In fact, I renamed it as 'Expedition Planning'. Route planning, Food planning, Water stop planning, top up tyre sealant, train tickets, train times. Oh, the list went on and on…
The plan boiled down to taking the first train from Woking to Winchester, then ride as quick as I could for the first 50 miles. That would give me as much time as possible to cover the final 50 miles before the last train left Eastbourne at 10pm.
On the morning of the ride I had the route loaded onto my Wahoo Elemnt Bolt and a bag full of food, water and tools. The trains worked fine and I was ready to ride at 0637.
Initially I made good time and enjoyed the ferocious tailwind. However, it started to rain and next it rained and rained. The trails were soaked and about as grippy as Streatham Ice Rink, but tilted to a 30 degree angle. My glasses were misted up, and the world was an Unhappy Place.
I rode slowly down those early hills, and even walked down some bits.
A funny moment from the morning was when I was soaked and filthy. I got to the bottom of a small decline between 2 hills and the bike stopped dead. I had landed in a huge bog which was made of wet chalk dust. It was about 15 feet long and almost came up to the wheel hubs. I pulled and pulled to get my bike out and then spent 10 minutes wandering around in the long grass cleaning my bike.
By the time I crossed the A24 the weather cleared up, the trail dried out, the sun came out, but… more hills appeared.
I rode the final part of the route about a week before the big ride. At about 76 miles there is a short steep climb though the woods which I managed to ride up on my scouting trip. Well, erm, umm… this time there were 2 ladies, who kindly stood to one side ahead of me on the trail and I thought 'yes, I'll try to ride up'. The sad truth is I didn't have the power necessary in my legs and I stalled, tried to put my foot down, failed and rolled away backwards into the undergrowth!
I landed upside down on my back with my bike on top of me. The onlookers didn't bother trying to stifle their laughs. It took some wriggling around to get myself back on the trail and the right way up.
I got to Alfriston with my energy tank nearly empty. The hill out of Alfriston was the hardest part of the ride for me. I knew I had another hill to go, but spent at least one eternity climbing this one. However, I walked bits of it and rode bits of it and eventually reached the summit.
Down into Jevington to use the water tap, and up 'n' over to Eastbourne. Phew, made it!
The next few days were spent mainly eating.
I recently found myself pondering about tech improvements making cycling easier. I can only dream what it was like for the real men back in the old days before the invention of proper GPS routing, 29″ wheels and puncture proof tubeless tyres! And if you read that 2011 report I linked to at the start, so can Barrie!!