Wednesday the 9th – no banana was hurt in the making of this ride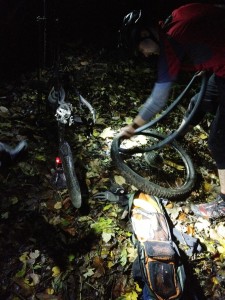 With the evening staying fair the turnout on Wednesday was a little higher than recent rides with Five moles meeting up at the Hylands garage. Lloyd, JohnR, Kev, Matt and Olly. The more observant of will note at this point that my name wasn't on that list.
Well typically of these things, I shouldn't have mentioned the JRPM factor in my last post since it was the TG factor this Wednesday! I guess like most of us folks it's always a rush to get back from work and out, fully kitted up, for a mole ride. Well this wednesday the gods of the M25 were smiling, I got back in plenty of time and got lulled into a false sense of security timewise. Next thing I knew it was 7:20 and I was rushing round looking for my cycling kit.
I hammered the pedals and got to the Hylands garage at 7:48 and no suprise. No-one was there. So what to do? Well on the basis that most of our rides start on the Wiggly Wood, Polesden, Tanners Hatch, Ranmore route and that most rides stop to re-group, I set off in pursuit. Heading up through Wiggly woods there were no tell tale red LEDs in the distance and somewhat dispirited I kept going. Heading across the road at Chapel Hill, my best boy scout tracking skills kicked in and I saw fresh MTB tyre tracks in the dewy grass. Encouraged I pressed on and caught a glimpse of red LED as I headed up from Tanners Hatch. Puffing like a cart horse I finally caught everyone up at the Ranmore road.
Lloyd was obviously in route planning charge and we crossed the road onto Badger Run / Collarbone. Fine balance and reactions were needed as the greasy surface and off camber slope made holding a line tricky and undertaking to the left wasn't to be recommended! I lead us round to the White Down car park (although half way there my headlight packed up and I remembered I hadn't charged it up after the last ride – it was one of those evenings) to Abba Zabba. We all contemplated Abba Zabba in the dark and took the "safer option" of the chichen run. Well safer it wasn't as the heavy dew made the roots slippery as hell. Olly went down but thankfully was OK even after hitting a tree hard.
We wound down the hill, crossing the road then contouring the again on an off camber path to the top of the White Down track. We picked our way down, then along to High/Med/Low (take your pick!) Med, with only JohnR wishing we'd headed up to McPhersons. JohnR motored to the top and then it was a regroup above Denbies for "Then there were 3". Which was tricky in the dark to say the least, with "watch out for the first roll in" Lloyd leading the way down and showing us how not to roll it. Half way down Matt had a puncture and then it was back up the through the deer gates to Ranmore again.
Finally it was Dearly Beloved (getting muddy now) before a wind up through Polesden and back to Hylands. It was a warm evening, with a great route (thanks Lloyd) and there were definitely some tired legs at the end.