Pipedream Sirius – Project Red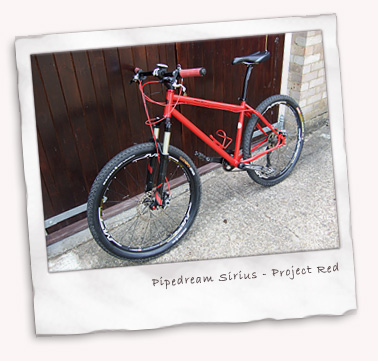 Having never really got on with my On One Scandal I began looking for a cheap steel frame to make my own. This arrived in the form of a Pipedream Sirius frame from eBay for about £50.
Initially I stripped the Scandal and then built the Pipedream up just to check I wasn't going to hate it. Having ridden On-Ones for 7-odd years I needed to check the geometry was to my liking. I'm happy to report that it seemed fine as Matt and I cruised around the Surrey Hills one sunny Saturday morning. Slightly shorter than an Inbred the frame felt responsive and certainly more subtle than the Scandal.
Right, time to dismantle it all again!
There were a few changes I wanted to make. I was going to make it 1×9 specific so the seat tube cable stop could come off and the top tube mounted guides needed to go underneath. Several hours and several mini grinding wheels later I had a smooth(ish) frame. The guides on the seat stay were cut "open" to allow for full outer cable routing.
Then came the Nitromors stripper. Either they've improved this over the last 20 years, or the paint really liked it as it virtually fell off the frame. This left a nice clean frame ready for the new cable guides. After some debate I opted to use an epoxy glue to bond the aluminium pipe (from B&Q) to the base of the top tube. Once dry I was able to sand this reasonably smooth which had the bonus to telling me they were also fixed strongly enough.
Now on the home straight I made a spraying enclosure in the garage using polythene dust sheets and proceeded to prime the frame. Spraying isn't exactly a difficult job but It's a bit of an art to get it smooth and I'm not exactly the most patient of people. This was followed with a few top coats and finally some clear coat. Even with the dust sheets the garage will take many months if not year to recover!
The final job was how to make it redder than red. Careful component choices looking at all factors including availability, durability, cost and weight in order to get the ultimate performance were all considered. Then I went and bought the cheapest I could find!
A red Woodman headset, red Clarks gear cables and hoses, some neat red jockey wheels from HK (with free valve caps), a red bottle cage, KCNC chainring bolts and a few MuddyMoles stickers.
You can see the full photo set of my Project Red Pipedream Sirius on Flickr. There's also details of the updated R853 Pipedream Sirius for 2010 on the Pipedream website.