Review – Kona Big Unit 29er – the Build & 1st ride
Now that Colin comes out so infrequently it's pretty much impossible for him to turn up and find me riding a bike I had when he last came out.
With the Haro Mary being such an inexpensive way last year to change my winter hardtail over to a 29er I never thought it was going to be a long term buddy. OK, some might say only my Orange 5 is a long term buddy!
Anyway, I was looking at Chinese carbon 29er frames on eBay thinking it would be nice to loose a few lbs before Mountain Mayhem next year when a random Google search threw up Charlie the Bikemonger's site as having some Kona Unit frames.
Initially I thought these steel frames with sliding dropouts (including a geared drop-out) would be a useful addition to allow some reduction in bike fleet. So I duly emails Charlie to find out what the frame weight was.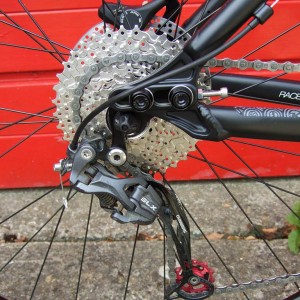 Now, Brant Richards uses his wife's cooking scales to measure frame weights, Charlie nips next door and uses the greengrocer's scales (should that be a costamonger?) and Charlie assured me that is exactly what he would do when the frames arrived later that day.
I patiently waited and flicked onto his website only see that the frame had suddenly changed colour and material! Apparently Charlie was a bit surprised at what arrived as well. Paligap sent him some Big Unit frames that apparently never got sold in the UK. Rather than being steel they are Scandium alloy. Well it had to weigh less than a Haro steel frame!
So after a few more calls and some more hunting on the net I decided that it was worth a punt. Next day the frame was in my hands. So began the frame swap. Oh… and new cranks… err… and new pedals… oh… and there might be new wheels as well. Well, the forks were used, as was the rear mech, seat post and saddle… hmmmm.
But I did end up with a bike that was 25.4lbs. So if I can lose 5lbs myself we're onto a real weight saving for MM next year!
The build is as follows;
Kona Big Unit Frame 18″
Superstar Taper ZS headset (with converter crown race)
Reba 29er Team forks
Superstar 80mm stem
Carnegie bars
XT brakes
XT right shifter
Deore HG61 12-36 cassette
MRP 1.x chain device
Middleburn crank with 32t Uno ring
Stan's Crest 29er rims on Superstar Evo Switch hubs
Maxxis Aspen 29er tyres
Thomson seatpost
Build went together without a hitch. Looking forward to getting out over the next week but from the short ride up and down the road it feels like it'll be responsive and agile.
First impressions
I've ridden the BU twice now and both times it's felt very fast. Obviously it's a sum of the parts and the parts have been chosen to make it light without getting silly with the cost. The biggest different is the weight of the wheels/tyres. This is VERY noticeable as I climb although I am wary of the thin walls on the Aspens. Grip wise though they have been excellent in the dry and dusty conditions.
120mm of travel does not seem to have slowed the steering down or adversely affected the handling. On fast downhills it's felt planted and in control, on steep and stoney uphills it's felt grippy and able. Overall I'm very happy with it so far.