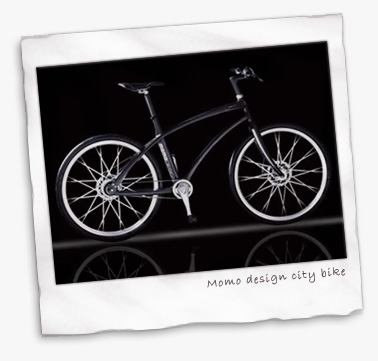 OK, I promise I won't post again on this subject for a while but couldn't resist when I heard news of yet another belt drive bike being readied for launch. This time, the Bicycle Design blog has alerted me to the development of the Momo Design City bike.
Quite a looker isn't it? Not only does it have a full carbon frame with nicely squared off tubing and a smattering of titanium componentry but it uses a belt drive to feed power to a Shimano Nexus 8-speed hub. It almost makes me want to start commuting if I can have a bike as nice as that, although how long it would last before being promptly nicked is anyone's guess.
The Nexus hub with belt drive is a development I'm expecting to make an appearance in the Mountain Bike world pretty soon, in fact I seem to remember reading somewhere (he said vaguely) of Nexus hubs being run by some guides in the Alps with no problems.
And as if to confirm the opinion I floated yesterday about how nice a cream Spot Brand belt drive bike would be, here's another photo from Bike Mag. Just chuck on some of those bronze Crank Brothers wheels and maybe a tan leather saddle and you'd have a pretty droolsome looking machine.
OK, that's it about belt drive, at least until I can invent a reason to mention them again! God knows why I keep on about them when no-one I know has ever had the chance to try one. I guess this bandwagon just sounds so right.