Bits and pieces – a quick round up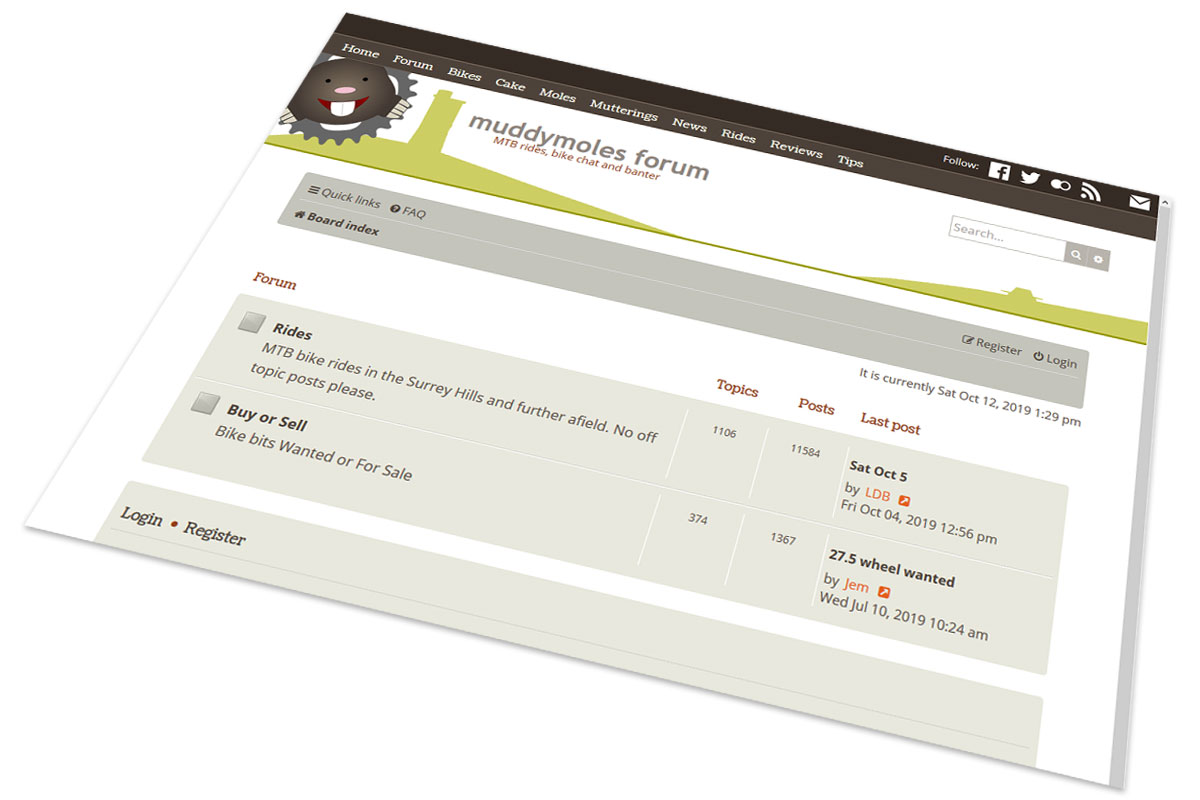 I thought I'd post up some odds and ends which have been quietly claiming my attention recently. None of them warrant their own post but together add up to quite a lot.
Forum update
Well, this is the big one really. We started the Muddymoles forum back in 2010 and since then it hasn't really moved on much technologically. Which is a problem, because the rest of the world has!
What this means is that 'back in the day' mobile browsing was more of an idea than a reality, whereas now it forms over half of all the traffic to this website. The forum badly needed bringing up to date, a fact I've known for a long time (I even mentioned it in January and the problem goes back much longer than that).
The task was compounded because the version of the forum software – phpbb – was so old there was no easy upgrade path to their latest variant. It's not just the software either but the database itself which needed tickling, and that always causes pause for thought.
Happily, the whole process (using good old manual updates) went smoothly enough but it was rather a tense time at MoleHQ.
The result is a modern forum that works better in a mobile environment. At the same time, I've built our own custom templates that incorporate visual design cues from the main Muddymoles website, so the user experience should feel a lot more cohesive. I'm quite proud of it and hope people like it.
Shirt design
I shudder to think about producing custom shirts again; last time it was a fraught business of cat herding but the end result was something I was disappointed with.
Very much a case of design by committee (let alone potential issues of copyright), I was also disappointed by the Endura shirts; they may have stood the test of time functionally but they were not the same cut and cloth as Endura's own offerings.
So I approach this subject with circumspection and certainly aren't committing to anything at this point. However…
I recently saw the new MTB shirts that are sold via The Radavist website and they certainly have an appeal. You can see what I mean in the image – simple two-tone colourways (they offer more than one design), with a discreet logo. Plus the cut of the shirts looks much more like you'd find from mainstream cycle retailers.
If I were to look at this, this is the direction I'd go visually. I'd also be tempted to set up an online shop and get the shirts made in batches rather than for individuals… dunno at this stage if this might go anywhere but I think I might look at the practicalities first.
Watch this space, because I do need to find a way to cover the costs of running this site!
e-Bikes
Wow! Just a comment really… I was off work with holiday time this week, which allowed the forum upgrade I've spoken about but was otherwise a wash out. Sod's law that I picked up my first head cold in months, probably linked to the fact that I'm really burned out.
I've only had a couple of weeks off this year and work has been frantic. Coinciding with Mental Health Awareness Day on Thursday, I don't mind admitting that I am fried!
My plan had been to get in some extended riding time, tapping individual Moles for some ride company but in the end that didn't happen; I felt physically and mentally rotten and just plain exhausted.
I did get out once though, a long 45 mile road ride round the Hills which included a stop at Peaslake for refreshment. While I was there I saw two riders depart the bus stop outside the Stores on e-Bikes (MTBs) and shortly after was then joined by the biggest e-Bike posse I've yet seen – 8 riders turned up for coffee and all of them were on e-MTBs!!
So in the space of a few minutes I had seen – conservatively – about £50-60K of electric mountain bikes. And all the riders looked very happy!
Getting chatting to them they explained that they had both powered and conventional MTBs (they called them digital and analogue bikes) but that if one of them was on an e-Bike, they all needed one to keep up! Not only that but they claimed they were an absolute hoot, making the twisties fun uphill as well as down.
I got thinking that if that was how it was on a quiet Thursday lunchtime, there's a lot of mileage in this trend…