Hope Pro2 on Stans Flow rims, or American Classic 26 Disc wheels?

Well, I'm conflicted, as our American friends would say. It sounds like a bad case of too much Co-codamol(e) to me but actually my problem is choosing a new set of wheels for my Orange Five.
I've never bought new wheels before. Isn't that strange? New bikes, forks, kit, clothing – yes. But new wheels – no. Which is odd since many advise that's the key purchase area if you want to improve your bike. I guess it's one of those things where the perception of value isn't too great as they all tend to be round black hoops.
And yes, I'm old enough to remember them being round silver hoops!
So I'm a novice. What prompted it was a desire to switch to tubeless for both my main bikes, by putting the Hope Pro2/819 wheelset from the Five onto the singlespeed. Which created the opportunity for some bling wheels on the Five.
For months I've hankered after some white rims – which means by the way that fashion is about to swing convincingly back toward black – but if I'm going to actually spend money on wheels I want them to look good.
So, my preference was for some white Stans Flow rims on red Hope hubs which I've already found to be very durable hubs. Unfortunately, this combination is probably one of the most popular this year (OK, maybe not the red colour!), so white rims have been like hens teeth.
Merlin and Chain Reaction have both been out of stock for months. I've managed to track down a keenly priced source at Moonglu however. The Stans Flow has the advantage of being much wider than usual and are reliably convertable to tubeless running; the only downside being that at around 1880g or so for a Pro2 wheelset with 20mm bolt through at the front they're no lighter than the Pro2/819 combo.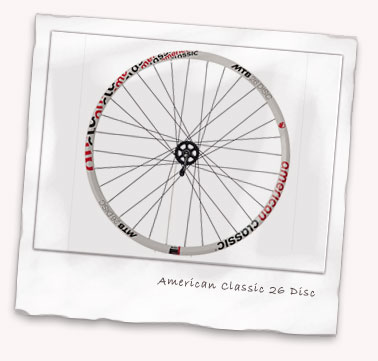 But then yesterday I saw on Chain Reaction that they have an American Classic 26 Disc wheelset for sale at £320 which with a discount voucher I have brings the price down to £288 delivered. The best bit about these is they're just 1486g in weight although there may be differences between how the manufacturers weigh them – with or without skewers for example. Even so, that a 20% weight saving over the Flows.
Now, I realise these are aimed at slightly differently user groups, with the American Classic more XC oriented but since I'm a light rider I don't see that as an issue. What is a problem is that the AM only has a QR front hub which can be converted at a push to 15mm. This looks to be a deal breaker for me.
It would mean the wheels going on the singlespeed and they would certainly do good service there at that weight. They have a special 'double tooth' pawl which means they totally disengage when freewheeling, making them very quiet with a very fast pick up. But it would mean the Orange Five staying as is and I'm really keen to get more rugged wheels on that and develop a red, white and blue theme round them.
So, like I said, I'm conflicted. Two great wheelsets but no obvious fit for my needs. I think I'll go for the Pro2/Stans option but it's mighty frustrating and I really do hanker after the American Classic wheels. Especially in white.
Like I said, I'm conflicted!