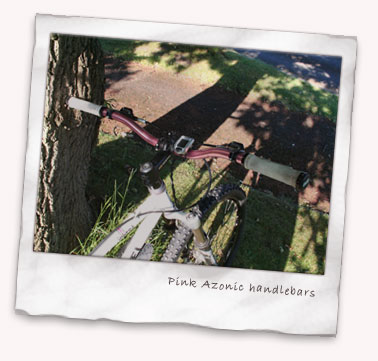 I'm a bit worried. Not because I think pink on bikes is a bad thing but because even I have to admit I may have gone too far. What does everyone else think of these pink Azonic handlebars that I've liberated from Dave's garage? Bear in mind it only just matches the pink seat clamp, bashring and BB that's already on the bike!
I was round at Dave's last week, liberally coating his refuge in latex (as you do) when I spied these bars clashing horribly with his Project Bumblebee which he's been working on recently – as an aside, hopefully you can expect photos of what has turned out to be a surprisingly nice looking bike soon.
But back to the bars. It turns out Dave inherited them off Thomas when his Orange UFO died all those years ago. They're very wide (700mm) so were well ahead of their time if you believe Singletrack magazine and not really suitable for his missus, so I thought I'd give them a go on my pink bike project. They're not oversized either so I was wondering if they might be flexy but not a bit of it. Well, to be honest with the 'supple' front end on my Inbred/Marz Marathon set up I'd be hard pushed to notice really.
In use, not only have they been immediately commented on but I've quite enjoyed them so far. OK, so Ladies Legs on Christmas Pud will need a bit of sizing up beforehand and I've found myself to be very twitchy when there's trees close to the trail side but on the whole they've been more comfortable than my old Easton EA50s and just as effective.
And they're PINK for gawdsakes!! What's not to like!!