The Wheelie bar – training aid for pulling wheelies?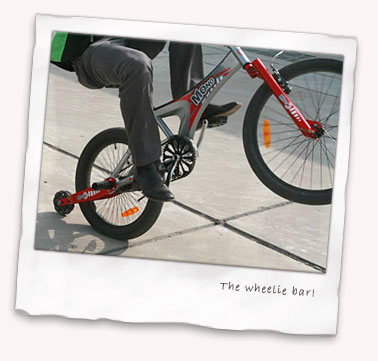 There's two stages in anybody's bike education. The first, and most important of course is to master the art of riding on two wheels with no visible means of support. Not always as easy as it seems it must be said.
The second, which usually follows close on the first, is how to pull wheelies.
This is an ambition I think all of us have, and have had since the age of six or so. It just looks so cool after all but many of us rarely progress beyond the ambition stage. I can just about get the front wheel up but can't in any truthfulness reliably maintain a wheelie for any length of time. With clipless pedals I prefer not to try for fear of not being able to unclip.
Maybe, what I need is the wheelie bar, discovered on the PeoplesBike website and shown here assisting a rider pull a wheelie (without him managing look cool it must be said). With a bit of quiet practice (and some flat pedals) maybe one day I too could impress my peers with some rad skillz.
It's not too late, surely!!