Weeknotes No. 1 – your week in bikes

Well, it's been quite a week of cycling news. I thought you might fancy a short summary…

Marin DSX flat bar gravel bike
Is it a gravel bike? I'm not sure; in fact I am becoming increasingly confused. Back in the day, I had a Marin Muirwoods as one of my first mountain bikes (before the name moved to grace hybrid bikes in the Marin range).
It was a lovely bike but cut from the same XC cloth that many MTBs were in those days. Steel Tange tubing, narrow bars, steep head tube, and just about zero travel from the RST fork. Now, we have… the Marin DSX. It sports an aluminium frame, with a rigid fork and will fit 29×2.1″ tyres, although it's fitted with 700cx45 Riddlers.
What do I think? I honestly am not sure; is it too obvious to say its a 90s mountain bike? I'm not even sure that's helpful. I will imagine this: on any gravel/rough road this will be a comfortable ride. The riding position should be perfect for relaxed riding and commuting. On the flipside, any bit of singletrack will be unpleasant unless you can tolerate the rattling you'll get.
Maybe the way to look at this is that XC mountain bikes have been optimised over the years to be all about racing. They are bloody capable machines and more than happy to get down and dirty too. But if you simply want to XC without the race bit? Yes, I can see that might be a thing. Perhaps flat bar gravel will find a fairly small and fairly narrow niche for itself.
Salsa Blackthorn and Cassidy MTBs
Next up is a pair of new Salsa MTBs, although you could argue it's just one; they share a frame. What we are looking at is a new modular platform that is both Trail bike and Enduro bike. It takes a bit more than a flip chip to make the switch, but it is possible to go from a 140mm/160mm Trail setup in the guise of the Blackthorn to a full 165mm/180mm Enduro rocker in the form of the Cassidy.
The geometry is very progressive too and of course, the Americans are market leaders in carbon fibre by a long way. Two things strike me though.
First, this is not a new concept and I think has already been done quite well. Bird Bikes offer a longer travel linkage to take their lovely Aeris from 145mm to 160mm travel, a much easier switch.
Second, lovely that the Salsa's are, they are too much bike for too much of the time in Surrey and even at many trail centres (some readers will give a hollow laugh). Really though, something with 160mm front travel and 140mm rear travel is unnecessary unless you want to hit that tree at higher velocity than you would otherwise. Going beyond that travel-wise and you're in the boondocks. Lovely bikes, but they really do need mountains to set them off properly.
Modular frames though – interesting idea and a logical step.
WTB SG2 tyres
Now, I'm not going to bang this drum many more times. But. I have had some very trying times getting WTB tyres to seal and hold air, putting it mildly.
The news that WTB have introduced a new puncture strip into their tyres is therefore very welcome indeed since WTB also state it provides a better sealing experience all round. I actually like WTB tyres and am likely to plump for a 700×42 Byway or even a 700×42 Resolute next time I swap tyres on my gravel bike, so I welcome this news with interest.
Early reports are the new puncture protected tyres lose little of the suppleness WTB are known for, thanks to a 120tpi carcass over the older 60tpi set up. In truth, sorting that sealing weakness has been long overdue and I expect WTB tyres to remain a popular choice as a result.
Go, go Zwift! $450m of fresh folding
Indoor training has been all the rage of the lockdown world. Remember that Peloton advert that rightly drew so much criticism over claims of sexism? Well, Peloton's value has tripled since then. People want to do something and increasingly, that seems to be sitting still and going nowhere.
There's a few players in town, but Zwift is currently the biggest, aiming to gamify the whole going nowhere experience and this week they secured $450 million of fresh funding. I confess to be looking for a Turbo Trainer myself; another looming lockdown and winter's approach (plus the knowledge that friends are already on the bandwagon) provides quite an incentive.
What's interesting is Specialized are behind some of the money, as is Amazon. Expect something from these companies to leverage the home trainer market, and expect a steady stream of features.
Expect also to keep paying; nothing is for nothing.
Endura MT500 2020 range – spendy weather protection
Winter is coming (at least in the Northern hemisphere), so it's a good time for Endura, Scottish-based purveyor of mountain bike clothing to announce its latest updates to the MT500 range.
I have tried mountain bike trousers over the winter months, generally with some success. They keep you clean and removing them at the end of ride means the dirt stays on the trousers. A return drive (or the walk into the house) is a much less unpleasant experience. That said, the gear I've tried so far hasn't yet kept me fully dry (I'm currently using Endura Humvee trousers).
It's all very well being protected from crud on your backside but my experience is the wet gets into the shins. Even with mudguards my lower legs take the brunt of the water and spray and always wet through, despite DWR coatings and the like. It doesn't make for a happy ride.
The MT500 waterproof trousers are made from ExoShell40DR which claims to be highly breathable but with a waterproof rating of 20,000mm. It also features a DWR treatment. This sort of treatment inevitably wears off, and waterproof layers in general need careful handling but I can't find any specific care instructions for the MT500s. If they can nail the clammy shin situation I'd be interested but at £180 they are very spendy.
Maybe the best option through winter is cheaper trousers over long Sealskinz socks (anyone know if they slip down your legs or not?).
Look Flat pedals with Vibram
So Look – the Mondrian logo-ed company that first introduced clipless pedals – now has a flat pedal in it's range. What's of interest is the standard flat pedal can be extended to add Vibram Trail Pads in a range of colours, intended I suppose to take some buzz out of the ride.
The concept makes a little more sense on the commuting side. Look also have a commuter pedal that uses a more general purpose tread pattern on the Vibram rubber and I can see this being of interest to people riding casually in different shoes in all weathers. If I'm honest I can't really imagine a fashionista swapping coloured pedal pads for fun or to match an outfit though.
Of the whole range, the model I think worth having is the most expensive – the Look Geo City Grip Vision. That's because it has USB lights fixed with magnets to the pedal which should be very eye catching when you are moving through city streets.
It's an idea I can see being developed further, the key requirement being ease of use around recharging really.
Low Traffic Neighbourhoods (LTNs)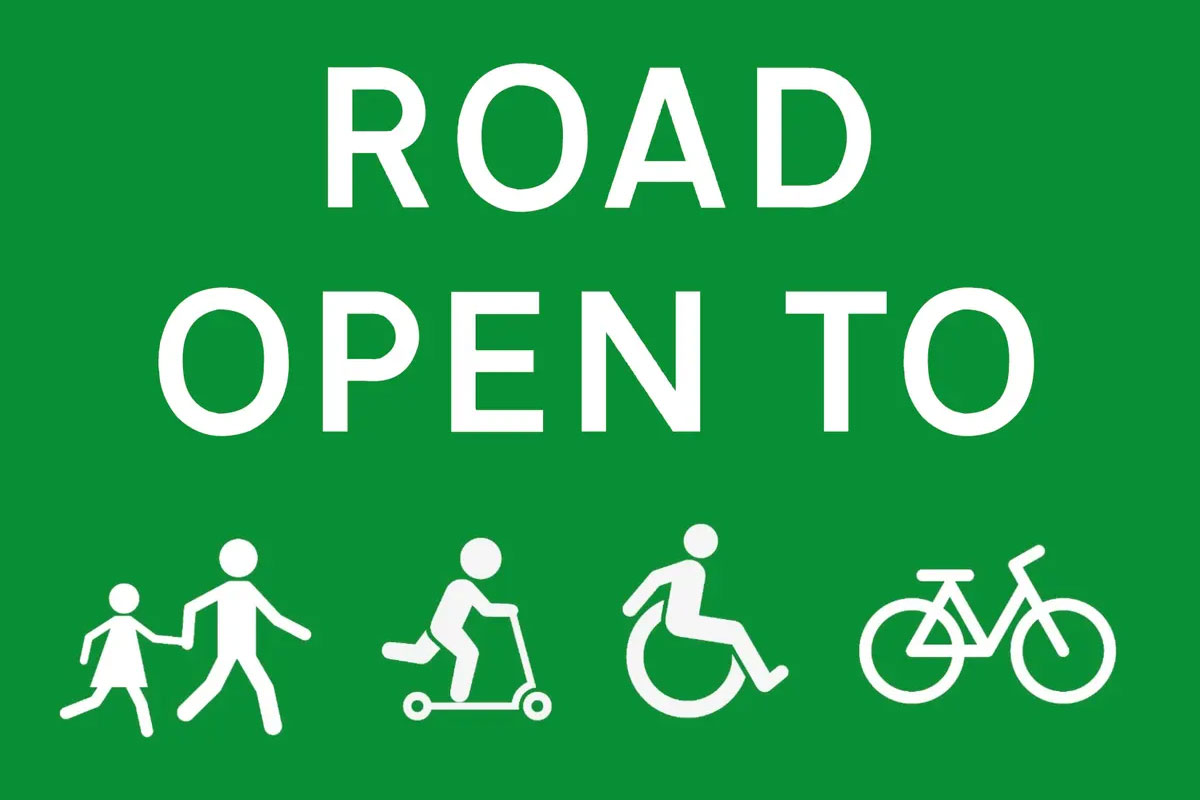 What is it about Low Traffic Neighbourhoods that incites so much rage?
My Twitter feed has been chock full of weeks of endless carping, and moaning and fighting over various towns putting in Low Traffic Neighbourhoods in an attempt to stop us all grinding to a halt from traffic congestion.
I don't get it at all. Not only does it improve the local area but it enables so many marginalised groups (not least children) to have a better and safer experience of their neighbourhood. If my wife is anything to go by, quiet roads means a willingness to cycle, as soon as cars are involved, less so.
Measures that aid Active Travel are good for Obesity, Air Pollution, Mental Health and generally improve the local Community. Ultimately, if you want to speak language people understand, LTNs probably increase your house price too. They are a fundamental, long-term solution to so many issues that we all know we need to address. None of the LTNs have actually stopped cars, just made alternative travel options far more sensible. But still people whine, or get militant – many planters have been turned over, vandalised, had nails set into them, poisoned with weedkiller (the list goes on).
I firmly believe these are actions of a vocal minority and hope that people persevere with the concept; I'm yet to hear a better solution.
Bringing the issue closer to home; I'd love to see measures adopted in Bookham and Fetcham. Rat runs could easily be closed. For example I'm thinking Spring Grove and Richmond Way could easily be stopped in the middle of each, keeping them open to residents, the top of Durleston Park Drive and Kennel Lane, plus Kennel Lane itself. All could have restrictions that would stop car cut-throughs and promote walking and cycling. It just needs some politcal will.
Another suggestion on our local patch – Lower Road and Cobham Road should have protected lanes from Bookham and Fetcham into Leatherhead. The space is there for some excellent infrastructure but I can anticipate the objections already!
If you are interested in the topic, try reading the Ranty Highwayman – he talks a lot of sense! And for inspiration, try Bicycle Dutch.