J. Alfred Prufrock measured out his life in coffee spoons*, but life in the 2000s can be broken down into chapters that are defined by the technology of the time.
So it is with the initial soap-bar shaped iPhone, through to recent expressions of the phone makers' art. So it is with mountain bike and cycling connectivity. The Garmin Edge 1030 here is the third model of Garmin GPS device I've owned to navigate and/or record rides with. Does the Garmin Edge 1030 have the, er… edge?
As a £500(ish) device the Garmin Edge 1030 comes well stocked with features. Rather than repeat all of them, you can visit the Garmin site to learn more.
However, one feature worthy of note is the preloaded Garmin Cycle Maps with turn-by-turn directions.
Navigation seems to improve with each new model of Garmin. I've used this device to try new MTB loops of the Downs, recall Moles rides, gravel trips, road riding in France and family rides. Largely it has been very good at pointing me in the right direction with a detailed map to give context.
The ability to route you back on course or to the start of a pre-loaded ride is a really good feature when visiting somewhere new and was tested by riding parts of the route of Stage 4 of the 2022 Tour de France.
Choosing the Edge 1030
Garmin claims a battery life of 20 hours. I've not tested that, but a longer battery life was my main reason for buying the Edge 1030 to ensure I had enough juice for some long days in the Alps.
I did consider moving away from Garmin and opting for a Wahoo or Hammerhead Karoo. A mixture of laziness and self-imposed lock-in led to remaining with Garmin.
Important as it is to try new technologies and learn their operating systems, life is also so damn busy that sticking with an operating system you know has many benefits. In a year when the weather was so good that all you wanted to do was ride, it didn't feel the time to sit down and mess about with alternative technology features and software.
I guess some of this is down to me. I keep buying VW cars and Apple Macs because they work and I'm so busy with life and riding, I just don't invest the time to investigate alternatives. As with VWs and Apple Macs, it seems the same is now true of bike GPS technology.
Using the Edge 1030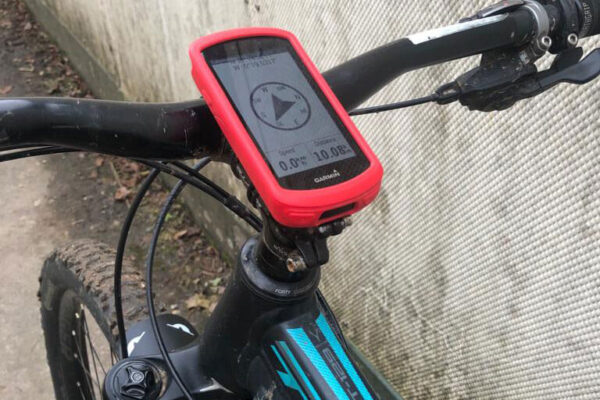 There are unique screens and options for mountain biking, road riding, gravel and even indoor cycling, all customisable to taste.
As someone who enjoys each of these forms of cycling (with mountain biking the much preferred child!) this is a nice feature. Some of the screens are possibly data for data's sake, such as the Grit measurement when mountain biking but if you want data, there's plenty of data.
The Edge is an easy to use device with a ride start, pause and stop on a physical button on the bottom right hand corner – none of that touch screen fumbling with wet muddy hands and gloves. Even so, you will need to have used the touch screen (I suggest with still-dry hands) ahead of the ride.
The navigation has also been good. I usually create routes via the Ordnance Survey subscription website, convert them to GPX and upload to the Garmin Connect website. The latter is a less good version of Strava, but it's free with the device and therefore no subscription is needed for managing and storing routes.
You can upload most easily to the Edge 1030 via the Garmin Connect App.
The final usability point is the little chirrup the Edge 1030 gives you for getting air in the mountain bike mode. Having switched to a trail bike from an XC bike, this feature has become my favourite. Like other Moles on a ride, it egged me on to push myself and explore the limits of the new bike. As a result, I spent less time with the wheels on the ground in 2022 and wore a very large smile all summer long.
On the Garmin Connect website, your Strava-like log map of the ride features little clouds at the points where you briefly flew as free as a bird. This, perhaps stupidly, justified to me using two sites to log my rides.
No technology is perfect; I should know, I interview and edit the technology leadership pages of various titles for a living.
On occasion the Edge 1030 has frozen and for a brief few moments it looks like the ride is lost, and we all know if the ride isn't on Strava, it didn't happen. But so far, no rides have actually been lost; a few choice words and it wakes back up and gets on with its job. I don't think this is the official technique to use but it works for me!
The Garmin Edge?
The Edge 1030 is, as it should be, an iterative improvement on previous Edge devices I've owned. It is not cheap but is a good piece of technology for anyone that enjoys all forms of riding.
Other reviews on the web may well talk up data accuracy, comment on how faithful it is at tracking power outputs on turbo trainers or mention the multi colour screen and navigation. For me, what's most important is a guinea pig style peep to celebrate my mediocre achievements at jumping. That's the Edge right there!
* For the baffled or slightly curious, a quote from The Love Song of J. Alfred Prufrock by T.S. Eliot.