Specialized Ground Control Grid T7 2.35 tyre review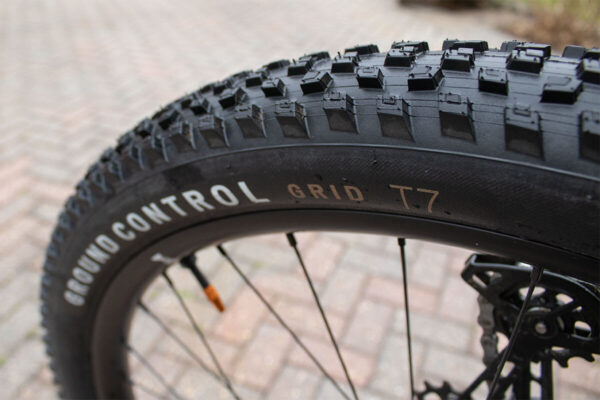 You can tell a lot about a person by the shoes they wear. But mountain bikers? Best to start with their tyres!
Back at the start of the year I was pulling my hair out over the way my Pace RC627 was rolling. And that is a high risk strategy for the follicly challenged.
In theory the WTB 2.5 Vigilantes worn by the Pace offered everything I was looking for – large volume, plenty of grip, all the better for some lumpy winter trail miles on my hardtail.
Wrong!
They were a challenge from the off – too heavy, too leaden and strangely, too much grip. What a crazy choice in hindsight, especially for the rear of the Pace.
So, time for a change.
Enter the Specialized Ground Control Grid T7 tyre.
What is the Specialized Ground Control Grid T7 tyre?
The Specialized Ground Control is a fast rolling tyre for cross country (XC) and trail riding. It is available with different rubber compounds to suit your needs but only one size – a mid-volume 2.35.
The Ground Control model has been around for years, and has recently been modernized with a 60TPI carcass with sidewall protection, along with the availability of Specialized's T7 rubber compound.
Newer Specialized tyres are T-rated (in simple terms, for tackiness I think), from T2 to T5 to T7 and ultimately T9. At the higher end of the scale sits the T9 compound with the stickiest rubber and the slowest rebound properties. The T7 version of the Ground Control (there's also a T5) can be considered to have fairly sticky rubber for a fast rolling tread design, suggesting trail use over cross country. Or possibly, front use over rear.
The tyre is pretty light too. I have the 27.5 wheel size and the Ground Control T7 comes in at about 800g, vs. 1150g for the WTBs I mentioned earlier. It is a different kind of tyre entirely, but even so, a massive weight saving right away.
For the record, I am running this tyre as a rear tyre for general trail riding, mixing steep trails with longer 20 mile+ loops.
Tubeless set up
In keeping with other Specialized tyres, the Ground Control is very easy to set up tubeless. The clue is in the spec – these are 2Bliss. Despite the wonky marketing-speak, '2Bliss ready' is what Specialized call their tubeless technology and to be fair I have always found the label to be accurate.
It does depends on your rims to a certain extent. In this case my Silt MTB AM wheels (sporting a 30mm internal rim bed) sync'ed really well with the Ground Control.
I always use my Beto JetAir tyre inflator but these tyres went up very easily with that reassuring pop, pop, pop sound of the tyre bead seating fully. A quick squirt of sealant, a shake to make sure it had found its way around the whole tyre wall, then I left the tyre inflated to its maximum 50psi overnight.
After that, I set the tyre to about 22psi and the Ground Control was good to go.
As for air retention – this tyre has been one of the very best for holding air, barely losing any pressure from one ride to the next. You could probably go weeks without having to top up unless like me you like to be 'just so'.
How does the Specialized Ground Control ride?
The Ground Control lives up to its description as a fast rolling tyre and on the trail it has a supple feel that grips surprisingly well. Up to a point… it's very well suited to relatively dry flowing trails, but definitely not a tyre for wet, sticky clay (especially when riding steeper technical lines).
Remember I was looking for something that would reset my experience with my Pace hardtail? I don't think you can get a more dramatic difference between a 2.5 High Grip Vigilante and a Ground Control T7 on the rear of a bike.
The first difference is tyre clearance. Just because you can fit a chunky 2.5 tyre on a bike, it doesn't mean you should.
I was thinking high volume would equal a plusher ride but with the switch to the Ground Control I found a much more comfortable ride even with the narrower 2.35 carcass. It's not hard to understand why I think; regardless of size, a supple carcass will tend to ride better and the 2.35 still inflates to a relatively large volume.
Another instant benefit was weight. The T7 came with a circa 350g weight saving, plus I saved another 195g from ditching the Vittoria Air liner I had been using. All in, I saw a huge weight saving, at least 500g.
The most remarkable thing though was that forgiving ride feel. It's hard to say if this is a standout of the Ground Control or simply stark contrast to the old set up. Either way, the Ground Control really suits the XC/Trail kind of riding I like to do on the hardtail.
Unsurprisingly the new Ground Control immediately helped the Pace feel much, much faster. A combination of lower spinning mass, a much less draggy tyre and the supple ride made the Pace a much happier bike to get up to speed, and much better at holding speed on flowing trails.
Simply put, the Pace finally started to feel like a steel bike once I fitted the Ground Control and it is now a fine bike to ride. That kind of begs the question – is steel really real? In the case of burly frames, the answer seems moot.
Putting more miles on the Ground Control
Riding fairly dry trails like we had in early spring, the supple new tyre delivered speed while offering consistent grip on singletrack twisties. On hard packed summer type trails it's even better.
In a straight line the complex and closely packed tread blocks are smooth and fast, but as you hit off-camber trails or lean the bike over the edge blocks start to help out too. You can push the tyre much further than you'd think. Despite the grippy T7 rubber compound the tyre never feels like it's holding you back.
The trade off is braking traction is relatively limited thanks to that low tread profile – not a problem for a rear tyre as the front does most of the work but certainly something to bear in mind.
This traction deficit really shows itself on softer trails, our Surrey clay being brutally efficient at exposing weakness. We don't call it BGM™ for nothing.
This limits the tyre to three season use; if it's muddy you will struggle to find traction both uphill under power and down and the closely packed tread blocks don't clear mud quickly. I don't think this is unreasonable – most tyres struggle on Surrey clay – and Specialized certainly don't claim this to be a winter or mud tyre. The only problem is in the UK it's hard to tell which season will be the muddy one!
This issue is also pertinent to my own use-case for the hardtail. I wanted to use the Pace as a winter bike but a traction-limited tyre kind of hinders that. Thankfully, the Pace has turned out to be a great ride in a broad range of conditions and for large parts of our darker months we've had reasonably dry trails anyway.
Wrapping up
In my view the ideal way to run this tyre for trail use is as a rear option with a fatter, stickier tyre up front. Get the front to stick and the Ground Control will back you up with a predictable performance that's fast and comfortable, provided you're not trying to dance on clay, chalk or ice.
I would be hesistant to run this up front in anything less than summer dry conditions unless I was racing or my off-road menu was pretty low-gnarr, and wouldn't consider at all up front if the trails were wet.
Overall, the Ground Control is an excellent option, especially when you look at the price – I bought direct from Specialized's site and think I paid about £35, which is astonishing value for the performance.