Moles Basque-ing in the sun – a trip to Spain (part 1)

The Moles have been to Basque country and found… no sun!
So the title above is a bit of a misnomer but hard to resist a pun when it is staring you in the face. The sun made occasional appearances over the week but it was mostly misty, overcast with odd bouts of drizzle and sun.
But before saying anymore…
A trip to Spain
Earlier in the year a group of Moles responded positively to Elliot's suggestion of a trip to Spain and the Basque mountains. This resulted in both a roadtrip and a cycling holiday with BasqueMTB.
As June neared its end, Elliot, Brian, Karl, Chris, Mark (Prof) and myself made our various ways to Doneztebe in the Basque mountains.
Chris, Karl and the Prof did the ferry and then a through the night drive; Brian and Elliot ferried but stayed in a hotel overnight and motored through the next day; and I made my leisurely way from France, having already had a week in the Normandy D-Day beaches and museums and a few days birdwatching (seeing frustratingly little bird action).
[editors note – it's hard at this point not to think of either the Cannonball Run or Wacky Races or a weird mix of the two]
First signs on arrival at the Hostal Ameztia in Doneztebe were positive, the rooms in the hostel were clean and functional and we had dinner in a private room waited on by the proprietress, the ever delightful Marie B.
Three wholesome courses followed with water and wine and Marie B trying to accommodate Brian's wish for plain food and Karl's veganism – a daily challenge met with enthusiasm and mixed outcomes.
Chat was lively, varied and fun. These staples were to be a feature of every breakfast and dinner through the week. Breakfasts were a hearty and plentiful mix of cereal, yogurt, fresh fruit, eggs and bacon.
Day 1 in the Basque country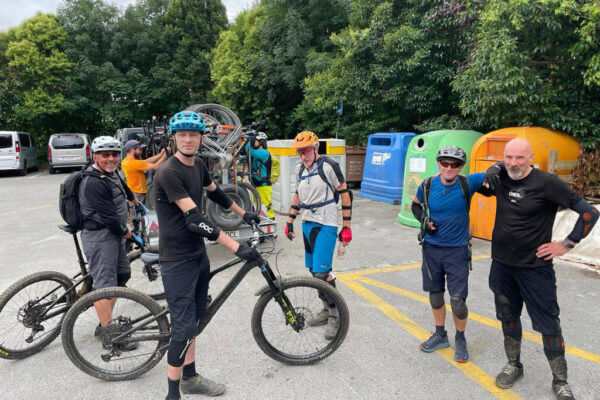 We started by meeting Doug and the 2 guys who were to be our ride guides for the week, Jorge and Eñaut. As it turned out, our shakedown run with Doug and the two guides was the only time we saw Doug out on a bike the whole week – it seems he's a very busy man.
We also did a safety inspection of the bikes (more on this later).
First impressions of the trails set a pretty accurate baseline for the week, being surprisingly green and foresty. Lots of rocky, rooty, between the trees runs of varied steepness and some nice flowy sections – reminded us of Wales really – especially the weather (did I mention it was misty?!).
We did learn a few things on Day 1 for our future reference. Brian learnt not to follow Prof up short sharp ups as the risk of Prof stalling at key points was high. These stall events were immediately followed by Brian learning he had a problem with his cleats releasing (not) as he tumbled, swearing furiously at his cleats and Prof, into the undergrowth or onto the rocks.
I also learnt that the safety check did not extend to my hire bike as the gears needed indexing, the dropper post did not fully return and most concerning, the front tire was so shagged that all the side knobs were half torn away so I was effectively riding just on the centre tread. Thankfully a new Maxxis Shorty was fitted overnight.
We also learnt that Jorge and Eñaut liked to guide from the back (there was just one guide riding with the other taking the van to next meeting point) to make sure everyone was OK (good) but there was no-one to show the best lines to follow (not so good).
After all that preamble, that was it for Day 1.