Mountain Bike holiday with BasqueMTB – Day 6

Today was the last day of our week with BasqueMTB and we woke up to the usual debris in the streets from the revelry of the previous night.
It was raining. Unlike the streets that were efficiently cleaned in about 30 minutes each morning, the weather did not show any signs of clearing much.
Once again, Chris and Karl decided to go gambolling by the seaside once more but I decided this was going to be my rest day. I needed to wash all my clothes, do some actual work (gasp!) that needed doing and to have a siesta. When in Spain and all that…
The hardcore three – Elliot, Brian and the Prof – went out with the BasqueMTB guides and had a miserable day of it.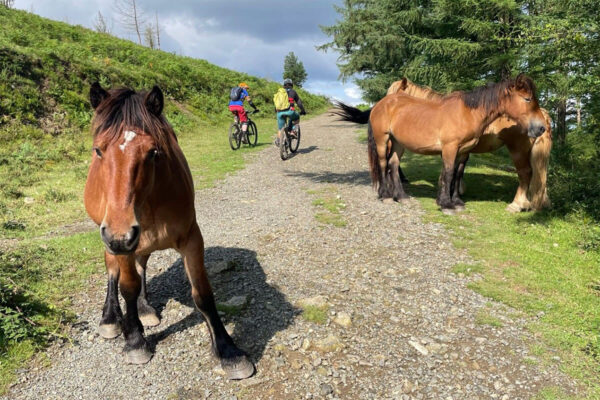 They were served some gentle but not very interesting trails in the morning and then some steep muddy trails (of the BGM™ variety) in the afternoon. Eventually they called the afternoon short and returned to base, reflecting that maybe they had not had the best of the day.
Our last supper for the Basque Six was a fun evening, with the restaurant pulling out the stops with a splendid paella. The wine flowed with many tales of derring-do and being Moles, not so derring-do over the years, both here and other trips. A fitting and fun end to the week.
The grand depart
Well the Tour de France was starting today… geddit?
Brian and Elliot were first out on the road 6:30am, having said their goodbyes the previous evening. The rest of us enjoyed a leisurely breakfast and final pack. After a fond farewell to Marie B for her cooking and effort over the week, the Prof, Karl and Chris headed out on the long journey home. For me, it was a much shorter journey – Biarritz to pick up my wife and daughter from the airport for the third leg of my four part holiday.
But that is a different story altogether and has nothing to do with bikes at all!