Mountain Bike holiday with BasqueMTB – Day 2

By Day 2 of our mountain bike holiday with BasqueMTB I had a box-fresh Shorty on the front of my bike. Today was to be a mountain to sea run.
By now, Elliot had diagnosed Brian's cleat issue. In his considered opinion, it was between Brian's DMR pedals and Shimano cleats, which are subtly different from the actual DMR cleats. In theory they should all play nice together but clearly that wasn't the case with Brian's worn cleats.
As with Day 1, the mountain riding was similar – green, foresty, rocky, rooty and flowy. Nearer the coast the trails opened up, with lots more ferns and bramble and sandy grippy rocks. There was even a bit of hike-a-bike action, which is never fun, especially for Chris with his e-bike.
The reward for our effort was fantastic views as we rode along the coast. This morning the sun even made an appearance, lovely it was too.
After a long trail around the bay we stopped for lunchtime baguettes at Pasai inlet. These could have simply been called bags instead of baguettes, they were enormous! Chris and I ordered the potato omelette expecting an omelette in a container of sorts. What we got was an enormous potato omelette in an 18 inch baguette, it must have weighed at least a kilo.
I was left unsure over what was harder going, the trails or the baguette.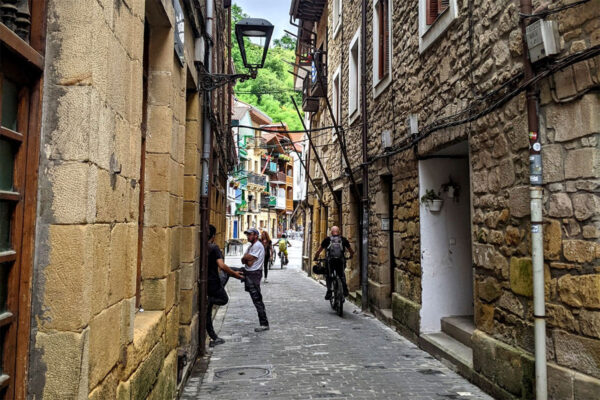 Our comedy moment of the week was when we stopped for ice cream and coffee at a little café/restaurant where we had the unique experience of the waitress getting hugely pissed off with us because she got the order completely (and I mean completely) wrong. It was not a case of language barrier as Eñaut (our guide from BasqueMTB) had done the ordering in Spanish.
Eventually the right order was thrown onto the table by the waitress before storming off muttering rude Spanish words in our general direction.
We did not leave a tip.