Mountain biking in Dorset – beyond our backyard

Photo by treehouse1977.
I often have to remind myself quite how lucky I am to live in an area which has such an embarrassment of riches for the discerning mountain biker. Around fifteen minutes from most of our front doors are the beginnings of some of the most revered trails in the South East of England.
Understandably, it is the hills of Leith, Holmbury and Pitch for which the area is best regarded by locals and visitors alike, and whilst they may lack the rugged, pre–historic aggression of the Peaks or Lakes, the miles of sweet testing singletrack more than compensates for any huge lung–busting climbs or eye-bleeding descents.
But does such a veritable feast on our doorstep breed complacency in the average Surrey Hills local? Are we ignoring some other fine dining 'just down the road' that would really get our juices going once in a while? I appreciate that in the current economic climate many, if not all, of us are reviewing our lifestyles and our outgoings—I know we certainly are.
But throwing the bike in the car (or on the train) once in a while and exploring new places is a great experience and perhaps is a cost that we'd all be prepared to make every now and then for the rewards it provides.
So what is out there? What is achievable in a day if you really want to explore this green and pleasant land? We'll I guess your only real barriers are your budget and your desire (generally for an early start and plenty of Red Bull!). Sensibly though, places like the South Downs, the Chilterns, Swinley, the Kentish North Downs are all just a stones throw away (for someone who has a good arm at least).
I'd even go as far to say that on a long Summer's day, places like the Quantocks and Forest of Dean are also ripe for a day out. Quite a few of our fraternity don't think twice about bombing down the M4 to Afan or Cwm Carn, but many of those I've just mentioned are natural playgrounds for the purists, much like our own backyard.
However, the focus for this write up is one of my particular favourite places to ride. Renowned for its varied riding, from big chalk hills to sandy heaths, and for its scenic beauty that inspired the life works of one of our greatest writers, Thomas Hardy. Dorset.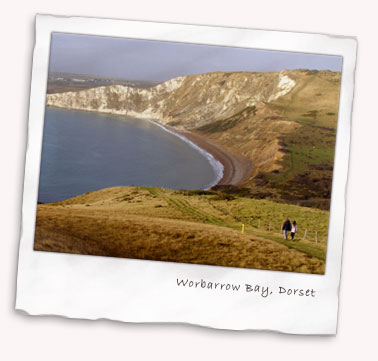 Photo by treehouse1977.
Dorset, like Surrey, might not be everyone's first choice for mountain biking, particularly those from outside the locale, but it offers a truly excellent mix for an all day ride, particularly around the Isle of Purbeck.
My ride of choice is a figure of eight loop that has the ancient ruins of the spectacular Corfe Castle at its epicentre. The ride starts in the shadows of the Castle before rising high above the once Norman stronghold via Knowle Hill and Ridgeway Hill. Height is gained quickly via chalky tracks leaving dramatic panoramic views, which are an ever–present feature of this ride.
The track rolls you along the top to the view point just infront of Great Wood before a swift descent coast bound to Blackmanston Farm. Through the farmyard its back into the granny ring for a very rocky technical climb, which will undoubtedly leave all but the very best pushing or carrying their steed.
At the top the route bears left away from the military firing ranges which are a common feature of this landscape. Crossing the road to Kimmeridge the route climbs up Smedmore Hill, steeply at first before plateauing out up to the trig point at Swyre Head, where you are afforded fantastic views over Kimmeridge Bay and the Jurassic coastline beyond.
The route then twists away down a grassy descent to the village of Kingston and from here it's a quick road stretch before turning off for a rather rocky and rooty (but fun) technical descent that eventually spits you at Woodyhyde Farm by the old steam railway line.
It's largely upwards thereafter via field and road to the top of Nine Barrow Down, but the effort in getting there is rewarded with stunning views of Poole Harbour to your left and Swanage Bay to your right. A blast along the top provides a chance for the legs to recover, before plunging down to the main Swanage to Studland road.
At this point there's a choice. Turn right and follow the road into Swanage for an ice cream and a paddle in the sea (but with around another 4 miles on the clock to get there and back) or carry on towards the pub at Studland!

Photo by treehouse1977.
Either way, the route climbs steeply from the road to the Obelisk on Ballard Down and much like its sibling, Nine Barrow, it's a gentle pull along the top before a noticeable (and very fast) descent around the headland towards the village of Studland, via Old Harry Rocks.
After a pub lunch, it's time to pick up the main road that heads towards Poole via the chain ferry at Sandbanks. At this point the landscape changes noticeably. Leaving behind the ancient geology of the Jurassic coast and chalky hills, the route takes you across Studland Heath with its gorse and heather before leading you into the shady world of Rempstone Forest.
Beyond the forest lies another short sharp climb back up onto Nine Barrow Down, this time from the Poole side, but once again it's a picture postcard view in every direction. From here Corfe Castle comes back into view and it is easy riding back along the Down, before the final descent of the day into Corfe, where a plethora of cream tea establishments await the calorie–depleted biker.
This is a killer loop in anyone's book; but with no end of fantastic views and photo opportunities, 'rest spots' aren't in short supply for the trail weary.
With the introduction of the trail centre blueprint we may just have become a little too used to associating great days out with following way–marked colour sign posts around twisty singletrack. But when there are routes like this to be ridden, and well over an hour nearer than somewhere like Afan, it's a no–brainer to get out there once in a while and see what else there is beyond our backyard.