Ride report: Wednesday 2 September – a river runs through it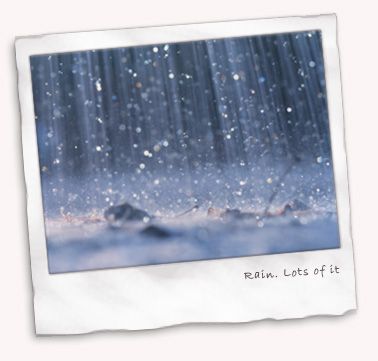 As with Stig recently, I was faced with a number of choices for the title of last night's ride report, not least of which 'Badger Baiting' springs to mind.
But look at that picture. Rain. Lots and lots of it. Either we just had the misfortune to be caught in the first autumn storm of the year or the Almighty is trying to break us in gently for the Dusk til Dawn next month. After last night I just hope that Jez's 'crisp trails and starry autumnal skies' spin on the D2D isn't just a pipedream.
Within a half mile of leaving the house I was soaked to the skin; admittedly I just had on my old used-to-be-showerproof Aqualite and Embers merino baselayer but as I pulled up to the forecourt at Highlands garage I was conscious of a definite sogginess to my person. But I'd crossed the line – I was out, I was already wet, so I was more than happy to continue.
The rain was coming in sideways onto the forecourt so it was difficult to keep dry even under cover. Shortly afterward I was joined by James on his old skool Cannondale (a lovely machine by the way – they don't make them like that anymore…) and then, after a few minutes a saturated Stig appeared and eventually AndyC who may or may not have been contemplating the pub in preference.
So, four of us; not a bad turnout considering. After a vain wait til 7:40, off we went.
Oh. My. God! It was very clear very early on that this was no clearing shower. It was torrential! Into Wiggly Wood and there was standing water on the trails through there and cascades coming through the leaf cover overhead. No respite here.
Everywhere we went it seemed the trails were under at least an inch of water as the hard surfaces failed to absorb the moisture. We splished and splashed our way over to Polesden, by now I'd dispensed with the glasses since they kept steaming up and we weren't going fast enough anyway.
Things didn't improve once we were up on Ranmore. We decided to traipse over to White Down for the chalky descent (I know, chalk, torrential rain and James on V-brakes was just too good an opportunity to miss!). As we headed on to Badger Run the wind was literally howling about our ears but strangely enough I was really enjoying myself.
A year ago these conditions would have scared me silly after my injury but although cautious I was glad to be out last night. It might have been apocalyptic but it really wasn't cold and even the water in my shoes was warm. The Revelation forks on my Orange are currently set rather soft so they just soaked up the trail and tracked beautifully even if they'll need to be properly set up for normal riding before the next ride.
Along Collarbone I picked up a slow puncture on my tubeless rear tyre. Normally I'd have stopped to repair it but not tonight and I couldn't bung in an inner tube as the inner surface of the tyre is a bit RAF from having about ten tyre cuts repaired over the past 2000 miles. Time for new tyres, to be sure.
Unfortunately this led to me having to stop multiple times to put air in the tyre but everyone's good spirits held; we'd long gone past the point of trying to stay dry. We headed off down White Down very gingerly as the prospect of a 'man down' in these conditions was not great.
The Almighty continued his night of mirth as it was soon clear that our path was strewn with cow-pats from the Devil's own Satanic Herd. Lots and lots of cow-sh1t, in fact a spectacular dump of bovine excrement was piled up in huge lumps all the way down the descent. You really don't want to travel at speed with no glasses to protect your eyes over this lot, particularly as the trail-that-has-become-a-riverbed washes all that crap downhill with you!
Once into the field near the railway line it turned out the farmers have been making good use of all the cow poo, having freshly fertilised the whole area. By now we were riding across a freshly turned over and manured field with great balloons of 'mud' wrapped around our tyres. It reminded me of the time we rode through slurry with Thomas near Newlands many years ago. How we stank. And how his van stank for months afterward!
On that basis, I started to seek out every puddle I could find to get all that stuff washed off my bike (and me) as much as possible. It wasn't a hard job as the rain showed no signs of letting up. Avoiding McPhersons we took the long trackway climb up to Ranmore and that's when it happened.
Rounding the corner to start the climb, James and Stig were briefly out of view when Andy and I heard a terrific commotion and arrived to find Stig sprawling on the ground having just run over a badger! The gristly beast had managed to get into the front triangle of his Pitch in the fuss and had a good snap at Stig by his account although fortunately he'd jumped clear! So no obvious harm done but we need a name for that bend now!
We made it up the rest of the climb without incident, then headed for Denbies. I hope James May had chosen last night to spend in his Lego house as the storm continued without pause. Coming down through the vineyard was almost zero visibility and the lashing rain gave me a stinging pummelling in the face. It was clearly time to call it a day.
Heading back along the A24 cyclepath we hit many long stretches where the standing water was ankle deep. We were wetter and dirtier than contestants at the World Gravy Wrestling Championships I think (work-safe!). Parting from Stig at Leatherhead we eventually climbed back up to Bookham and home for about 10:15 after 18 soggy miles. I even got the hose out and turned it on me and the bike for good measure when I got home. Heaven knows what Andy's car will be like this morning though!
Despite all that, it was a great fun ride but I'm hoping for better conditions on Sunday!