Ride report: Sunday 17 April – Santa Cruz-ing

Yes, you read that right. I was riding a Santa Cruz today, but not for the reasons you might expect.
Lloyd's Fetcham laundromat hasn't washed yet another Santa Cruz cleaner than an oligarch's financial affairs. No. Instead, I am currently 'between bikes', inasmuch that the Aether exploded through no fault of its own last weekend and my Pace RC627 is still not built up. Both are rather a long story, which I will convey at a later date.
This meant I wasn't able to take advantage of a week of fine riding and had no way of riding today until Lloyd kindly offered the use of his Santa Cruz Tallboy Mk3, an offer very gratefully received. This provided a number of firsts which in 2022 shouldn't really be true yet somehow, they were.
First time on a Santa Cruz (really?! In Surrey? Where have I been??). First time on a carbon frame (again, really?! Come on!). First time on 12 speed SRAM GX (?!). First time a Cane Creek DB Air rear shock (OK, fair enough for that one!).
This new-to-me stuff worked really well, even though time constraints meant I couldn't tweak shock and fork pressures to my taste. I could still tell the Santa Cruz frame had loads of performance in reserve.
Size-wise, I found the reach on the Tallboy to be relatively short, reflecting how much dimensions have changed since 2016 when this design first appeared. My M/L Aether has a 484mm reach, versus 475mm for the XL sized Santa Cruz. Similarly a 68° headangle and 1195mm wheelbase are steep and short by today's standards, while 110mm of rear travel is postively conservative.
But guess what? It didn't really matter. I found I could not only fit the bike quite comfortably but actually ride it without any thought given to the numbers. To my surprise it felt light and poppy and the suspension worked well on a ride that proved to be a bit of a workout. I was expecting to be riding a gate given the height difference between me and Lloyd but not at all. That said, I would love to ride this with shock pressures properly adjusted and with new Minion DHF and DHR rubber installed, as the tyres were pretty shot.
On the flipside, some of the not-new-to-me spec was more of a mixed bag. Hunt Trail Wide wheels have been on my own bikes now since about 2019 and are fantastic wheels; in this case perhaps it was the frame material that limited the usual freehub noise levels (in a good way). A Specialized Henge saddle (I'd forgotten how comfy these are). The Reverb dropper post (ugh! I hate them – too fast, resistant to dropping and the hydraulic activator is way too stiff, which is why I have got rid of mine). SRAM brakes (despite stacks of stopping power, just a little too on/off for my taste).
Overall I had a thoroughly enjoyable time riding Lloyd's Santa Cruz – and swapping tyres, brakes and seatpost for my own preferences is not exactly difficult. This Mk3 bike really rips and has more to give, but I would mention in passing that the latest Tallboy Mk4 now has numbers that are much closer to my Bird Aether 9.
So, first hurdle completed – I actually had a bike to ride. But the question was, where did we go?
Well, on a bone-dry sunny April day in the Surrey Hills you can sometimes be spoilt for choice but our route managed to cover much of the good stuff.
JR, MarkC, Lloyd and myself started from Bocketts and headed toward Alfred Pennyworth on dusty doubletrack. Not a puddle in sight. At this stage, I wasn't quite sure what to expect from the Santa Cruz but it certainly seemed a comfortable place to be and felt a bit lighter than the Aether I am used to – maybe 1.5-2lbs lighter? It certainly sat a bit higher on its suspension, most likely this is just the wrong shock pressures. After Alfred Pennyworth I had a  better idea of what to expect – the suspension felt very consistent, but I was a bit unsure about grip from those knackered tyres as I couldn't tell if I needed to weight the front a little more. But Pennyworth was a blast.
After that, onto Rumble in the Jungle, one of my favourite trails. There's a nice kicker after the first double (which I always avoid) but when I hit the kicker I thought I'd need a parachute given how high and how long I was in the air; yet the bike landed securely the other side as if nothing had happened. The whole trail went well and I caught up with Lloyd about two-thirds of the way along.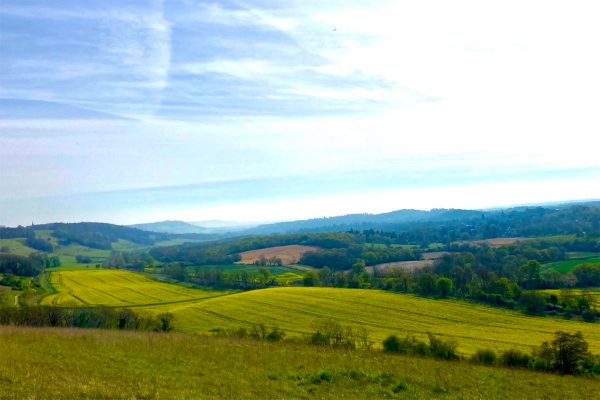 Climbing back up to Ranmore, we headed along the North Downs way to the start of Wire in the Blood 2. Starting from the top section – now slightly re-routed around the new trees that have been planted – the three jumps remain in place and again the Santa Cruz had no problem yomping over them. Once we got onto the steeper part of the trail I could tell the tyres were struggling a bit, especially on the long chute which I was especially wary of. I could feel the ultimate travel was also limited by the shock pressures but thankfully there was no obvious drama.
Next, it was along to White Down for the climb back up. Today we preferred to take in the views but the Santa Cruz was a pleasant place to be helped by the 12 speed GX working well. Recently my Aether has been responding to gear changes more on a suggestion basis rather than as direct instructions as the Deore 12 speed has covered 1600 miles. It has been wearing on me too – it just gets old pretty quickly when the drivetrain starts to play up.
The climb brought us back to the top of Ranmore and the bluebell woods are now in full bloom. I see bluebells as a bit of a weed really as they are pretty invasive but it's hard to deny the attractions of swathes of them we passed, heading to the Drovers' Road.
The next trail was 'X Marks the Spot' (in our parlance) which runs into Helium all the way to the bridge near the sawmill. It was running well today and the Santa Cruz felt nice and poppy on what is quite a pedally trail until you reach the logs and roots of Helium, but even there it remained easy to float the bike over root nests which helped smooth the path. A great trail!
Our enthusiasm levels must have been pretty high after that as we even decided to try the Impossible Climb near the sawmill to get to Wonderland. Lloyd's Reverb – even after pre-ride adjustment – was just slightly too tall for me fully extend for much of the day but proved perfect for the climb as I shuffled as far forward as I could. I think I got about as far as I could really, I've never worked out how to get round and over the step about two thirds of the way up.
The climb certainly got us panting that was for sure, but we were soon pretty breathless chasing a couple of faster and fitter riders down Wonderland. Lloyd managed to pressure a mistake from them but they were long gone by the time I came by. That said, Wonderland seemed to suit the Tallboy's poppy platform perfectly while giving enough of a base to push against on the uphill mid-section.
Presently we were back to climbing, once again to the Drovers' Road to get to one of my favourite trails, Petrol Pump. I don't think I am alone in enjoying this trail but today I had the luxury of going first with enough of a gap not to be pressured by riders behind. I had a fantastic time but could feel the sub-optimal tyres and shock pressures slightly holding me back, especially in the braking zones and on turns that demanded quick direction changes. It was the highlight of my day though.
The benefit of Petrol Pump – over and above itself – is proximity to Shere and the Dabbling Duck. Bacon and egg rolls and strong coffee served as a restorative that JR had to forego due to time commitments. But Lloyd, Mark and myself took full advantage!
After that came yet another climb back up to the Ranmore ridge, this time via Colekitchen Lane with the sun starting to get warm on these south facing slopes. Once back on the Drovers' Road we retraced our steps back toward Dorking, before dropping one more time off the side via the original Wire in the Blood. Again, exploring the grip available from the tired tyres meant I didn't push too hard as I could feel a little understeer building but I did at least manage to avoid whacking my head on the low branch for a change!
Our final climb back up was High Med, a wide gravel trackway with long views up the valley, by which time my legs were starting to feel the morning's efforts, despite Mark and I eventually distancing Lloyd. We decided to try out MacBad for a change given the dry trails which Lloyd then flew down, as I followed slightly more cautiously over the off-camber sections before eventually getting closer toward the end. It made a nice change to finish on this but I do enjoy our more usual Ricin Beans trail too.
We parted from Mark at Bagden Farm, then Lloyd and I dragged the final few miles back to Bocketts under a midday sun. I was particularly careful on our run down Connicut Lane this week, conscious I was on borrowed machinery.
A great ride ended on my town bike as I rode back from Lloyd's house in my MTB gear and knee pads, looking a little odd I'm sure.
Thanks again to Lloyd for the bike loan which meant Sunday wasn't wasted sitting on the subs bench. The Santa Cruz Tallboy proved a great trail bike and seemed to suit me quite well. Thank goodness my pockets are too shallow to pay for such things!