Hunt Trail Wide Tubeless set up

As chance would have it, I've just had two differing sets of wheels and tyres to set up tubeless. It turned out to be quite a contrasting experience.
First off, I had a brand new set of 29″ Hunt Trail Wide wheels to set up for the YT Jeffsy. I also had a 27.5″ WTB ST i25 wheelset to set up for the Bird Zero AM which I'll cover later this week.
Hunt 29″ Trail Wide MTB wheelset
OK, I decided to treat myself.
I've wanted to upgrade my tyres on the Jeffsy for ages but decided – using classic cyclist logic – that any new tyres would need some new wide rimmed wheels to do them justice. To do that, of course I needed to swap out my Pike for a new 2019 Boost version?!
That's a different story entirely though…
The Hunt Trail Wides arrived box-fresh from Hunt pre-taped with their own 'Black Shield' rim tape, flawlessly applied in a thick bead to bead strip. Also included were a pair of black tubeless valves along with a spare of each spoke length used in the build, a spoke tensioner and some Hunt Bike stickers.
I was hugely impressed before I'd even started to fit the tyres. Consider that for £349 this 29″, 30mm internal wheelset weighs just 1823g. Consider too that it comes with a 4.3° fast pick up freehub that is reinforced with a steel insert to limit cassette gouging. There is a lot to like about this wheelset before it's even turned a wheel.
Here it comes – what tyre for…?
Now the question that kicked off this entire process was the old 'what tyre' one. What to fit to a 30mm rim given the rare luxury of choice? What to fit for the Surrey Hills that would work for trips further afield? What to fit so I didn't need to think tyres anymore?
I needed something that would work year round too, which meant not being too distracted by current winter trail conditions, even if at times our winter trails have been as dry as summer ones. When it has been wet, it's been horrible.
In the end I settled on Maxxis, a default choice for many but not a brand I run very often. After reading about the latest fat tyre, wide rim trends for months I've gone for a Maxxis DHF 29×2.50WT (Wide Trail) on the front in 3C MaxxTerra guise, coupled with a Maxxis 29×2.50WT Aggressor on the rear. I could potentially have gone for the wider 2.60 on the front but decided to settle for 2.50 – which I suspect will suit me better and is a lot cheaper than the bigger rubber if you shop around!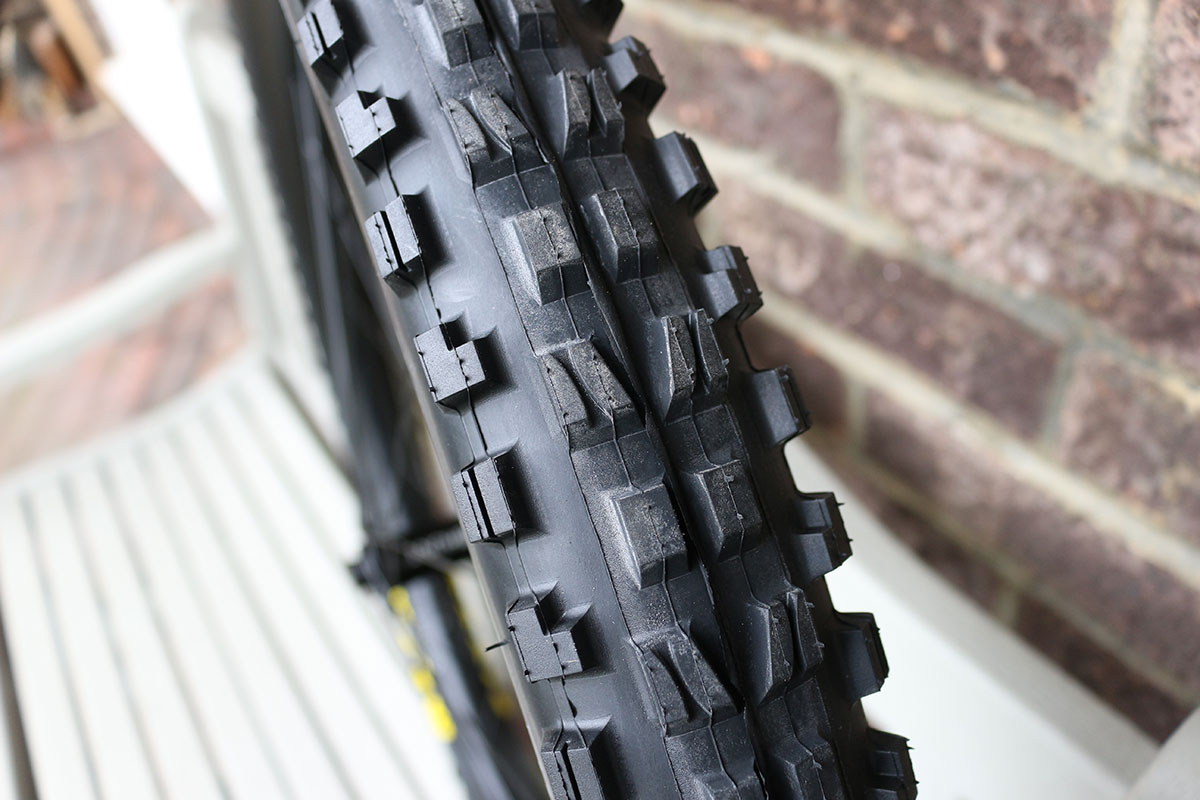 If the front option was pretty obvious – fat chunky grip from a tyre highly rated across the MTB world, the rear choice is maybe slightly more unusual. With the fat rims, I wanted to take advantage of them to run a wider tyre but I didn't want it to be too draggy. That ruled out another DHF or even a DHR but I was intrigued to see Mark has a 2.3 Maxxis Aggressor on the back of his Bird Aeris.
The Maxxis Aggressor has quite a close block tread and is only dual compound, so initially I dismissed it as a three season tyre only. Having followed Mark in some pretty horrible mud on several occasions over the North Downs though I could see it was still digging out a lot of grip. So I've decided to give it a go and will have to see if it turns out to be a good decision or not!
Setting Hunt Trail Wide wheels up tubeless
So finally onto the tubeless fitting. How did it go? Well the headline answer is it was bloody easy! The Maxxis tyres were very easy to get onto the rims with thumbs only, but I did need to put my BETO JetAir Tubeless Tyre Inflator into action to blast them onto the bead. There wasn't a lot more to it than that – a dose of Stans and it was job done, wheels ready to go.
I think the process was helped hugely by the width of the rims themselves and the wide shallow arc of the rim bed which lets the bead slide into position. I was hoping my track pump would be sufficient for the job (just because) but it rarely is anyway. Fortunately the BETO tubeless air tank seems to be an ideal back up.
Without yet riding the Hunt Trail Wide wheels and Maxxis tyres, initial impressions are this is going to be a great upgrade to my Jeffsy – the quality of both the wheels and tyres looks extremely high. I've compained from day one about the Onza Ibex tyres holding the bike back so this should move things forward – the Jeffsy certainly looks a lot more purposeful.
Unfortunately that's only half of of my tyre fitting story this weekend… stay tuned to see how I got on with the WTB ST i25 rims!