dialled bikes Prince Albert review – are you Dialled?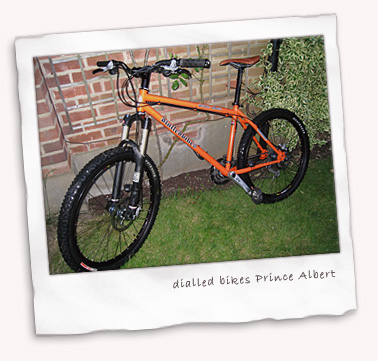 As a relative newbie to this all-consuming sport, I soon found myself thinking after a few months of owning my Giant XTC that it would be fun to upgrade. So, first the forks and then some months later came Mavic 321 wheels and Formula Oro brakes.
There was some science behind the upgrading – I knew in my heart a new bike would be not too far round the corner and the parts would be transferred over. If only my national lottery number selection was as predictable.
My thoughts were still very much hardtail as they say you need to learn how to ride properly first on a boneshaker before getting a more-forgiving full-susser.
After only a year of MTB (during which time I had a lay-off after throwing myself down the track on Happy Valley) I was only too aware how much I had to learn.
I also felt like something a bit 'alternative' (us finance geeks are always finding lame ways of appearing interesting!) and walking past Head for the Hills in Dorking, I saw the dialled bikes Prince Albert. Yummy.
Who the hell are dialled bikes? – a small company based in Epsom who design a variety of MTB and BMX frames. Mike, the owner and designer has applied his considerable experience and knowledge to develop a range of frames that work in the real world without any influence from those dreaded marketing men, trying to sway us in the direction of the next big thing.
They have a bit of a following amongst the Diary of a Mountain Biker forum folks. The frames are made in batches in Thailand, ensuring top quality build whilst keeping costs more than reasonable (£240 currently for the frame).
The metallic orange paint catches the eye and the finish is much better than the Cove Stiffee I was considering as an alternative. The neat new-style dropouts and curved seatstays add a nice touch too. Other than that, it's a simple recipe for success – good geometry and Reynolds steel tubing.
Steel frames have become increasingly rare in this age of extruded aluminium and the temptation is to think that steel = lardy. However, steel = compliant yet tough as hell, so tubes resembling RSJ's are not needed. In other words, weight and strength are not an issue and it certainly does look quite 'alternative' with the skinny pipework.
A test ride was booked and we instantly fell in love. Although very childish and unscientific, I think the biggest influence was when crossing a field I decided to pop a wheelie, like you do for no apparent reason when you're a man desperately clinging onto his youth. I was most certainly last in the queue for wheelie skills when they were dished out and my XTC only helped to reinforce that belief.
HOWEVER, on the Prince Albert I found myself balancing on the back wheel for at least 5 full revolutions (crank not wheels!). [Update – I have not been able to do this since!] Decision made then. In all seriousness, I couldn't fault it. I purposely found the steepest climb and DH sections on my usual stomping grounds and it was superb – very planted going up and extremely responsive and agile going down, just the way you want it.
The geometry is cock-on and cornering is also a revelation compared to the twitchy and skitty XTC. As an example, the two S-bends on the bridleway approach down to Bocketts farm have been transformed. Previously any attempt to take at speed would result in the front wheel tucking-under followed by a light lunch of terra firma, whereas I can now take them faster and lean the bike over just like on the motorbike – great fun!
You may think the slacker head-angle would slow down the steering but perhaps this is compensated for by a flat 70mm stubby stem and wide bars which, when combined with the confidence-inspiring and planted front-end, mean I feel I can chuck it around more.
Steep climbs no longer see the front wheel pawing at the air whilst I try in vain to get as much of my 80kg over the front as possible to prevent it. On the Prince Albert, with its longer-than-average top tube, I just lean forward a little and carry on grinding, cursing my lack of fitness and strength.
Having had the bike for over 6 months now (this article was originally drafted 5 months ago), I am still chuffed to bits with it. The recent weekend in Wales has made us 'bond' even more and was amazed at how I was able to ride and launch off the same stuff at the same speed as the faster Moles on their Orange 5's. In fact, I'm so pleased with it that I really can't see any point in getting a bike that bounces at both ends. It does everything I need it to and is SO MUCH FUN to ride, so involving.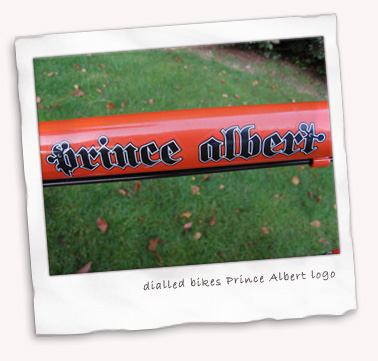 All that leaves is my concern with the name. Clearly not getting out enough lately, I had no idea what a Prince Albert is. When it was pointed out to me and I googled it in disbelief, I was shocked. The toptube decal clearly gives further evidence of the link. I don't know why, but rest assured, a trip to the local body-piercing shop is not on the cards for me – ever.
2007 dialled bikes Prince Albert specification (Updated as of June 2009)

| Component | Spec | Component | Spec |
| --- | --- | --- | --- |
| Frame | 2007 dialled bikes Prince Albert Medium in Orange | Headset | Chris King (what else) |
| Forks | Rock Shox Pike 454 Dual Air forks, with the PUSH conversion by TF Tuned Shox | Bars | dialled bikes DH Pablo Esco(bar) |
| Front mech | Shimano SLX | Stem | Thomson Elite Flat70mm |
| Rear mech | Shimano Shadow XT Med Cage | Seatpost | Thomson Elite |
| Shifters | Shimano XT | Saddle | Charge Spoon |
| Front brake | Shimano SLX 180mm rotor | Pedals | Shimano MX-30 flats |
| Rear brake | Shimano SLX, 160mm rotor | Rims | Mavic 321 |
| Chain | KMC x9 93 | Hubs | Hope Pro 2 |
| Cassette | Shimano XT | Rear Shock | n/a |
| Chainset | Shimano SLX double with honeycomb bash | Tyres | Maxxis Minion 2.35 60a DHf |