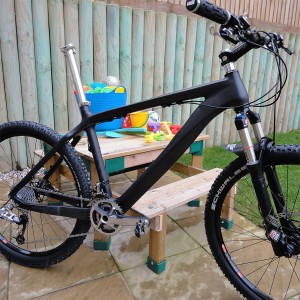 With the widespread adoption of the 29er, the growing debate of 29er vs. 26er mtb's is hot amongst riding groups. The options are wider than ever, but the bottom line is "which one is right for me"?
When I spec'd out my latest custom build I was thinking about the type of riding I do, plus looking ahead I'll be dipping into the XC races like Mountain Mayhem now and again. I was looking for a bike that would handle what I want to throw at it, with increased climbing acceleration and agility.
Given the specs of the 29ers I don't see this changing for me just yet, and after months of deliberation decided the starting point for a 2012 build would be the all trail centre/all mountain hardtail On One carbon 456 .
At 6'1 I fall into the taller side of the sizing spectrum and opted for an 18inch Large (frame weight 3.3lbs / 1500g) with a top tube length of 609mm. Interestingly, this build ran in parallel with a Cotic Soda Ti to Ibis Tranny frame swop (which I'll be reviewing another time). The Ibis Tranny in Large comes in at 3.1lbs with a top tube length of 600mm (the XL for the Tranny is 620mm).
The 456 carbon has oversized and burley front end curves with geometry that will give you compliant handling with a 100-160mm max fork geometry range. This particular build comprised of a mixed tapered headset (On One's Smoothie Mixer) with crown race reducer accommodating the 1 1/8 steerer of Reba RLT 120's.
Still in the cockpit, Chris King spacers (25mm solid + 5mm spare on top) and a Thomson Elite X4 110mm 10degrees stem support RaceFace Next 3/4 carbon riser bars. Stopping power is provided by the awesomeness of Hope's Race X2's on MatchMaker clamps with 183mm front/160mmm rear floating rotors with black spider, consistent with black/silver 'stealth' colour scheme throughout.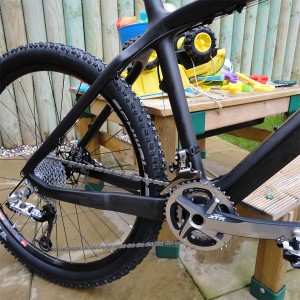 The rear end is lean and hosts the latest 2×10 drivetrain mix. In the middle a lush XTR trail 38/26 (175mm) crankset and bottom bracket, with its wingman, an XTR double (top pull) front derailleur. At the back end goes an 11-36T XT cassette (although I feel already a 34T will be more than enough). Shifters and medium cage rear derailleur are courtesy of SRAM X0.
Moving skywards, a Thomson in-line 410mm seat post and, in the perch, SDG's Bel Air RL Ti.
Bearing in mind intended use, all this sits on Stan's ZTR Arch rims on Hope Pro II EVO hubs, with DT s/s Competition spokes and Schwalbe Nobby Nic 2.1's (b*stards to get on as some of you will know all too well!)
Finishing kit includes ODI Rogue grips and a MuckyNutz 2.1 fender bender.
I took her and rode her hard. A test loop across Epsom Downs followed by a magic local (snow) night-ride was enough to check she was functioning perfectly, as well as to establish that this could be an absolute weapon in the right hands. In traditional bike test parlance, she was stiff and responsive, with acceleration that defied belief. The frame itself felt lively and solid.
Over the coming weeks/months I'll be reviewing the ride and the components in more detail… starting with the notable XTR/X0 2×10 set up.
| | |
| --- | --- |
| Frame | On-One 456 Carbon 18″ |
| Forks | RockShox Reba RLT 120mm |
| Headset | On-One Smoothie Mixer |
| Bars | RaceFace Next 3/4 carbon |
| Stem | Thomson Elite X4 110mm |
| Shifters | SRAM X0 |
| Front mech | XTR 2×10 top pull |
| Rear mech | SRAM X0 |
| Chain | Shimano |
| Cassette | Shimano 11-36T |
| Chainset | Shimano XTR 2×10 Trail |
| Front brake | Hope Race XC |
| Rear brake | Hope Race XC |
| Rims | Stans Arch |
| Hubs | Hope ProII EVO |
| Tyres | Schwalbe Nobby Nic 2.1 |
| Rear Shock | N/A |
| Seatpost | Thomson Elite 410mm |
| Saddle | Bel Air RL Ti |
| Pedals | Shimano XT |