Two bikes to watch for 2009

Up until last year I had been a bit sceptical of the whole long travel, All Mountain phenomenon. At the time, riding a 2003 Marin Rift Zone I couldn't really see how you could build a bike that could cope with the extra travel (the Rift Zone was literally my flexible friend) without incurring a significant weight penalty.
That all changed with the arrival of my Orange Five and with it came a new regard not just for long travel but also single pivot suspension. So, seeing some of the new bikes lining up for next year there's a couple that really seem to stand out for me.
First is the Cannondale Moto, seen above in Carbon 2 guise, with 160mm of travel front and rear, a lightweight carbon frame and essentially a single pivot set up. It's a pretty butch spec but still comes in under 30lbs and £3000 I believe. Odd to say that and think it's good value though…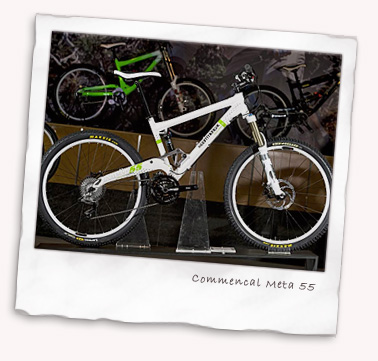 Second, Commencal have had a lot of praise this year for the Meta 5.5 which offers around 140mm of travel using a single pivot and suitably reliable components too. At least this bike is a lot more affordable than the Cannondale at around £1900.
I'll admit here and now, I haven't any experience of either of them but they both strike me as being bikes that someone looking for longish travel machinery should be putting on their list. Both bikes are from proven manufacturers that seem to know their stuff, both offer the bump swallowing joy of single pivot suspension and, as you might have noticed, both offer great colour schemes!
For me, that's the clincher. Just look at the lime green and white colours of the Moto with those great red DT wheels and hubs – I want some of that! Just crying out for some red anodised KCNC jockey wheels I wouldn't you say? And then look at the Commencal, a touch more discrete (if that much white can ever be discrete), accented with lime green banding. It's not too difficult to see where our fashion riders are heading is it, probably with Dave P leading the way!?
If anyone's interested in the Commencal, Head for the Hills in Dorking are the local dealers and have a pretty good reputation for service.