2010 Rock Shox Revelation 120-150mm U-turn fork review

Just now I'm feeling one lucky fellow. Not only have I managed to get hold of one of the first UK imported 2010 Revelation Team forks but having taken them out for a first ride on my Orange Five I'm pretty confident in stating: these are the best forks I've ever ridden.
In fact, I'd go further than that. I reckon next year's Bike of the Year will feature 2010 Revelation forks with Black Box Motion Control, they're that good. But more of that in a while. What exactly are we talking about here?
Well, I've muttered on for ages that my 2007 Orange Five, great bike as it is in the top notch format I have, has been compromised in its' all round trail abilities by the Pike 454s I've been running. Don't get me wrong, these are wonderful forks but for me, over time, they just ended up being too heavy.
What the Pikes had though was a bolt-through Maxle which I have loved from day 1. There's no getting away from the fact that the confidence you get from knowing your front wheel absolutely will not come loose is worth any amount of money. Added to which, the enhanced tracking abilities from the stiffer front end are staggering.
But as I said, at nearly 5lbs weight these forks just were too heavy for me on the Five over time, unbalancing a very sweet ride. I know other riders who swear by them and if I had a bit more strength then I'd agree; in fact the ability to plough through rough stuff is excellent fun but I got tired of not being able to help the front end over isolated trail obstacles with a quick weight shift. I only really noticed this after riding my On-one Inbred for extended miles over the winter – it was great fun!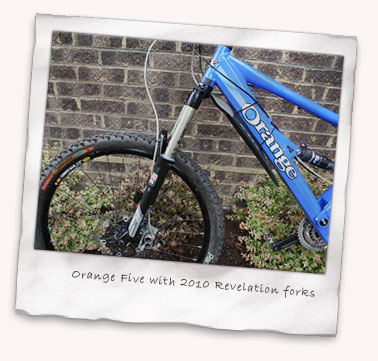 So, as I've said for some time, what the Orange needed was a bit less heft up front. With the 2010 Revelation forks that's exactly what I have. Instead of something nearer to 5lbs I now have a fork which weighs in at 4.06lbs for the (deep breath) Rock Shox Revelation Team 120-150mm U-turn Maxle forks. If I had lost the U-turn feature the weight would be down to 3.9lbs.
For 2010 there are a number of incremental but significant improvements to the Revelations which all together produce that sparkling performance I mentioned. First off, these forks have 150mm travel, up 10mm from the 2009 Revelations and older Pikes yet the axle to crown height remains the same. That's impressive in itself, a full 150mm.
Next, for 2010 the Revelations have completely redesigned lowers with post mount brake bosses, power bulges for the bushings and arches capable of taking tyre widths up to 2.5. The forks come with a highly recommended (see earlier comments) Maxle-lite bolt-through option that saves further weight over the original Maxle.
Travel wise the Revelations can be internally adjusted between 130-140-150mm of travel depending on your frame or, as I have, you can go for the U-turn which gives 120-150mm of travel. Either way that let's you but these knowing they'll fit a wide range of frames in the future. Personally I'm ambivalent about the U-turn as it's rarely used and continues to be a faff to change travel unless you stop, but maybe that's just me.
The real magic seems to be inside though with the availability of the Black Box damping on the Team model. This really does seem to move the performance on dramatically as I found over the course of an enjoyable 22 miles.
Bear in mind that immediately prior to fitting these forks to the Five I've spent the past two years riding the bike with the Pikes, which to be fair are now in need of a service. On Saturday I headed out over some pretty representative trails which cover Surrey singletrack, hard-packed bridlepaths with lots of staccato bumps and some of the trails which are perennial favourites of ours, including the Chainbreaker descent and Infestation.
The 2010 Revelations were unbelievable and have completely changed the character of the Five. They are incredibly plush forks which sit nicely into their travel and with the same axle to crown height the riding position on the Five was unaffected. If you are a heavy rider on the front you'd probably want to play with the rebound and compression settings to build more of a 'platform' in but for me I was happy with them set to the equivalent of a very supple coil fork.
Tracking was easily as good as the Pikes but with the trick Black Box damping circuits you could feel the fork kept on working even through quite rough sections and direction changes. This might make you think it's a more flexy fork but I think it's just that the Pike damping stiffens up in the same conditions. The Revelations just got on with things.
Coming down Infestation with it's masses of exposed, rough, steppy roots really showed the fork off in it's best light and I felt totally confident in it. The lighter weight gives you the opportunity to lift the front end a little on the really messy bits, helping the bike float more easily through and making it feel better balanced overall. Chainbreaker similarly had the back end rattling but the front went where I wanted it, suggesting the back end is working harder and a rear shock service isn't far away!
On general trail riding I found this to be a very easy fork to live with, it's small bump capabilities mean it rolls very nicely. Out of the saddle honking really needs you to use the lockout but you don't tend to do much of that on a full sus machine. If you had one of these fitted to a hardtail though (and wouldn't a Ragely Blue Pig be the ideal choice?) then I'd be wanting a bar mounted lockout.
So there you have it, a very impressive fork. But why do I think the 2010 Revelation is such a stand out product then? Well, fundamentally this is a mainstream trail fork with 150mm of travel for around £650 retail. That's a bargain in my view compared to the Fox and Marzocchi competition and is certainly something the average trail rider can expect to afford once the discounters get involved.
So think about that, everyday riders like me can now afford a bolt-through fork with a full 150mm of travel, superb performance and few compromises for their everyday ride (OK, I know affordability is relative). A similar level of rider would have been looking to a 100-120mm fork for those same qualities just a couple of years ago. So this is quite a step forward in my view and allows manufacturers to spec a top-notch headline grabbing fork to otherwise ordinary bike builds.
But it also gives impetus to a bit of a backlash in that everyday bikes are becoming so good that niche is the way forward for many riders. I've had decent fun on my Inbred singlespeed for the first quarter or so of this year and even my carbon forked old Muirwoods is entertaining. For a lot of our Surrey riding maybe one of those long-forked hardtails from Ragley and it's competitors would make a lot of sense.
In my view 100mm is all you need in the South East and 120-140mm a bit of a luxury. To now be looking at 150mm as an achievable norm means a lot more thought needs to go into the whole bike if you want to avoid being over-biked for our trails. Which changes the game completely really.
Further Rock Show 2010 Revelation information available on Bikerumor and BikeRadar and I've posted some pics on Flickr for you.