As a few of the moles know, us three racing moles (Amanda, Adam and myself) went off to race the BC Bike Race. So here is a quick overview at what happened over the seven days.
Now I'm going to say for the record, the BC race is not easy. We've raced a few of the big multi-stage races round the world and I can say each one is hard in different ways and this one is no exception. The BC race is said to be the longest single track race in the world, one thing I think they should add to that is that it is one of the most technical races I've ever done!
No joke, after the first day racing all three of us said "we've got the wrong bike" – this race is not suited to 100mm travel bikes. When you see the locals on 120mm travel plus bikes, you kind of know that you should have brought your fun bikes.
So lets give you an idea of what the riding is like. Imagine the Collarbone track with five times more roots with rocks and add Landrover in there somewhere for a bit of fun, plus Abba Zabba with rocks and drop offs plus rock descents of 5-20 foot and woodwork and descents that make your fingers feel like there about to drop off because they are so long and switchbacks.
All that for 50km at full speed, it's fun trust me, but it's hard – there were "times I wanted Road".
We're now riding things on our Epic bike that I'd never have done before that race, your skills will come on leaps and bounds, BUT if you don't pay attention 100% you'll pay the price. Let's just say they had 7 fractures just in the first day, everyone had some kind of injury – I got away OK, I only had one huge bruise to my left hip after hitting a tree. Adam was not so lucky, some injures were shocking, but the riders just kept riding!
So here's a quick run down of the 8 days. Sorry but I can't remember in too much detail as I had my head down trying to keep up with Adam.
Day Registration North Vancouver
Today it's registration to collect our rider pack and freebies. "Nothing is free", so we sign our life away and receive our t-shirt, glasses and huge Dakine bag which we have to put everything we're going to need for the next 7 days. When I mean everything, I mean EVERYTHING. Sleeping bag, tools, spare parts and clothes (our bags were bulging).
After meeting some old friends from around the globe and chatting to new ones it's time to head back to the hotel. This time we'll leave our trusty steed with the BC Bike crew, as they'll look over the bike to make sure the bike will be safe for the race. Next time we see the bikes it will be just before the start line.
Day 0: North Vancouver
We make our way back to the same place as Registration for briefing at 11am, after briefing it's on to the bus and over to the ferry for our trip to Cumberland. We arrive at our camp site and find our bag and get issued a tent.
Then it's time to walk into town and find food ready for the race next day. So far so good, but I feel I've got this cold coming. Oh no!
Day 1: Cumberland – 54km, 1200mt climb
So here we go, Adam and I are on the start line and ready. It's a rolling start behind the local trooper car (police car), we're told not to overtake! As if I'm going to have the speed to anyway.
The trooper peels off and then the race is on, all of a sudden the speed is getting faster and then it's into the singletrack which causes a huge congestion of bikers. The track starts off a little smooth and then it starts to get rooty and tricky.
At this point you get riders trying to overtake in the most stupid of places, just to pass one rider. I had one guy right on my rear wheel almost rubbing my tyres. I dodge a fallen tree stump right at the last split second, I hear a shout and look over my shoulder, only to see him landing in the scrub – "oh well that will teach him". The roots are getting tougher and it starts to take it's toll on us.
Photo by Margus Riga
I must confess I'm not enjoying this as I'm working at full speed and well out of my comfort zone. We finish 13th, Adam's not too happy, but it's day one of seven. It's a long race you have to take day one with a pinch of salt as everyone is going for it.
It's a long race.
http://www.bcbikerace.com/news-and-media/videos/race-week-2011-day-one
Day 2: Cambell River – 50km, 1005mt climb
Another rolling start and then it's full speed into the single track, but just before we make our left turn into the single track, we're heading down this two wheel drive track and I decide to move over to the right side as it was clear. This rider moves up on my left side only to hit some soft stone, then all of a sudden he's off and down and then takes out two other riders. Man that was close!
The riders who went down received some nice gravel rash and stitches, again I got lucky but later I received a blow to my poor plums when I went down a rock decent and caught them on the back of the saddle. Ouch, that hurt! Adam had a wee smile on his face.
Then it's down the rocks we went and then we hit a rock that clamed a few tubes. Yes Adam's front tyre was one. As we're fixing it this chick hit the same rock. So now there are three of us trying to sort our little problem, the rockery was very slippery and technical – hard work.
http://www.bcbikerace.com/news-and-media/videos/race-week-2011-day-two
Day 3: Powell River – 51km, 1070mt climb
This morning we're loaded onto the bus and then onto the ferry to start the 3rd day at Powell River. Start time is 12ish and it's a another long hard day on single track.
So off we go and it's a long hill to climb. Today is the first day that I'm enjoying myself, I seem to have some energy and Adam and I seem to be making good progress. Amanda is having a hard time as her sinus infection is making her life hard and she feels she's slow and has no power. She's not having a good race year!
The single track is tight, fast, rooty with woodwork, we pass the second feed station and Adam is in front of me. We approach a river crossing with about 15 steps to the bridge platform. It would never be a problem going down the steps but Adam is using the New Shimano XTR pedals and couldn't get clipped in in time. Just as he's heading down he hit the walkway and starts to go over the handlebars.
Now Adam say's there were three options.
Into the creek with a big drop into about 2 foot of water plus rocks. How do I know how deep it was? Well I had to go swimming for his water bottle.
Hit the hand rail
Hit the floor with a metal mesh to stop you slipping.
I don't think he had much choice, he had to take option 3 ending up cutting his cheek and blood pouring from his face worse still his front wheel had almost folded.
So now it was to assess the problem, stop the bleeding and then get the wheel straight. Adam was bashing the wheel on a tree stump to get it into some sort of straight shape while I went swimming for his water bottle. Back to dry land (the river was nice) and back on the bike – we lost a good ten minutes.
Later on that day we're about 5km from the finish and I'm drafting Adam, all of a sudden Adam hit's the brakes "what the F+++k are you playing at?!!" I look up to see this Huge Black Bear!! It's about 30 mt ahead, crossing the road so we slow down and Adam say's "what shall we do?". "Keep riding" I say. Just as we get up close Yogi is now in the bush, we're not hanging around!!.
Not long after that we cross the line. Another hard day but great fun if we was three seconds faster we'd have hit yogi, could you just imagine that crashing into a bear we'd have had a good beating from him. The camping was great and so was the food… Bed time…
http://www.bcbikerace.com/news-and-media/videos/race-week-2011-day-three
Day 4: Earls Ccove to Sechelt – 65km, 2110mt climb
Today is point to point. So we get kicked off the ferry & jump on the bike this one is hard as it's a uphill start.
There are some whippets and my heart is wanting to jump out of my chest as I push uphill. It's hot today and some of the tracks are tricky; I was thinking it was going to be fire road day, oh how wrong was I again. Singletrack, singletrack, singletrack. Then the day ended with some sweet down hill singletrack and I was wishing for my arms to have a rest after it went on forever.
It did it end, like all good things in life, we pop out of the trees onto a road and see a sign saying 3km to the finish. Thinking we only have 3km of road – how wrong was I? – we then turned onto a bit more singletrack with a nasty up just for good measure, then it popped out and we had a sandy climb again short and then a nasty very loose rocky descent to the finish line.
Day 4 over we cross the finish line and it's time to hand the bike over to the transport crew, then shower time but the queue is huge so I found a leak in the hose, right in the middle of the car park. Had a few funny looks.
http://www.bcbikerace.com/news-and-media/videos/race-week-2011-day-four
Day 5: Sechelt to Langdale – 38km, 1420mt climb
Another point to point day, it's a bit cloudy and it's up hill again. This time they put us up a downhill track some of it you could ride, that is if no-one was in front of you, but some was a bike push and took us up in the rain forest, but without the rain.
The trail was smooth with roots in places and lot's of woodwork, i.e bridges that you had to be careful on as it got a bit slippery and narrow (this also claimed a few victims with a few showing up to dinner with stitches in their face and arms). Again it was technical in places with a nice speed being gained, especially at the end of the ride with the pay off being some very fast flowingsingle track.
Then it was onto the ferry for another crossing and onto a bus to our next camping spot at Squamish.
http://www.bcbikerace.com/news-and-media/videos/race-week-2011-day-five
Day 6: Squamish – 50km, 1660mt climb
Today is a round loop, we've been told it's the best day of the whole week. Amanda is ill today and her sinus infection is too much for her to race today, so she is going to sit this out.
We're off and it's up hill and into singletrack again. The trails are smooth, fast and flowy.
This was the best day of the whole week, fast and flowy with some great technical bits. It also has some timed down hill sections, Adam was pleased with his timed results as for me I was happy to make it down as fast as I could and still have two wheels to cross the finish line.
I was shoving gels down my neck to keep me going up the hills and hope to be able to focus on the tricky bit that hit you at speed. The last bit of the race was down hill and Adam and I made good time as we crossed the finish line.
A Good day had… we've now moved up over the week into 8th with the top 5 teams all full-time pros… If I'd feet good at the start of the race we've could have done better.
http://www.bcbikerace.com/news-and-media/videos/race-week-2011-day-six
Day 7: Whistler – 27km, 860mt climb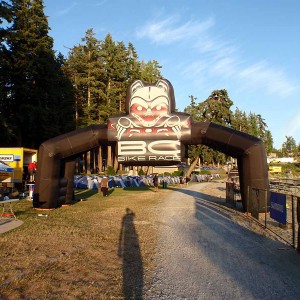 Game on now, there isn't much time difference for the teams lying from 7th-12th and we only need to make one mistake today to lose all the hard work we've done.
So it's push time, as I've not got much push in my legs Adam is pushing me up the hills so we keep our number 8 position. After looking back on the day and having been riding around whistler, they couldn't have picked a worse route. They sent us up a 600mt hill! Then down a fire track!! What the… (this was actually one of the first downhill racing courses back in the day when they rode fully ridged bikes so a bit of history was ridden anyway).
It was then back on the singletrack, but before that Adam and I missed a bear beside the track, Amanda spotted the bear but we didn't, I guess we're just pushing too hard to notice. After a savage hill climb on single track it was down hill all the way down a trail called Comfortably Numb, which is far from it. If you mess it up you'll be uncomfortably numb for a long time.
Soon after we cross the Finish line in Whistler. It's hard to think it's all over. Amanda crosses the line with a big grin on her face, the first thing she say's to me is let's do it again next year, she wants to race it properly next time without being sick.
Well time will see, but I guess it could work out. Will I do it again. I sure will… this is the best race I've ever done. Hard but great fun. The BC Bike Race is not too big and not too small and it's well organized.
The people you'll meet, you'll remember for a long time. You'll never forget this race. Yes it's costly, you'll not get much change, if any, out of 4k, but if you love biking and love big country and love singletrack riding, then this is the race for you.
So why not book, you only live once…
http://www.bcbikerace.com/news-and-media/videos/race-week-2011-day-seven