So our EndlessSummer™ seems to be heading, inevitably, towards its' end. Better make the most of it then.
Which was exactly the reasoning behind a group visit to Afan this past weekend. The nights are drawing in, there's a chill to the mornings and it won't be long before the Muddymoles are once more slipping and sliding round the chalk and clay of the Surrey Hills up to our ears in winter.
Jem has been back and forth to Wales at various points this summer but for most of us, this was a first chance this year to get down there. We've ridden Cwm Carn many times, there have been visits to Bike Park Wales (not yet for me), but we haven't been to Afan for a long while.
By my reckoning, it was 2015 since I was last at Afan with Jem and Kev.
Afan Masts
Since then, there have been changes to the area. Being honest, the trails at Glycorrwg and Afan have lost out a bit to the likes to Bike Park Wales and anywhere with an uplift service.
The once heavily wooded hillsides remain sparsely covered thanks routine forestry and disease although that's not true of the whole place. For those who like the do things under their own steam the place still has much to offer and the locals have their own network which is quietly getting a following – Afan Masts.
Afan Masts was a particular draw for most in our group, which consisted of Jem, Clive, Bryan, Elliot, JamesS, JamesW, MarkP, JR and me (a total of 9). The reason being these trails are raw and hand-cut down steeply wooded hillside.
They are accessed via grinding fireroad climbs which will keep you warm on the coldest of mornings and offer plenty of fun for skilled riders and pause for thought for the rest of us.
Talking of pause for thought, if there was a scale for gnarr (which there must surely be), it would have World Cup downhill riders at one end, and mincing, knock-kneed, wide-eyed milksops at the other.
If I am brutally honest I am much closer to the mincey end than the downhill end. I like a bit of 'Wooh!' but am keen to avoid the 'Agghh!' if I possibly can. I can't speak for others in the group though…
On that basis, I approached the days riding with a certain amount of apprehension but also some anticipation. Who knew what was in store?
It turned out, a lot of good fun but first, there was a lot of fireroad climbing – over three miles in fact of uphill to the Masts. This is all about earning your descents after all. JR and Clive settled into a fairly fast pace up the hill from the Rhyslyn car park at Pontrhydyfen, dragging the rest of us in their wake at various distances behind.
Once at the top we had the chance to appreciate the fine day – 12°, no wind and a view that let us look right across to the Devon shore opposite Port Talbot, a town which rarely looks so attractive. Then it was time to try heading down.
As luck would have it, we found a local, Richard, who was happy to show us around and steer us away from the crazy stuff.
The first trail, was an aptly named 'Snakey' which was a good start – a narrow thread of singletrack that led down some steep drops and back out onto the fireroad. It was amazing how quickly we lost height on even short trails and were constantly needing to get back in the low gears to gain it back.
Next was De-ledge, which starts right at the top near the Masts. It's a nice, steep but straightforward trail with a wet slab halfway down that spooked us given it was our first experience. It was all pretty rideable overall and more familiarity would help I think.
A short way up the fireroad and Richard led us onto Hovis which was a thin rocky trail along the edge of a deep ravine with a steep roll in at the bottom – again all of it rideable. Then as before, back up to the top again.
Snakey second time round flowed much better and by now Richard decided we had the feel of things and headed off with some friends he had bumped into. We decided it was time to lose height and head for lunch so rather than go all the way back up, we went for the lucky dip.
This turned out to be G&T, a fun trail with several skirtable doubles and log drops (watch out – some roll only from one end with a jump at the other).
G&T led us out onto the start of Hovis so we carried on, finding much more flow the second time round.
The last trail down was Vole Roll, another narrow (what else) trail with a short rocky gully roll. As with a lot of the trails, the route is made more challenging by effectively being a deep narrow ribbon; its easy to scuff speed and snatch pedals when you haven't ridden them before.
Lunch at Afan Forest Park
By now it was lunch so we rode up the valley to the Forest Park at Afan. I've not done this before and hadn't really registered what a great network there is connecting these locations together, suitable for commuter, beginners and recreational riders alike.
They're really rather good and as I discovered later there's even a little boardwalk skills area. It's a great set up keeping people away from the roads as much as possible.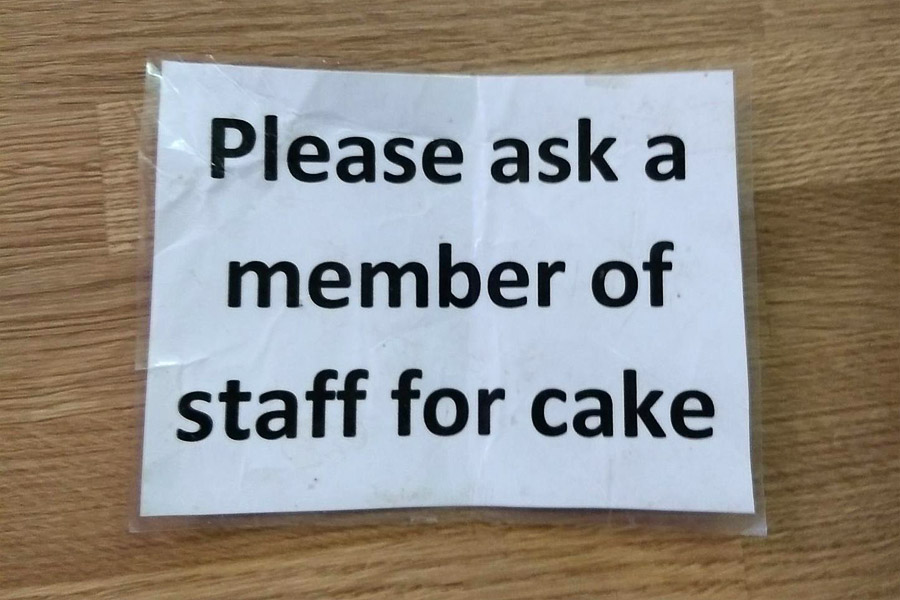 Still lunch was calling. Our late arrival turned out to be an issue for us because, unbelievably, the cafe at Afan Forest was selling out of food fast. The combination of high demand from visitors keen to enjoy the great weather and what I can only assume is rather poor management.
Baps first; I got the last one with my spicy beanburger which I'd chosen because I assumed it came with a brioche bun and relieve the pressure on bap-gate. Alas no, so it was a switch to ordinary bread for everyone else. Sorry!
Returning later for more coffee I was told they couldn't give me one because they'd run out of milk!
All this after queuing for ages on both occasions, an experience that at least let me watch an unfolding revelation for the baffled cashier who discovered that not only was a drink she'd always assumed was cider turned out to be ale, but also that the customer might actually want a glass to put it in!
I think I would have sent someone out to the nearest corner shop for more rolls and milk personally… and some time before it was actually going to be needed too…
What a shame when the food itself was excellent.
Penhydd
Time was marching on. JR and I felt that an hour or two on Penhydd would suit us better after our lunch so while the rest of the guys headed off for more Masts fun, we picked up the Penhydd trail from the car park.
Blimey, I'd forgotten how much of it is fireroad climbs. We settled into a fairly consistent level of effort, or at least as much as our full stomachs would allow.
Eventually though the payoff was lots of lovely singletrack descents, including Big Dipper (a total blast), Side-winder, Dead-Sheep gulley and the final Revelation. Compared to our morning efforts the trail felt incredibly wide and with lots of berms and carefully placed blind crests that you could fly over with abandon we could really let loose. My legs were ruined by the end.
Our mileage for the day was just shy of 22 miles, comfortably over the Double D'Andy mark and I certainly felt we'd earned our evening meal at The Colliers later that evening.
The Blade
The next day saw a slow awakening but we managed to congregate at Glyncorrwg to start the days riding around 11:00 after a nice coffee hit in the cafe. The day wasn't going to be as nice weather-wise as the Saturday but despite some rain it remained relatively warm.
Bryan was keen for us to do the Blade, a trail I've never tried before but first we had to get up White's Level.
This has been an exposed stretch of hillside for a long time now and the trail is showing it – lots of loose energy-sapping stone and scrabbly boulders that needs a real burst of power to get up and over. It's a quite a technical challenge and we were soon strung out along the track.
It's nearly three miles to the top but after the first half hour the gradient eases a little. After some discussion at the top we decided to do a couple more sections of Whites before finishing the Blade; at that point I was feeling quite good for a second day in Wales (I have all sorts of history with multi day Welsh riding).
We picked up Windy Point and then after breather tackled the Energy trail too. I would have been disappointed to miss Energy, it remains a highlight for me on Whites.
After that, we had a LOT of fireroad back up to Windy Point. Again, it was a case of ignoring everything else and finding a cadence that worked.
By the way, my Jeffsy is 2×10 and I still feel this suits me very well. On trails with a real variation in climbing and descending I never really felt I'd run out of gears – thank goodness.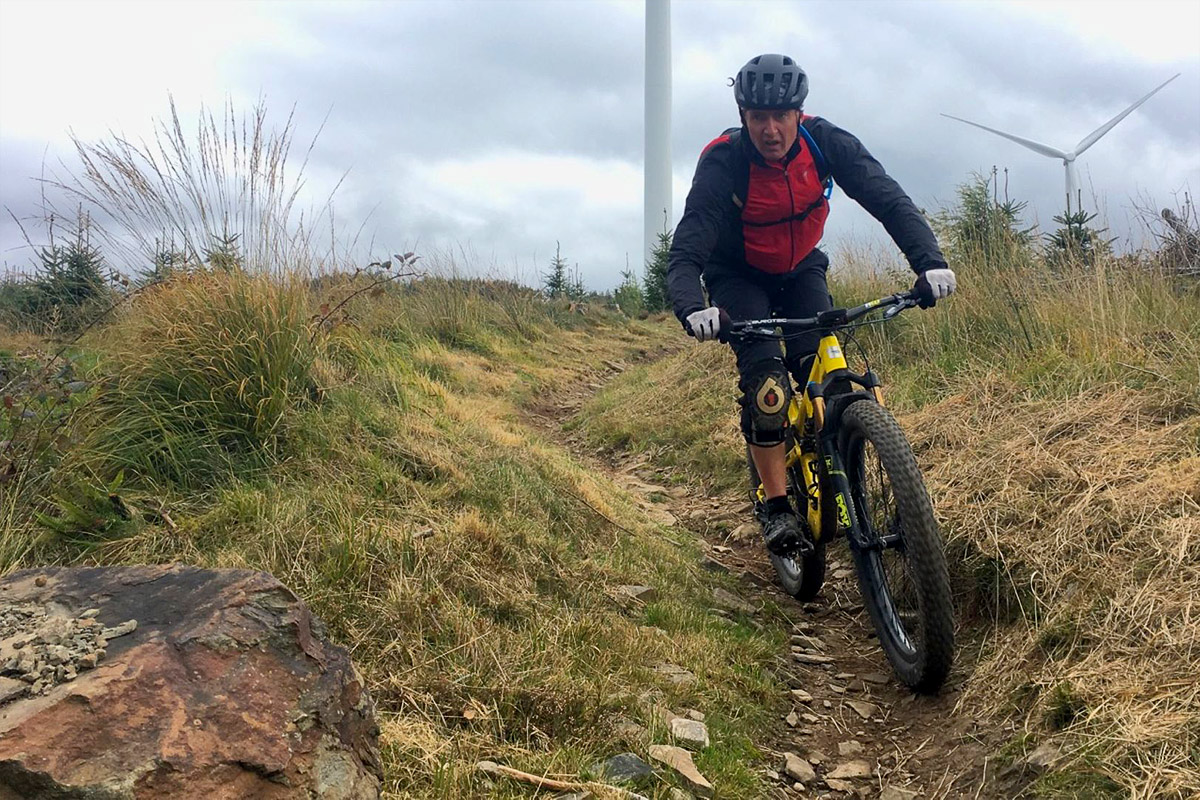 After the fireroad, the singletrack – The Twister, Heartburn and Restington Palace in particular – turned out to be long pedally uphill trails. Slowly I could feel my energy slipping away despite enjoying the riding itself.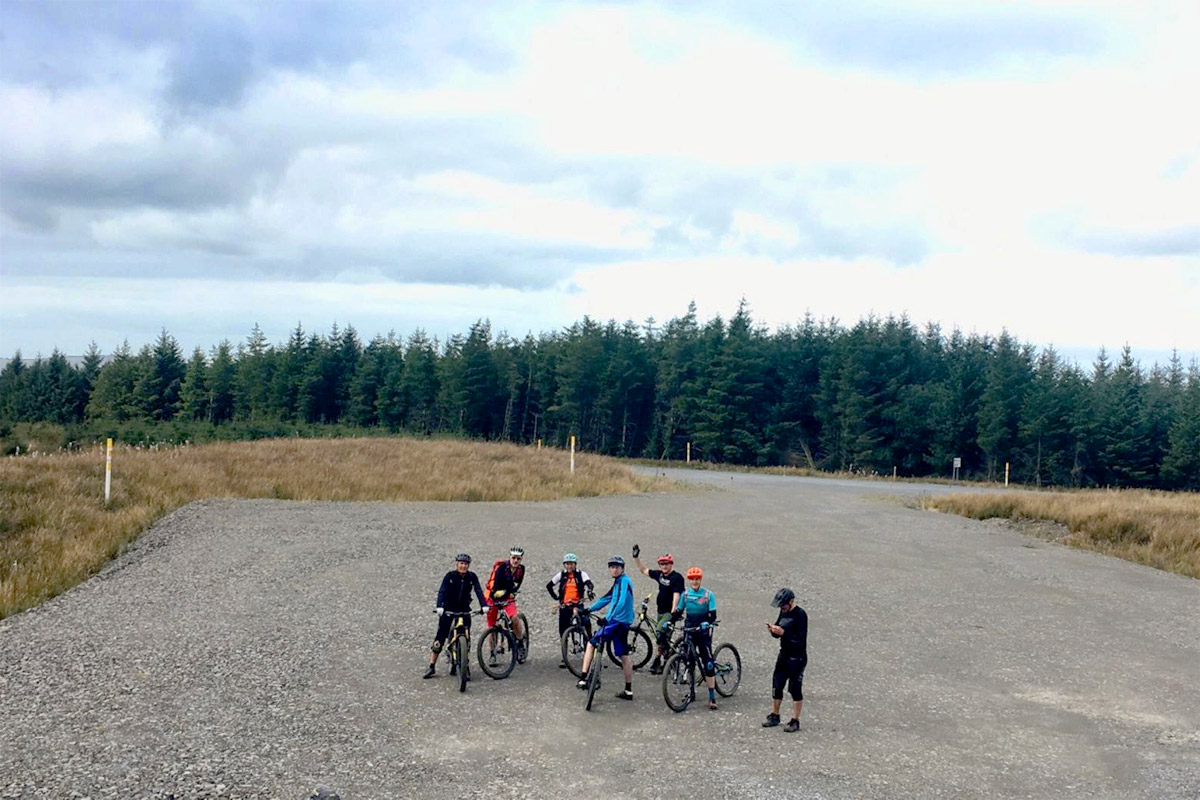 By the time we were onto the descents, I was getting more and more tired and relying on the bike, rather than my own efforts more and more.
Helter Skelter was quite a plunge and then a fast bermy section is followed by Joyrider. Somewhere in all of this MarkP smashed his pedal against a rock with enough force to bend the whole platform; it was still usable to get him home but the pedal is a gonna.
I was really wishing I had more energy to make better use of the Jeffsy. Not only was I sore-legged from the day before but I could feel I was only just keeping a sugar bonk at bay.
My riding was suffering, even after a final emergency gel and eventually I was bringing up the rear with JR and Jem while the others forged ahead.
Last of all was the rocky, slabby descent back down to the visitor centre.
The full descent is about a mile and a half but the final section – Happy Life – is just over half a mile, but it feels like half a mile straight down. I've done the Skyline finish before but this was better. Big slabs and drops are set into the precipitous hillside, carefully positioned so people like me – exhausted but buzzing – can still get down with a modicum of control.
Speed makes all the difference but of course, not too much, as you lose height in a series of big steps.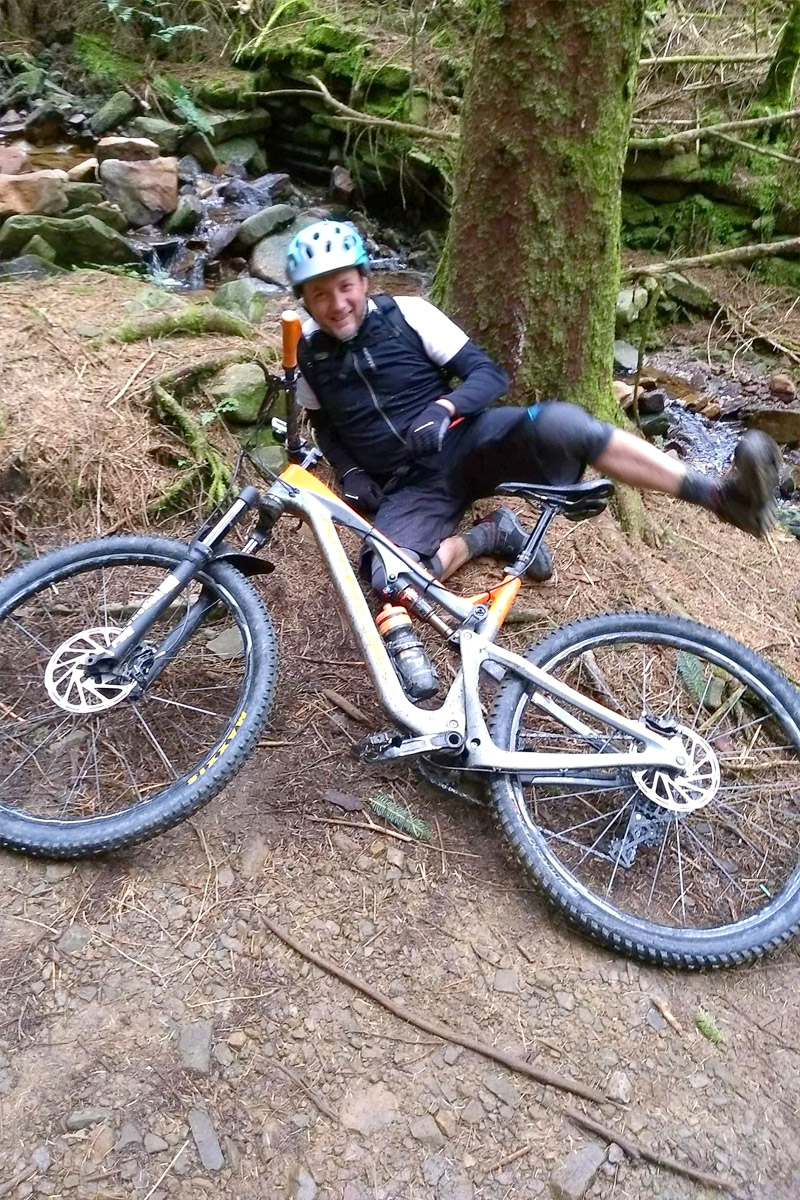 Not for the first time a tired Jem flopped down on the last turn, still clipped in but too tired to move.
We finished for me just in time and on a high – the ideal finish for the weekend. I hadn't been expecting such a big second day but in the end we were only just shy of another 20 miles in the hills.
Thanks to all for the great company, it was a far better weekend than I had anticipated after last weeks French road trip. Thanks to MarkP for sorting the accommodation and to JR for chauffeuring duties. Thanks also to Richard for his much-appreciated guiding at the Masts.
Based on this evidence, Afan is still worth a visit in my book.