A spot of birding at Swinley – Bird Aeris 145 demo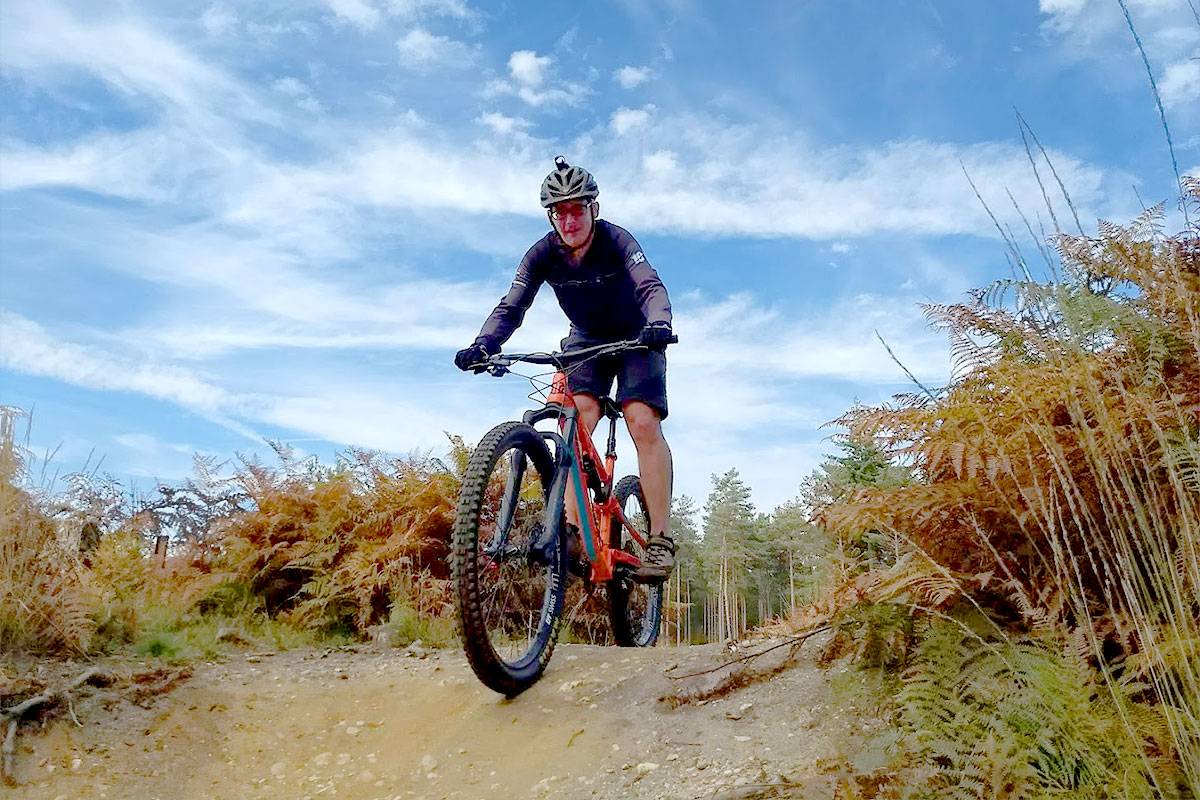 If you want a proper mountain bike for sensible money the Bird Aeris 145 is a decent bet, as we recently discovered.
It's been a long time since I've ridden at Swinley and even longer since Mark had anything approaching a decent mountain bike. His venerable On-one Inbred hardtail is all very well, but it was a bitsa bike when new and time has very much moved on. When you list the changes between his Inbred and a modern mountain bike it's quite dramatic – wide wheels, high volume tyres, bolt-through front and rear ends, affordable rear suspension, dropper posts, short stems, wide handlebars, 1x drivetrains. The list goes on. Not to mention modern long and slack geometry.
Fortunately, the financial committee led by Mrs Mark has not so much 'approved' as 'chosen to allow' the purchase of a new bike (maybe even two). Which means that Mark needs to go shopping.
High on Mark's list are all the above features I just listed, plus a funky frame colour would be a big bonus and of course, maximum value for money. On this point, direct sales brands have an advantage although the gap narrows if you are waving a bunch of Cyclescheme vouchers around (sadly my employer only offers Evans Cycles vouchers but that's another story).
Canyon looks tempting, YT would be a great choice but closer to home Bird Bikes have been making a name for themselves over the past few years with an extensive range of models available. There are two 27.5 full suspension bikes in the range, the Aeris 120 and the longer travel Aeris 145 (the numbers signify the rear travel in mm). A quick change to the shock link will even enable travel up to 160 if you 'want a bit more' for summer in the Alps.
What's more, Bird are local. They are based near Swinley and you can hire a bike from them for demo, which is what Mark and I decided to do. Well, its better than working isn't it?
This is how we came to find ourselves at Bird HQ one warm, dry Friday morning recently to pick up a bright Orange Bird Aeris 145. It's a good looking bike in the metal, long and low with all the modern details you'd want, including a SRAM GX Eagle 12 speed drivetrain, wide bars, short stem, 30mm DT Swiss wheels and fat Maxxis tyres. And did I say it was Orange? The other colour available is an even brighter Lime!
Our next stop was Swinley visitor centre on Nine Mile Drive, 20 minutes up the road.
Now it's a long time since I've been to Swinley. I've always enjoyed it but over the years its evolved from relatively under-the-radar hand-built trails to a fairly well organised trail center. Yes, it lacks a bit of gradient but it's now quite well structured. The blue and red routes are signposted (you do need to keep your eyes open in places) and are now clearly one-way only. A local will probably still have more fun in Crowthorne Woods but I really couldn't remember where everything was. So we stuck to the marked trails.
Of course, the trails remain a little limited. The Stickler still goes on, and on, and on, and round and round and round! But this was quite useful really because Mark was finding the Bird quite a different proposition to steer compared to his Inbred. All those berms helped him get a better feel of things (bear in mind he has zero experience of full sus machines).
As our ride went on, things got a bit more interesting on the red route. A couple of times we just had to circle back to sample the faster, jumpier sections and speaking personally I was really enjoying myself on my YT Jeffsy. Some of the sections are quite fast and Mark was able to confirm that both his wheels were off the ground at various points!
What was interesting was how quickly we were riding. I don't think I was particularly hanging around and the riding was pretty intense. But Mark was quite comfortable keeping up and the bike certainly seemed as efficient on the climbs as it was heading the other way.
Our enthusiasm was such that after finishing the full Deerstalker and Labyrinth section we rode round again up Jobber Hill and headed down the alternative Babymaker route – I even cleared my first table-top properly (the one where Colin once tried to insert his seat and post up his backside, if you remember?).
I think I can safely say we put both the YT and the Bird through their paces as much as we were able to. In all it was about 16 hard miles and my 76 Strava achievements are testimony to that.
It's hard to come to definitive conclusions after a short ride but given my own performance on the Jeffsy and the fact Mark could keep in touch on an unfamiliar bike I'd say that the Bird is a serious bike to consider.
For around £2.5K it comes with a GX Eagle 12-speed drivetrain, a Rock Shox Revelation 150mm fork and Monarch shock, a RaceFace dropper, decent wheels, bolt through hubs and very decent geometry (PDF) – a sagged head angle of 65.4° with a 150mm travel fork and a seat angle of 76°, coupled with a 630mm top tube and a wheelbase of 1230mm on the ML size Mark tried. Oh and you can fit a 2.6 tyre in the back apparently.
I don't think there's much wrong with this and I suspect we might be seeing a bit more of one of these bikes in Lime at some point soon!