An epic day on the Ridgeway
I have never done an all day ride before and spurred on by a neighbour (Vince) and inspiration from the Moles I decided that I had to try one this summer. In terms of terrain, distance and logistics (as we live about 15 miles from it) the Ridgeway was chosen with a start at Avebury Circle about 2 miles from the Ridgeway start.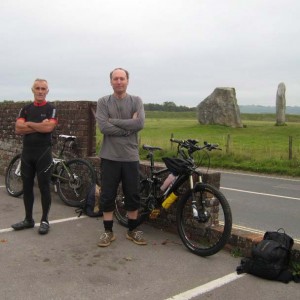 At 0630 we set off from home in the car, with my wife very kindly acting as chauffeur although the thought of losing me for the day probably helped. 😉 0800 the ride began after photos of some pieces of rock and the local cheerleaders who were out in force to cheer us on.
Vince has been riding for nearly 40 years so his experience was invaluable in helping to set the early pace. The weather was perfect, a light wind and cool temperatures and the going was good; dry on the surface but a little soft underneath and some easy to avoid puddles, you could tell it was drying out from some recent wet weather but nothing to bother us.
We decided on a slow start, not going over 10 mph unless downhill, and stopping at pre-defined points both to admire the historical monuments and to keep ourselves in check. After about 8 miles we reached Barbury Castle; note there are toilet facilities in the car park just after it, and took our first short break.
About 12 miles in we had to cross large open meadows that were full of cows and sheep, and they had left lots of little presents all over the Ridgeway – it was going to be a smelly few miles. At this point you remain high on the hills and you are very exposed to the elements, it is so strange riding miles and miles and not going through woods. After 25 miles we reached Waylands Smithy, a Neolithic tomb in a small wooded area. This was our next stop. We were on schedule and all was going very well… too well.
For a couple of miles there was an irritating noise coming from the front wheel so when we reached the White Horse Hill, and the highest point of our journey at 911 feet, I upended the bike and removed the wheel right next to the trig point. A small stone had caught in the disc rotor – what was the chance of that ? I sorted it out and checked over the pads etc at the same time. We then noticed disturbing clouds in the distance.
After 30 miles the rain started, and it would continue for the next two hours, life was going to become very difficult. Our next planned stop was at the Monument on 33 miles and this was passed by as we decided to make a push to Goring where we intended to have lunch and knew we could get cover.
Crossing a road at 35 miles Vince says 'we are about half-way', strangely I still felt fine. My longest ride prior to this was 45 miles and I was concerned how my body would cope as we went beyond 35 miles. But the rain would not stop, it was getting horrible. On the Ridgeway you cover just about every type of surface that exists and now it was muddy, a few miles further on we enter a chalk section.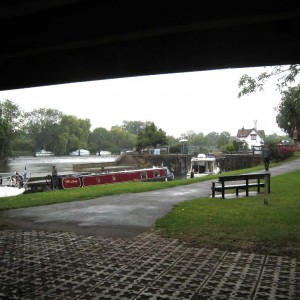 I have heard before how slippery wet chalk can be but never experienced it, so you can imagine my surprise when riding along a straight almost flat section and the next thing I know is that my bike has suddenly gone down. Fortunately I was using flats and I instinctively stepped off and was left holding the bike by the handle bar in my left hand. Vince was not so lucky as he was clipped in and seconds later both he and his bike were lying across the trail. We had to walk, very carefully, over the next 50 yards or so – it was that slippery.
After that we got back on and grinded out the wet and muddy miles to Streatley and Goring. I am told that these are lovely Thames-side villages but in the driving rain you sadly do not notice. 45 miles completed, we got cover under the bridge by the lock, had lunch and attempted to dry out. Vince even tried the local bike wash!
I am now on my longest ride and still nearly 30 miles to go. I have to admit, I was tired and hurting. My knees had started to play up, and my bum was beginning to ache, it was going to be a long afternoon.
Our route now left the Ridgeway (as it becomes a footpath) and used the Swans Way and what was immediately clear was the change in surface, off the Ridgeway it was like the Chilterns; sticky and gluey clay and mud and damp sandy grit – when conditions are like this us Chiltern MTBrs go to Swinley.
The going was tough and then after a climb and descent we had to cross fields, it became impossible to continue, the bikes were bogged down and very quickly our spirits suddenly became very low. I want to be at home!
Fortunately I had a contingency plan and so I swapped to the alternate route on my Satmap, this moved us onto country lanes and minor roads around some of the fields where the worst conditions existed. Soon we were back on passable bridleways and then we rejoined the Ridgeway where it uses the Icknield Way. Knees, bum and now my back is hurting, this is hard work – we are approaching 60 miles but that is only half-way on the SDW, how do you guys do it in one day?
From the Icknield Way there are four options to get home; ie four different ways to cross the 'Chiltern Alps'. You have to climb a very steep hill, but the nice thing is that if you pick the right route it is mainly downhill from there all the way home. Each of these four climbs become increasingly less of a bast@rd, but is still one nonetheless.
We stopped for ten minutes to catch our breaths and discuss the options. As the trails were so sticky and muddy I suggested we take the first one – Britwell Hill. Vince went very pale, as a roadie who sometimes does competitive hill climbs he told me of his (bad) experiences on this hill at races including recording his highest ever heart rate on a bike.
I picked an early granny and started leaving him to follow. With my tired legs I took the decision to start slow and stay slow, ie try to stay at a consistent pace. It paid off, and then it happened; suddenly a large deer jumped over the hedge on the right, ran across the road and cleared the hedge on the left only about 20 yards in front of us. Have deer put a satellite tracker on my bike?
Now the easy bit – sort of downhill all the way, but it was not… this was still a grind, onto Christmas Common, Turville, Fingest, seeing other MTBrs and thinking 'you guys are just riding around the block' 😆 all the while trying to ignore the fatigue and keeping focussed on our final stop, the Prince Albert pub at Frieth.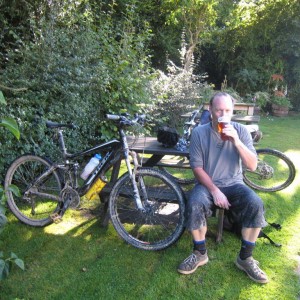 Properly refreshed the final miles quickly flew by although the final climb of the day (why did I buy a house on a hill ? ) hurt so much and then we were home. No crowds to greet us but a great feeling of satisfaction. We had good and bad but I felt a real sense of achievement.
Afterthoughts
Preparation was so important to make the day a success.
Training: there came a point when I was not riding for fun but riding to train – I did not like this, but my goodness did all those miles pay off on the day, especially as we had adverse conditions.
Route Planning: having multiple GPS routes to hand in case conditions or the situation deteriorated. For GPS routing I took my Satmap Active10 with its rechargeable battery and had the standard battery cradle and lithium batteries in my backpack in case required, but the rechargeable died only 3 miles from home – impressive longevity.
For info: while on the Ridgeway itself the signposting is very clear, there is no need for GPS but there are sometimes several by-ways running together and/or intersecting so it is vital to keep your eye on the signposts; one minute you are on the Ridgeway the next you are on the same path but on another by-way and you can get lost or have a lot of backing up to do. With the Satmap I just needed to follow the blue line, and even then I had to keep checking and checking. I would also add that the Avebury-Streatley section would make a great weekend morning ride in itself – breakfast, ride, then lunch on the river.
Food and drink: I drank about 1.5 litres; had it been a hot day I think it would have been a lot more, but I had toilet breaks so I was not de-hydrating. The best solid food I took was Sainsbury mini flapjack bites. I ate one every 7 or 8 miles and that was perfect fuel on the ride.
Ride stats: 74 miles, av speed total 8 mph, av speed moving 9.5 mph, total ascending 5,278 feet (I am not sure about the accuracy of that, I was expecting 3,500 feet but the Ridgeway is very undulating – you very rarely travel on level ground, though I only remember 3 'proper' climbs.)
Would I do it again, yes but on a dry day with dry ground and I am glad to say that I can now relate to what long rides are all about.