Astounding Adventures mountain bike training course review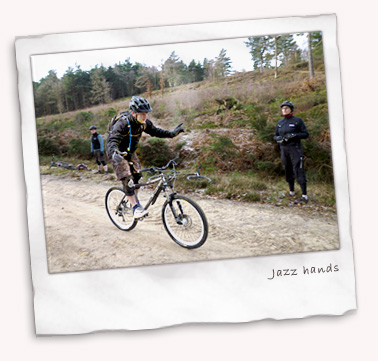 I guess the first question is… what kind of rider are you?
Are you new to this whole mountain biking lark and just want to get on with riding? Have you, perhaps, not really been on a bike since your school days but are full of enthusiasm for your new interest? Maybe you're one of those whippet-thin roadie types who's been pounding the tarmac for years and just fancied giving the off-road thing a go? Or are you in fact quite the veteran rider with years of off-road riding behind you and a nice expensive bike to show for it?
Based on our experience this weekend with Astounding Adventures, it's likely you could benefit from some decent skills coaching, regardless of how you found your way into mountain biking.
Background to our course
This weekend saw 8 of us moles and 3 riders from Diary of a Mountain Biker getting together on Holmbury Hill for a day's coaching by Jess and Danielle from Astounding Adventures. Meeting at around nine there was lots of friendly banter but an undercurrent of apprehension was slowly bubbling to the surface. What would today bring? Would we all turn out to be rubbish?!
Well, those answers would have to wait as there were introductions to be made, coffee and tea to drink and a quick 'M check' to be made of our bikes before we got underway. It turns out most of us wanted to be able to rail the berms and make decent bunny hops with the odd wheelie thrown in to impress casual bystanders. Basically, and here I'm paraphrasing mildly, we wanted to be more MTB God-like and less, err like our usual lame selves!
Jess and Danielle are pretty well placed to help out. They're very well qualified and clearly take their profession seriously, from being properly qualified to teach these things, to how they presented themselves on the day right down to a consistently applied brand to their business.
You get the feeling that whoever does the coaching and whoever you deal with from Astounding Adventures is going to provide the same consistent level of service. And, fundamentally they're just like us – they like to get outside and enjoy the hills, whether that's hiking, rock climbing or by bike.
Core Skills course
But back to the course. It has to be said that this weekend was pretty cold and we were all keen to get rolling on the bikes. We were to take (pretty much) both the Core Skills and Singletrack Skills courses today, one in the morning and one in the afternoon. Checking the bikes over first is always a good idea and something a lot of us quietly overlook. But something like a loose front wheel can quickly ruin your ride at best or you at worst so it's worth taking a moment to check things out.
Once moving we headed off out of the Hombury YHA car park and on to the fireroad climb up toward the summit. With everyone loaded up on water and buzzing with nervous energy we just about managed to build some warmth into our legs before it was time to stop for our first lesson. But not before a sizable number of us had dash to relieve themselves in the trees!
It's worth noting that you should plan on a fair bit of standing around when on any of these type of courses as your coaching takes the form of explanation followed by demonstration followed by practice. At this time of year you can get pretty cold (and we did!) but equally if it's raining or even a hot summer's day you need to plan on countering the effects of being out in the weather for the majority of the day. Snacks, water, layers and sun cream will all have varying degrees of usefulness throughout the year, but you've been warned!
Despite temperatures around freezing all day the morning passed very quickly as we were lead through the course by Jess and Danielle.
First off, we really did focus on core skills, primarily dynamic weight distribution. Now dynamic is a word rarely associated with me or the moles but in this case it was pretty instructive to see how moving your weight back appropriately counters the tendency to sail over the bars.
It was quickly apparent that while many of us do this instinctively we didn't quite realise why and as with all these things it's the many small lessons that start to add up. By the time we'd finished the morning we were able to lift the front wheel over quite large trail obstacles with a combination of weight movement and timing without resorting to the dreaded 'gorilla' hop that we'd normally fall back on. In my case, a 'gorilla gurn' is rarely far away either…
This really is a core skill, as was demonstrated later in the day. Learning to manual properly uses the same basic movement that allows you to bunny hop, rail berms and pump the trail for added speed. Who knew? It really isn't about the bike at all! In fact over the whole day I don't think the equipment we were riding had any bearing on our success levels at any point.
By the time we'd climbed up to the top of Holmbury (surprisingly tiring after such a gentle morning) we were ready for both lunch and a bit of fun. Colin wasn't the only one who couldn't resist trying out his new manual-ing technique but he was the only person to be so successful he promptly and painfully disappeared off the back of his bike! For the rest, we settled for the more reliable delights of hooning down Yoghurt Pots.
After lunch at The Volunteer pub (where service is slow but the food excellent by the way) we moved on to the singletrack course or at least a variation of it taking into account our relatively experienced riding group.
Singletrack Skills course
The aim of the Singletrack Skills course is to put all those basic Core Skills into practice. It's probably tempting to short-cut things if you've ridden a bit but I think probably going over the core skills first is a useful preamble to the Singletrack course as it makes you much more conscious of what you're doing and why. The ego is probably the biggest barrier to improvement after all.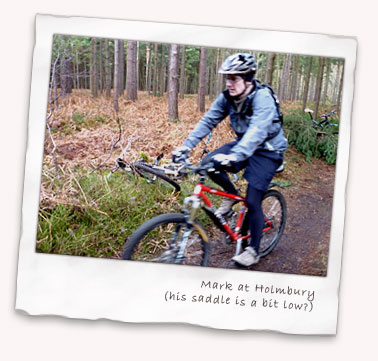 Personally I found a combination of large lunch (I recommend going easy on the burgers!) and 'real world' trail obstacles quite difficult to master. We were sessioning a short section of Telegraph Road that offers several small drops to practice our manualling technique and it's fair some of us did better than others.
Normally you'd just let your bike clatter over the rough stuff but it was clear that with a bit of application you could gain both speed and smoothness with no extra effort by making the bike and terrain work for you. I knew I could do better but more importantly I knew how to do better and I expect to continue applying the day's lessons from this point on.
While half the group tried out their riding technique on the trail, Danielle took the rest aside to run through what should be in a well-stocked back pack. Not surprisingly a decent first aid kit is a must but there were countless little bits of info that I personally would have just nodded at if someone hadn't actually addressed this directly.
For example, any ride group probably has enough kit to repair an infinite number of punctures or chains with a choice of hand pumps and link extractors.
But should someone get injured, how do you go about keeping that person and the group warm and comfortable while help arrives. How do you contact the emergency services? If it's dark, how do they find you? Can you replace brake pads, have you spare bolts and so on. I was most impressed by the 'bothy bag' or survival tent which enables a group to keep themselves or an injured party warm surprisingly easily.
A cheap mobile with a range of network cards, an outdoors glow stick (green shows up best on night vision cameras), gaffer tape wrapped round a piece of card, sterile solution to clear dirt from eyes, a woolly hat, waterproof jacket, a buff to keep you warm and use as a sling if necessary, zip ties – there was tons of useful and practical advice that really opened my eyes.
Having broken my collarbone and been forced to lie still for an hour while the services got to me I was just glad it was summer when it happened!
Having regrouped, our final lesson was in energy conservation. No, not about lagging your loft but how to extract the most from the trail by using it's natural features to boost your momentum for little effort. Those core skills were again made good use of as we were taught to read the trail and use our weight to pump the bike and almost literally squeeze more energy from the terrain.
I could really feel the gains but by the end I was getting quite tired as I was finding I was using muscles that normally got a free ride. The combination of instruction and sessioning a familiar trail was very productive and I think we're likely to set some time aside soon to try and perfect all that Jess and Danielle had taught us.
Back at the car park after a long day's riding we stopped to chat and share the tea and coffee provided by Jess and Danielle before we departed with our goody bags. I think everyone was agreed it had been a day well spent, even the cynics amongst us found that it pays to do things differently. Top athletes get coached so there's clearly always something to be learned. And we have a lot to learn!
All in all, I went to bed feeling exhausted but mentally running through all we'd been taught over the course of the day. I'll certainly be trying to put into practice all I've been taught and I guess that's really the sign of a good course. A huuuge thank-you to Jess and Danielle from Astounding Adventures for their professionalism and good company which helped turn a chilly day in the woods into a very inspiring day.
If you want to improve on your bike, maybe it's time to think about some coaching rather than more travel or stickier tyres. Really, it's not about the bike!
(For the record the day's riders were: Mark, Colin, Lee, Paul, Jem, Jez, AndyC and myself from the Muddymoles and Rich, Rich and Suren from DoMTB).