Bansko MTB 120km Ultra race in Bulgaria
Well, after being asked if I fancied riding an ultra over in Bansko, Bulgaria, I was intrigued and jumped at the chance to see and experience some of the trails out there. I rode a little bit in Bankso earlier on in the year and wanted to see more.
Now I can hear a few people saying "Bulgaria…!" But it's fast getting popular, not just for the skiing but throughout the summer months, with the mountain bike scene and new trails being mapped all the time, golf, equestrian, hiking etc. It was news to me.
With just a little notice – 5 weeks or so – I had to get some miles in as I had not done much since late June, and riding a 120km race was going to be tough. Not really being able to get out much, I had some encouragement and company from Tony, who helped me get out for 4 and 5 hour stretches a few weeks prior to the event.
When the time came for me to pack the bike bag and head off, I combined the trip with a little place I have out there, so managed to more or less finish the place and get to ride my bike at the same time. The lead up was a little hectic and I would have liked to have done more, but ended up running around furniture showrooms instead etc. Anyway, enough of that. I signed in the night before and had a very nice pasta and social evening where lots of the nervous banter was passed round.
The morning came and with it the alarm at 6am. I piled the breakfast down me and headed off, no trouble or dilemmas with what to wear as I knew it was going to be hot! A 2 minute ride to the bottom of the town and lots of activity, it was still dark but sun up was just about to happen for our 7am start. Specialised BG were there for support and well sponsored from the local businesses.
We rolled out of Bansko under escort till we reached the first track and then the hares were out the trap. It was  a decent field of around 50 or so but we were soon blitzing it along to a section of a new golf course a few kilometres out of town.
I had to settle down and let the front runners go, as they were extremely quick and I knew it was a long day ahead with 3 monster climbs.
After the track out to the golf course you start to climb and there was some fun single track through the trees which was great. This certainly got you warm and by now the sun was well up. Then we headed for our first climb of about 4km, which really enlightened you as to what you was in store for the day ahead.
I steadied into a good rhythm and passed the first check point near one of the ski runs. No need to stop, as I had plenty of water and fuel on board, then it was back to climbing, climbing, climbing!!,
The climbing was relentless
We were a few hours in when I was anticipating the next check point, but you couldn't help look over and admire the stunning views and height we had climbed through the pine trees. Then the next point came into view and we were greeted by warm friendly voices of encouragement from the check point.
Some snacks and water later and it was off again, however on foot, as there was a 100m scramble up a gully, which killed your legs. Once over that, more climbing for a few meters, then – great – you reached the top after 16km of climbing.
The reward was a monster downhill section and one mental stage out of the way. This was where I paying the penalty of my Scott, great light bike for climbing but downhill, well most of you know what I am like on that, together with not being the best descender around!!
Once down the other side, I just managed to find the markers to get me on to the other trail. I was joined by a very fit Bulgarian rider and we started to head up again but the climbing was not too bad, a bit steep but then I missed a marker and went 10 to 15 minutes on a wrong track. After I had not seen any marker signs for a while we decided to turn around and for what seemed like an eternity, we rode and rode till we came across our mistake. We were relieved but gutted with the time loss.
However onwards we went, and some fun downhill and tricky little single track which lead us to our next climb and boy it was hot, so hot!
I found out later the mercury topped 34°C…
Now, back to the climb. It was steep and exposed. This was a nasty one, only around 3 to 4km long, but it really sapped your legs, with a couple of sections which were so steep I had to get off and walk. It was a long day still ahead and I knew I needed to preserve the legs a little. Over the top, the sun was bearing down now and looking down the descent on to what I would describe as a scramble track.
Then it was onto the flat, with a good few kms of a false flat where it seemed slightly up hill but my mind was saying 'its flat get the big gears rolling and crack a few quick miles off' This was hard and I was trying to work out how many kms were left when I came across the checkpoint which said 59km done! That's nearly half way! This realisation really deflated me and the expletives came out.
Fuelled up, I was on my way. This is where I went wrong again off the course and ended lost, eventually getting to the next checkpoint, but missing the all-important self-sign in!! I needed a little help on the navigation front from there to the next part of the trail, but once found it was dig deep time as it was slowly starting to rise to the next village and the next check point. I knew after that the monster last climb lay ahead. At this point a few riders caught and passed me and along with a few others who had I yo-yo'ed with throughout the day.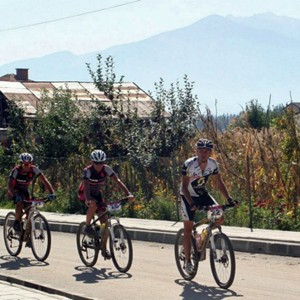 The three who caught me at the feed station
After leaving the checkpoint it was up hill and I had already settled in to a small gear as this was a 20km climb, hot and lumpy. Navigation was tricky but OK, but boy I had to dig deep, lack of miles was evident and there's no substitute for them. a few kms from the top and I was out of it, seeing pole dancers and neon lights of Vegas strip bars saying 'come on in Barrie, you know you want to'!
The descent snapped me out of it and the last self-sign check in, where I saw I was the 3rd placed rider on the road, however I knew by then that I missed one and would be eliminated from the result. I guessed the others that passed me just before the feed station must have got lost again…
Cracking on with the descent, very fatigued, I rolled down and Nigel who had organised the race flew past me, so I hung on as best as I could and caught him at the same golf course from the earlier section. Going through the last check point and a little banter to Nigel who said he had not much left in the tank to which I replied 'me F*cky Ducky'. I tried then to hang on but an ever so slight rise in the road and gentle sort of camouflaged climb made the last 7km in to Bansko bloody hard.
Nigel rode off and I was so glad to get off the trails, on to the tarmac and the roll in to the back part of Bansko and to the finish line, 120 plus kms and 7 hours 47 minutes down, dehydrated from the heat.
It was a great day and but I was very relieved to get that over with. I headed off for a shower and returned an hour or so later for drinks and exchanges of tales, however there were plenty of riders still to come in.
In fact hats off to the only lady, Victoria, who came in just under the 12 hour mark, now that's a long day in the saddle in that heat.
The winner was a Belgium semi pro, Wouter the Terminator, his time for that course was around an incredible 5 hours 50 minute mark, riding a hard tail 29er. Definitely the way to go for an event like this. The guys who should have filled the top eight places or so took detours like me and got a little lost, so I may have been headed for a top 10 place if everyone had been on track and not missed a check… what might have been…
I think a Garmin GPS may be on the cards after this! Will have to get my letter written to Santa!!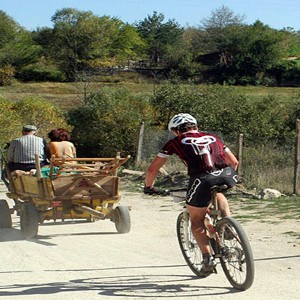 Wouter the Terminator, they could only catch the back of him, as he was too fast… Before you ask about the people in front of him, No it's not the latest Bulgarian SUV!!!
On the whole, not too bad for me, for the little preparation I did, but talk of some similarities to Amanda, the nerves, adrenalin, thinking where you are placed and who is behind you, the mental doubts that kick in from time to time, the fatigue, the times when you want to throw your bike away. To go through that to 'Yes! finished!' and happy with your efforts and 'Oh! Yes! the images of the pole dancers on the last climb' in there to boot!!!
Looking forward to the next one out there, as Bankso seems to be getting more and more popular with more races and trails being mapped, can't wait…