Exotic carbon rigid MTB fork review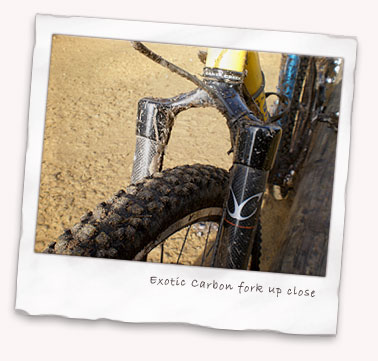 So, the credit crunch is cutting deeper than Lorena Bobitt's sharpest kitchen knife and Christmas lingers long in the pocket. You've had previously ring-fenced budget for a new singlespeed project diverted into a 'domestic black hole' but are still itching to get some sort of steed trail-ready for the winter gloop.
Your only option is to compromise or block-book time with a Relate counsellor. You compromise. You've sent off your old mobile phone and sold all the gold you own and with the resulting £9.43, you put it towards a carbon fork. But not just any old carbon fork, oh no, an Exotic carbon fork.
Whilst I would have loved to have decked out my new project with a nice 'bargain' £250 Rock Shox Reba fork, after taking into account a combination of some of the factors above and more importantly, the frame it was going to be plugged into, I opted for a 42.5cm Exotic rigid carbon fork from Carbon Cycles instead.
At £85 the carbon fork won't break the bank, my marriage or hopefully, going forward, the frame as I'm replacing a very old skool set of Marzocchi Z1s with—for their time—a market leading 63mm of travel! The old Scandium frame is realistically corrected for no more than 80mm of forkage at best anyway.
Retro styling is all the rage in the bike world at present. If we are honest, retro styling has been the thing for the last few years, it's just that each year or so the industry seems to seek inspiration from a slightly different period of time gone by, whether it be from the worlds of fashion or design. Adding a carbon fork gives you that retro look, whilst giving you a very low maintenance front end, not to mention a very light one too. And it's the latter that you will be quick to notice.
OK, so it's not rocket science. I'm removing a fork that by today's standards is a set of damped scaffolding poles for a fork that weighs in at just 750g (for the disc only version). That suddenly makes you quite capable of pulling wheelies, regardless of whether you can control them thereafter or not!
Going down the rigid route is certainly an eye opener (or re-awakener at least to the misty-eyed days of early MTB-ing), especially if like me you have been used to 140mm of travel soaking up what normally passes under the front wheel. Yet, quite quickly it all begins to fall back into place. I'm transported back to the early/mid nineties riding my trusted rigid Claud Butler alongside my posh mates with their new-fangled RST 281s, and my really posh mates on their 381s!
It's fair to say you quickly adjust your riding style on a rigid fork. Your body becomes the damping and rebound settings so obviously absent from the hollow pipes of carbon below you. Yet, like baby turtles who, when they hatch, know they need to hot foot it towards the sea, it would seem your body quite instinctively assumes the various positions to survive a run down a classic root and flint strewn North Downs descent.
Elbows out and soft hands probably sums up what is required in the upper body, but you also learn to ride a lot lighter than before in order to 'float' over whatever is beneath you. That is something that is just instinctive and quite difficult to describe. Of course, instinct is somewhat aided, subconsciously at least I guess, by the sight of what is before you so I have had a few unexpected big hits on a night ride. Queue the bar trying to take your teeth out.
However, so far I have been largely impressed with my carbon fork. As we've discovered it's light, it's tough and probably best of all it's maintenance free. If you are of a nervous disposition it's probably best not to look down at the legs on a rough descent (generally looking forward is always a better plan anyway), as there is noticeable flex, but just like aircraft wings, they flex for a very good reason. So your teeth don't start spilling across the bridleways of the Surrey Hills.
When I was researching carbon forks online, it would seem Pace's classic RC31 would take some beating (if indeed you can find a pair for sale), but for half the cost of the Pace, I would have to say the Exotic fork is pretty damn good value for money and an entrance ticket to a by-gone world of simplicity I had so quickly forgotten.