Four4th Lights MTB LED night light review

Back in November we were contacted by Del from Four4th lights who joined us for a night ride across the North Downs. Having survived that, it turned out Del was the owner and one of the engineers involved with the development of Four4th Lights, at which point I quickly arranged to borrow a couple of sets for review.
Is it Four4th Lights, Fourth Lights, 4th Lights, or Forth Lights?
Well, that's a good question. The correct name is Four4th Lights but you could be forgiven for getting confused – I know I have. I'm not sure what the name refers to but I guess it's something about riding at 4/4ths at night (i.e. flat out) and a play on the idea of 'go forth and have fun'.
After a chat with Del it turns out Four4th are based in Farnborough, in Hampshire and have close links to the aerospace industry. It provides access to state of the art CNC milling machines and a wealth of engineering resource to tap into which accounts for the impressive quality of the product, right down to the lovely anodised finish.
The Four4th Lights mountain bike light set
The Four4th Lights package is actually a reasonably conventional arrangement but differs really in key areas of detail. It follows the traditional Lumicycle route (and that of many others) by having a separate head unit connected to a remote battery. This approach allows Four4th to offer a wide range of configurations to suit most applications, with different lens and battery options to cover anything from commuting, to XC racing, to high speed descending. And everything in between.
As such, there's no definitive Four4th Lights set, as you configure it to suit you, but Del sent me a couple of typical sets. The first came with a pouch battery powering a head unit that features 4 Cree XRE-R2 LEDs with a narrow 10° spot lens. With 1200 lumens output (which has been independently verified apparently), the idea was that this would make a very useful helmet light.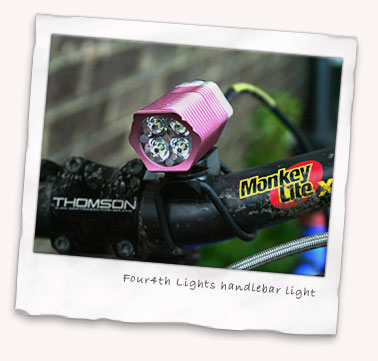 The second set is just as interesting. It has a frame mounted battery that powers a head unit that contains 4 of Cree's latest XP-G LEDs focussed (collimated) through a 17° lens that should be giving somewhere near to 1600 lumens! That's an astonishing figure but it should be noted that this is a pre-production light at this stage. The wider beam spread means that it naturally works best as a bar mounted light I think.
Add all that up and you can see why I was quite excited to be taking to the hills with a combined 2800 lumen punch!
What about that Four4th Lights attention to detail then?
Well, I mentioned just now that it's the little things that set Four4th Lights apart from their competition. To be honest, that's quite literal as their head units are tiny! You can see from the picture how small they are in comparison to my Exposure MaXx-D which itself is a very compact 4 LED unit. But the Four4th ones are something else.
They are hexagonal in shape and are just 58.5mm x 32mm x 34.5mm in size (note the half mill sizes quoted – I told you they worked in aerospace engineering!). Each unit has a 'hood' at the top which helps reduce upward light spill, particularly useful when you're climbing out of the saddle and leaning over the bars. Cooling is accounted for by air movement, so the units are also ribbed across their surface and finished in a nice even anodised colour. I had a pink one to match my singlespeed and a charcoal colour for my crash helmet and they come laser-etched with the company's web address.
More details abound. The on-off switch is very large and features a positive click – once for on at half power, then once more for full power. With a bit of fiddling you can also switch to an energy-saving pulse mode but that's not one for epileptics. In the middle of the button is a small light which comes on when you have 15 minutes of juice left. The large button means it is extremely easy to operate with gloved hands.
Also worth noting is that the connectors are all aerospace grade which means they're corrosion resistant and screw on to give a joint that will not come adrift, ever.
The units are fixed to the bars or helmet via simple O-rings that hold the custom mounts in position. These allow the head unit to be easily snapped into place with one quick twist which is a clever idea. Another twist removes them or can position the unit in one of five positions so together with the adjustment from the O-rings it's very easy to get the beam pointing where you want it, even on the helmet light.
I had my reservations initially about the mounts for a couple of reasons. First, would the light stay put if I knocked it and second, over rough ground would it keep pointing where it was needed? As it happens, the mounts worked fine even when I clouted the helmet light on low branches or when rattling down Juniper Bottom (Happy Valley) – a decent test of the mount I think!
How were the Four4th Lights in use?
By the time it came to setting out with these lights you can see why I had pretty high expectations. With a massive number of lumens and being such nice looking units I was worried I'd be disappointed.
My first reaction was that faffing with batteries is such a, well, faff. I'm so used to just sticking my Exposure MaXx-D on my bike and setting off that it comes as a bit of a shock to spend a few minutes thinking about cables and battery placement and so on. In the end I managed to get the battery very securely mounted using the hook and eye fixing straps provided but it's not as painless as the Exposure. If you're coming from a more conventional bike light arrangement then you won't notice this though.
The second reaction is that having just two realistic output options (half or full) was a bit restricting. Again, I'm used to having the option of flash or low for road work, medium for 'just riding along' and full power for singletrack and I really do use all of those.
I kept worrying about burn time as the batteries supplied had no markings on them so I wasn't sure if they were the 2600, 3300 or 4500mAh batteries or how long that meant they'd last. I'm guessing the lights draw 1 or perhaps 1.2 amps or so on full, meaning I always had at least 2 and a half hours burntime but could never be sure. I guess if you order the lights yourself you'd know exactly what you were dealing with!
Despite that it was extremely easy to locate the switch and toggle the lights between half and full power even when riding along, so it was only on one occasion I ran out of power – and that was when the battery had not been recharged after a ride.
This threw up another problem. The switches on the head units are supposed to light up when you have about 15 minutes of power left but when the light is on your helmet you can't see that! It meant I was plunged into darkness in the middle of Alsation which was a bit scary. Far better in my view to automatically switch to half power or maybe have an intermittent pulse when you have half an hour to go to let you know to be frugal. It can make all the difference.
The good news is that Four4th actually make their own drivers so it's possible these modifications can be relatively easily fixed.
In terms of light output, both the head unit and lens options I had on test were superlative performers. After the obligatory back garden test, which proved as disappointing as usual, I first tried these out on my Friday commute to work in the depths of a wet and muddy winter.
The combination of wide, high output flood on the handlebars with a narrow helmet light was terrific as I hope you can see from the pictures taken from our famous MTB Night Light review/beam shot location on Collarbone. Either light on it's own is a decent performer – I tried switching both lights between my helmet and bars – but it's the flood on the bars and spot on the helmet that works best.
At full power I had no problems at all, the flood was superb in filling up the entire foreground with light and penetrated a surprising distance too. This means that when you're noodling through some technical bits you can always see clearly what's coming up in your peripheral vision. It really is a comprehensive wash of light.
The spot just punches into the dark. I'm used to a narrow and relatively weak 240 lumens on my helmet which even so allows a reasonable amount of vision but this is a different league entirely. It's like a sodding laser! And definitely my preferred helmet light.
The separate battery in this case isn't such an issue as you can just put it in your Camelbak and with a wide range of adjustment on the helmet light mount you can mount it right on the front of your helmet. This is important because you can then get the profile of the helmet lower as opposed to having a branch-snagging lump on the top.
I also tried running the helmet light with my Exposure on the handlebars, which despite it's lower output was not a bad combination either. It's nowhere near the performance of the Four4th light but it has that cable free design which I'm a huge fan of. Not to be underestimated until you've lived with it for a while and something I hope Four4th ultimately get round to developing.
Conclusions from my Four4th Lights review
Pros and cons time.
Well, on the cons side, I was a bit disappointed by the charger and batteries which are both pretty simple and basic designs. There's nothing wrong with that but it's easy to see where your money has been spent, in the head unit mainly. Which is as it should be I suppose.
I was also frustrated by the rudimentary programming of the low-power logic but there's hope there as Four4th have the drivers under their own control.
On the plus side these are every bit as powerful as their 1200 minimum output would suggest but it's not just their headline output figures that impress.
What impressed me was the quality of the product, it seems like Four4th have taken a conventional tried and tested format and refined it as much as they can. The head units are masterpieces of design and engineering and look pretty much bullet proof and the connectors and switch have been well thought through.
What really tips the balance though is that the price is incredibly low, at £195 plus postage which compares strongly with the £325 asked for Exposure's MaXx-D. For that you get all you need, a head unit, charger, 3.3Ah battery, mounts and of course a choice of colours. Configuration options from there are comprehensive so the whole thing is quite a bargain from a UK based company. Kudos to Four4th.
Think of it another way. For £400 or so you pay about £75 more than the Exposure but get 2.4 times more light output from two units that can be directed where you want!
Actually, so impressed have I been that I'll be buying a helmet light for myself after quickly getting used to the 1200 lumen fire-starter I've been running and I know other Moles such as Tony are interested too.
Expect to see a few more Four4th Lights out on the trails soon. With Dusk til Dawn starting to get us Moles twitching again, this could be a useful performance aid! The tough bit is choosing the colour…
More photos are available from our Four4th Lights photo review on Flickr.