Funn Mamba one sided clipless pedals review

Back in June I mentioned I'd bought some new pedals for the Jeffsy. Time to let you know how that's working out…
First of all, what was I thinking with a pedal change at all? For years I've 'made do' with several 'unbreakable' pairs of Shimano M520 pedals – an absolute classic which just keep on going. But sometimes it's worth re-evaluating things a little.
My main reason for a change was my son, who is now taller than me, with massive feet! I want him to be able to ride my bike on occasion without having to worry about clipless shoes so having a decent sized flat pedal makes sense; just stomp and go without worry.
The other consideration is that I find myself occasionally starting down steep sections without being clipped properly in. The M520s and most other pure clipless pedals tend to have little platform to support the foot and with hard soled XC-style MTB shoes, it's been known for my foot to slip off the pedal entirely. Not good at a point when being balanced on the bike is important.
In view of the above, I started to look for some pedals with a bit more foot support but I still wanted to be able to clip-in 90% of the time, which meant a one-sided flat/clipless shoe was worth looking at.
The market for these sort of hybrid flat/clipless pedals seems to have exploded over recent years. HT Components, Crank Brothers, Funn, DMR, Nukeproof all offer one or two sided clipless pedals.
To be honest, I didn't really know where to start and as is always the case in these situations (and having trawled the internet more closely than a French Scallop Fisher trawls the seabed) I decided to go for the best combination of price, functionality and er, colour! Having found the Funn Mamba one sided clipless pedals at a decent discount in a fetching Lime Green, my decision was made!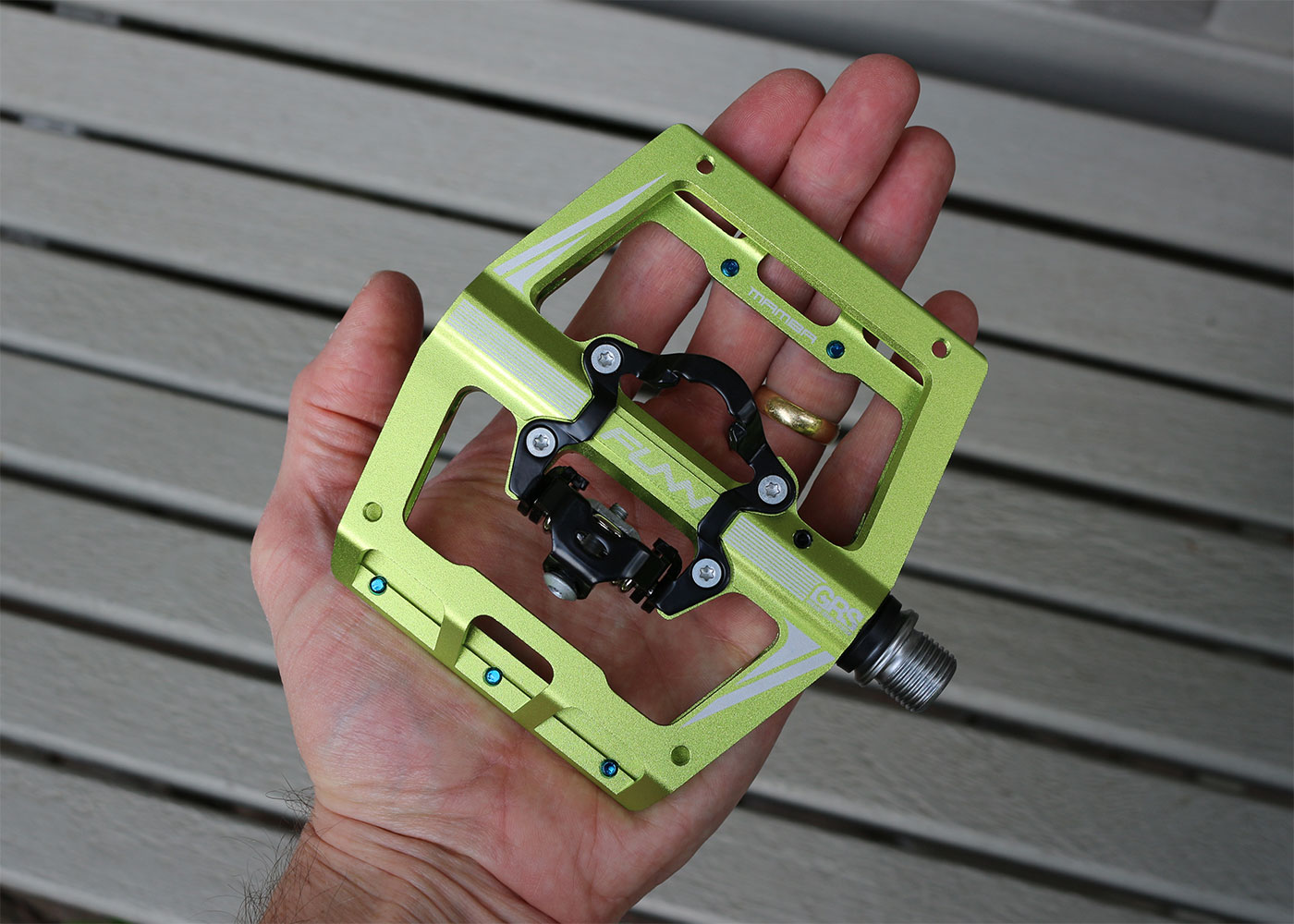 When the Mamba pedals arrived, I was first of all struck by the size of them; they are huge! (about 100mm square). The colour is a nice 'Hope Tech style' Lime Green and the studs are replaceable and tuneable in that you can choose how many to use.
I decided to leave the four studs off the clipless side but kept the full complement of studs (11 I think) on the flat side. This seems to work well, my feet certainly do not slip off these pedals at all! As it happens, the clipless element is also Shimano SPD compatible which is also helpful, meaning the trainer style clipless shoes I bought at the same time can still be used with my other bikes.
Have flat pedals helped my riding? Well, it's nice to be able to just get on with pedalling without too many worries; I find the Jeffsy seems to be getting better and better too, which might or might not be a coincidence. I do feel there is a benefit to the larger platform in supporting the foot, especially on longer rides or descents when I've not had to think about the pedals at all.
The only downside is that I tend to catch the Funn Mambas on corners occasionally, which I put down to a combination of their outright size and a function of my Jeffsy needing a bit of suspension tuning; something I've needed to do since I first bought the bike! (I still feel there's a lot of performance to unlock in the Jeffsy).
I do think flat pedals work best with trainer style shoes – as mentioned, I bought some Specialized Cliplite 2FO lace-up shoes for the job – so that come the winter my old Specialzied Defrosters might be a bit of a liability, but we shall have to wait and see.
So far I have no complaints, and the fact the pedals have a grease port should help with their longevity too. I know that the Mambas are well thought of but also that some flat pedal users can be quite picky over what works for them. As a first timer I am very happy and if you have been thinking along similar lines these would be worth considering for sure.