In the first 3 days we managed to complete some XC mtb'ing (complete with a few interesting descents), some road riding and a visit to the Whinlatter trail centre. Find out how we finished off the week…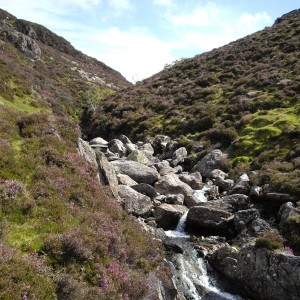 Wednesday 03rd August – Great Gable epic
The forecast for Wednesday was dry and sunny, a perfect opportunity for a lakeland 'epic'.  This route was published in 'mbr' before Christmas, and was also featured in 'What Mountain Bike' in the Spring.  In WMB they warned, 'this is one of the hardest rides we've ever published'.  Perfect for someone who has already tackled Snowdon's Rangers Path and the South Downs Way in a day this year 🙂
The ride starts with a 2 mile climb on the road from Seatoller up the Honister Pass. With the 25% gradient signs, we knew it was going to be steep; so 'nightclub policy adopted' 😉 Even then, I had to stop a couple of times for a breather (handily using the excuse that I was waiting for my mate!).
At the cafe at the top of the road pass, we continued with a 'carry' up the steep and rocky bridlepath, except when I checked the route map later, I realised we should have continued riding up the quarry road 🙁 I only admitted this navigational error to Stu later that night once he'd got a few pints down him and his sense of humour had returned.
Locating the bridlepath down was also very difficult, so we had half a mile of blundering through the heather before we found it. This descent was not for the faint-hearted, though I had the advantage of 170mm travel forks and a fashionably slack head angle on my Pace 506. This helped me cope a lot better than Stu's 120mm Stumpjumper FSR.
By the time we reached Gatesgarth, we abandoned the plan to continue with the original route that had another 3 long uphill carries, so we continued around the lake to Buttermere.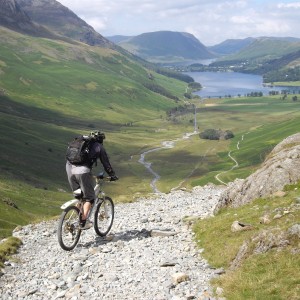 The downside to this change of plan was that we again faced the road ascent up the other side of the Honister Pass. From Gatesgarth, the ascent is even steeper than from Seatoller. This time I just put my head down and ground away at my granny  (if you'll pardon the image)  and was pleased to complete it in one go without stops.  I was quite chuffed with this, given that I was riding my 32lb 'all mountain' steed.
The road descent was a real hoot, and I was grateful to the teenage lad in the back seat of a Land Rover Discovery who told his dad to get out of the way of the manic cyclist who was rapidly catching him up.
We supped our pints of fine local ale to the clicking/tinkling sound of our cooling brake discs.  Can't help thinking I will be back for a second attempt on the Great Gables circuit, any takers out there?
Thursday 04th August – Road Ride to 'The Langdales'
The rain came back with a vengeance early on Thursday morning, in complete contrast to the day before. However, again as promised, the rain eased around lunchtime; so after a leisurely morning we set off on an afternoon's ride around the lanes.
My route took the back lanes from Ambleside to Rydal and Grasmere, before heading back to Elterwater via Red Bank (a 25% gradient). On to Great Langdale, then over another 25% hill (by this time Stu was beginning to think I was really taking the p!55 with my route planning) to Little Langdale. Back via more lanes to Elterwater, Skelwith Bridge, then Ambleside.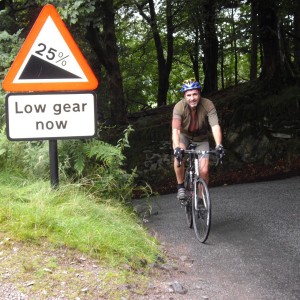 A distance of 34km (21 miles) in approx 2 hrs, and a total of 742m (2400 feet) ascended.
Friday 05th August – XC ride to Far Sawrey and return via Claife Heights and Windermere lakeshore path
We took the road out of Ambleside until hitting a 'killer climb' towards Oxen Fell. I managed most of it, but had to walk a couple of sections. I was feeling pretty chuffed I'd ridden my 32lb Pace up more of the hill than the 3 locals we'd been following, though they shot off a lot more quickly at the top as they weren't completely knackered from the climb!
Some great forest singletrack saw us climbing a trail which would be great fun in reverse. I was unable to resist the urge, so I turned around and turned this tricky ascent into a photo opportunity. Unfortunately Stu is not a professional snapper, and despite me walking up the hill 4 times, this is the closest he got to capturing any 'air time'.
Further fun descents were encountered, creating more photo opps. Having learned my lesson from earlier, I gave up after just 2 takes this time (it was a longer climb back up the hill), though you might just about be able to see the front wheel about to leave terra firma in the pic below. We had a few more climbs and descents before a a final superb piece of rocky downhill took us from Claife Heights back down to the flattish trail beside Lake Windermere.
I managed to avoid a completely embarrassing moment on this innocuous track when in an attempt to 'get some air' from a pretty small rock, I pulled rather than pushed. The Jedi would not have been proud of his pupil as the bike lurched sideways and landed with me heading straight towards the bank. Luckily there was no stone wall lining this section of the track, as I hurtled up the bank and crashed through the undergrowth before I regained some semblance of control and headed back onto the path.
I got the impression that the lady pushing her bike up the hill was not particularly impressed 🙁
As ever, a post-ride cappuccino and a superb piece of Rhubarb & Ginger Crumble Cake completed the post-ride refuelling. I take my nutrition seriously, as with the 6 redcurrants topping the slice, as well as the rhubarb and ginger, that was 3 of my 5 a day for fruit & veg.
So the second part of the week was almost an exact copy of the first part, XC (and some), road, then more XC !  Friday night saw me again complete my scientific post-ride rehydration, just as the previous Saturday night saw me ensuring I started the week equally well hydrated 😉