Mucky Nutz Bar End plugs review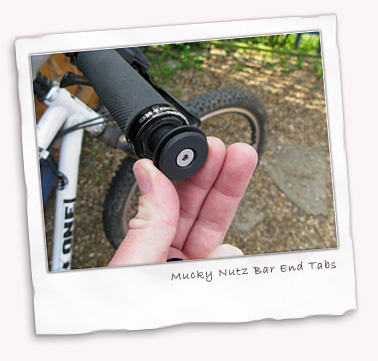 Bar ends, not the most exciting of things but they give the bike the finishing touch and can be a handy feature, especially if you fall off and land on the ends of the bar. They will prevent the apple coring type of injury which could be (just a little bit) painful.
These bar tabs from Mucky Nutz are an interesting idea; have a beer, recycle the glass bottle and use the bottle top as a bar end.
OK, first thing to do is to fit them, not rocket science, just slide them into the bar end and tighten them up with the allen key provided. These are the draught bar tabs which use an elastomer expander to tighten inside the handlebar, which provides a good tight fit.
Now comes the hard part, selecting a suitable beverage. Relax, consume and finally just push on the bottle top to the end of the bar end, simples!
I chose a Bud for the colour scheme.
I also thought I would check what happens if you fall off! Have another Bud and clip another one on. Now when I fell off the bottle top came off and I damaged the end of the bar but it has not affected its performance.
I like these Mucky Nutz Bar Tabs as they are good value for money at £10, they're simple and look good. If the caps get scratched it's also cheap to replace them and of course is a good excuse to buy some more beer!
The is the second product from Mucky Nutz we've reviewed (see also our Mucky Nutz Bender Fender review) and it seems as though the band of Sheffield-based engineers are continuing to produce quirky but successful products. Thumbs up!