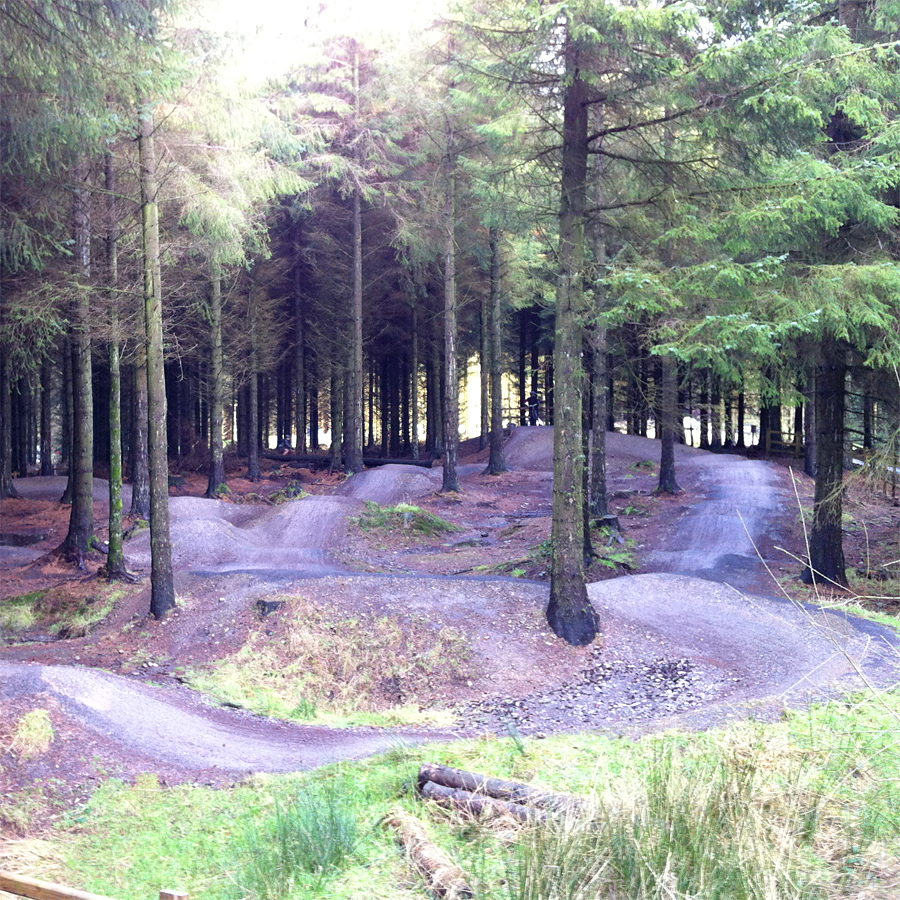 Christmas was over and the last day of the year almost upon us, so what better way to finish the year off than by biking somewhere different?
With no plans for the New Year we decided to make our way to North Wales and bike one of the many trails. Our plan was to ride Llandegla and then spend New Years Day at Penmachno, but not all went to plan.
The drive up to North Wales started early so we can get a real good day on the bike. Have you heard of Llandegla Bike centre? I'd say with hand on my heart that this is one of the best in Wales, as it keeps improving. It has every thing from huge fun factor black runs to long red runs and blue trails, plus a freeride section, pump track and a skills area!
This is privately owned woodland and then leased to a company, which builds the trails and runs the place very well. There is a café which has great food and cakes! I know, and a bike shop with good kit.
The revenue from the car park goes to the land owner and gets matched pound for pound and then goes back into the trails, so with over 350 car parking spaces it gets full at weekends. It's not just for biking there is also walking trails for the family.
So we arrive at the centre and it's time to get ready, we pull my bike out and then AJ say's, where's my wheel? It's in their somewhere in the car, NO it's not…! Oh no, I forgot to put the front wheel in the car and it's still in the house, a 4 hour drive away.
I'm not happy to say the least but Amanda is cool about it, she say's I'll go for a run there's a 7 mile walking track around the forest. That means I'll have to go around on my own. Amanda gets her running shoes on and off she runs!
As for me, I'm going to do two laps at full speed. Off I go and the first bit is a steady climb up to what seems to be the top. Most of the climb is amongst the trees with one exposed bit, which if the wind is blowing from the west it gets a bit slow at that section. To be honest it's not hilly at all, as I can big ring it all the way up.
Then the fun starts, you hit two berms then cross a bit of doubletrack, then it's a fast smooth downward section with some humps that you can get a little air. So much so Adam some time ago blew two tyres on one jump, I'm sure you remember that one Adam!
Then the trail turns off to the right for the easy section and I head left. It heads into the open and zig zags over to the next tree line with some berms jumps and semi rocky sections. You can make this real fast and fun.
I enter the woods again for a short while till I make a left turn onto the black run, oh yes this is where it gets FUN.
I'm peddling hard down the single track and get held up by two bikers which pull over at the interchange, I make a right and carry on to the table tops and rock garden, which is fast, it's wet and the bike slips a little on my summer tyres but I lunch of the tabletop and land the other side nice and clean with speed and then it's the next jump, then the next and the next, then a hard right and join the red trail again.
It's a short uphill so I push hard on the pedals and I notice some guy on a carbon hardtail trying to give chase, no chance. It's back onto the black run with a little bit of woodwork which gives you a bit of a surprise. The first time you do it you think it's a 7 foot drop off and think oh poo, but it fools you into thinking it. Good fun the first time.
No time to recover and then back into the dark again and pushing hard along the black run. All of a sudden there is a group of ten or so looking down on someone who had just wiped out. He's good and back up on his feet in no time. Just a little blood leaking form his body, no worries.
Now it's a little up hill and then with some fun factor corners and descents. I have another guy pushing hard behind me trying to keep up, not for long. Now unknown to me the digger has been working hard since I have been here last and I see a new trail open, Black it say's, oh yes I've got to have some of that.
It's a steep drop onto the woodwork and a small drop off onto the trail, now if you look at the link you'll see what it's like, sweet fun riding. One tabletop I went over, there was this guy wrapped around a tree backward with his bike upside down chain ring wedged into the tree, this guy couldn't move for love nor money.
I helped him back onto his feet, he said he was OK, more blood coming from his face. All he said was 'I shouldn't be on this trail'. I have a feeling he could be right. He had a kid with him about ten years old, just looking at his dad, I said to the kid, 'lad that's not how to do it…' The kid just smiled and nodded.
It's off again and I'm back on the red run, all the way to the centre. Wow this place just keeps getting better, shall I go for a second run, better not as AJ's due back soon, so I'll have a play on the freeride park. After about 40 mins playing I went back to the car still no AJ… I'm thinking she is running very slow 7 miles only to find out when she gets back that she had done 2 laps, 14 miles…
Now they rated the runs higher in the UK than other places in the world. In Canada this would only just make a red run, only just. I guess we're in a PC culture, too many muppets around. It's not hard like the Beast trail, which is just abusive to man and Bike, I love it…
This Bike Centre is an example of what can be done when a private company runs forestry. No Government run Forestry Commission involved. It works, trust me. Some time ago I put my name on the government petition to stop selling forestry. I'm now thinking again that perhaps the forestry commission should have been sold to private company's and they lease the land of the government, then we might see investment in our woods for all to use and enjoy. But then this is stuck in its ways, backward England.
So if your looking for a weekend away from the wife's weekend job list it's easy, grab your bike, chuck it in the back of your car, jump in it and head North West to Llandegla Forest.
It's worth the flack when you get home, trust me… I know what I'm talking about.
Links